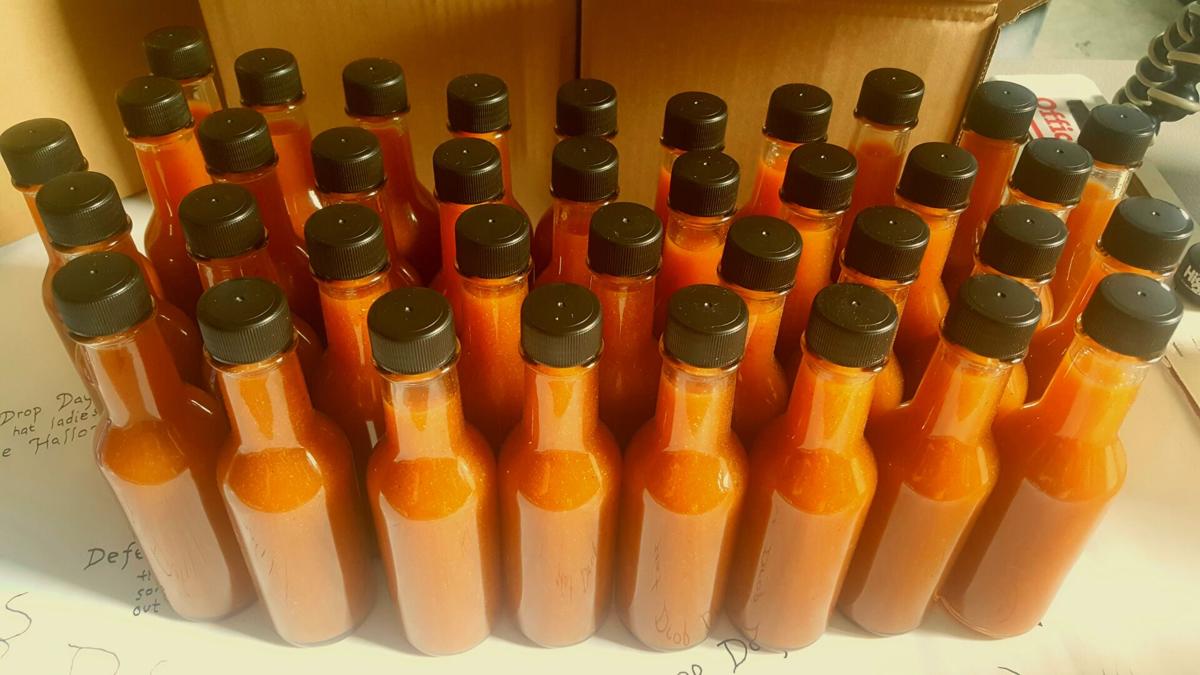 For those of you who planted a few hot pepper plants this summer, you probably have more hot peppers than you know what to do with right now.
I bought and planted a single packet of seeds labeled "Hot Pepper Mix," and I have more than a dozen plants that need picking every few days. I've frozen them, cooked with them, given them away and played around with various ways to preserve them.
After lots of experimentation, I've discovered how to make a fantastic hot sauce from all those peppers, with an interesting twist: I smoke the peppers, making a unique, smoky hot sauce that my friends and I really enjoy.
A word of caution: Wear disposable gloves and work in an area with good ventilation. Hot peppers will burn your eyes and nostrils, especially when cutting up and cooking bunches of them!
Main ingredients
2 to 3 gallon-sized freezer bags filled with smoked hot peppers
(I grow a variety of hot peppers, and as I harvest them, I put them in bags in the freezer until I'm ready to make a big batch of hot sauce. Then I thaw them and smoke them. If you don't want to smoke them, then don't! Also, you can mix in sweet peppers such as banana or bell peppers to make it less hot.)
3 quarts vinegar (I use white or apple cider vinegar — or a 50:50 mix of the two.)
3 tsp xanthan gum (This is a natural, powdered thickener sold online and in some local grocery stores. A few ounces will make many batches of hot sauce. If you don't use it, the hot sauce will be thin, like vinegar. Alternatively, you could use cornstarch in place of the xanthan gum.)
Optional (any or all of the following)
½ to 1 pint of fruit or fruit juice (Sometimes I add homestead-grown fruit such as muscadine grapes, blackberries, or blueberries. I've also used mandarin oranges, pineapple, and mango. Fruit adds a subtle taste under all the heat!)
1 tsp coriander (I blacken the seeds on a dry pan over heat and then grind it, for a deep, warm flavor.)
1 to 4 tsp of smoked paprika (This will make it even more smoky!)
Instructions
1. Begin by smoking the whole peppers. I have an electric smoker, but you could use a pellet smoker or an outdoor grill equipped with a small smoker box. I like a strong smoky flavor, so I use mesquite or hickory. For less intense smoke, try pecan, apple or cherry. I smoke the peppers for about an hour and then let them cool.
2. Next, cut the stem ends off the peppers. I use large scissors, so there's no need for breaking out a knife or cutting board. Chop the peppers as finely as possible, in a food processor or blender. Use a small amount of the vinegar and water to help it grind up easier.
3. Add the pepper slurry and all of the other ingredients together, while at room temperature, in a large pot. Stir thoroughly to dissolve the xanthan gum. If the mixture is warm or hot, the xanthan gum will form doughy balls.
4. Bring to a boil and then simmer for 30 minutes to an hour. The longer it simmers, the more intense the flavor and color will be. I highly recommend doing this outdoors (use a hot plate) or under a fume hood that's running the entire time. The room will be choked up with eye-watering, nose-running, throat-choking capsaicin vapors, so beware.
5. Let it cool and strain it through a colander placed over another large pot. Let it drain for hours, or even overnight.
6. Bottle it. It will make a little less than a gallon of hot sauce. If you want an added depth, funnel it into an empty bourbon bottle that has a little whiskey left in it. The hot sauce does not need refrigeration.
The finished hot sauce will be intensely flavorful. Experiment with any other additives that you might like to incorporate. For example, I have made Indian-themed hot sauce with garam masala, turmeric and other spices.
Finally, for the frugal and ambitious foodie, dry out the leftover mash and seeds by spreading it out on a shallow baking sheet in the oven, and bake it at a low temperature until dry and brittle. Then crush it (wear gloves!) to make a most excellent jar of "crushed red pepper flakes."
Be the first to know
Get local news delivered to your inbox!