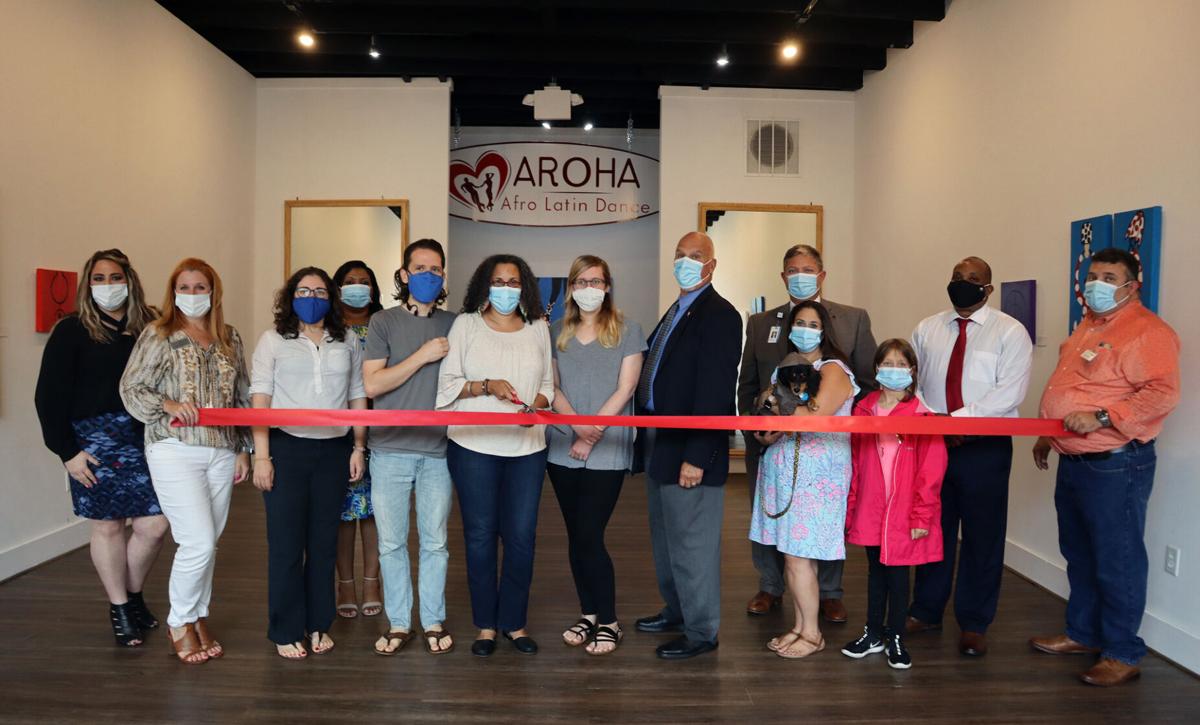 FLORENCE, S.C. – AROHA Afro Latin Dance celebrated the opening of its new studio Thursday on Dargan Street in downtown Florence. The Greater Florence Chamber of Commerce shared in the celebration with a ribbon-cutting ceremony.
Owner Adalia Ellis offers partners Afro Latin Dance classes in Salsa, Bachata and Kizomba. She offers group and individual lessons, business events, school educational programs, team building and wedding dance choreography.
Ellis has been teaching dance in Florence for four years. She moved into her new space at 167 N. Dargan St. in November 2020.
"I love the energy in this space," Ellis said.
Ellis said she is thrilled to be in downtown Florence.
"We were still in the pandemic, and I didn't start offering classes until this week," Ellis said.
Ellis said the partner dances she teaches can all be traced back to African-rooted music and movement.
"I've been teaching dance for about 15 years," she said. "I traveled the world in my 20s and 30s, and I knew if I ever came home, I wanted to open my own space here. This is a dream come true for me."
Ellis is a certified dance instructor. She also trains instructors. She said she has just trained three instructors, two of whom are still apprentices.
Ellis said people have seen her outdoor sign and come in to sign up for classes. She said classes are geared toward people who are starting out in theses dances.
"We are beginner-friendly," she said. "We focus on building community, and dance is a way to do that."
Ellis said she is extremely grateful to downtown development, the chamber, the city of Florence and the Kelly Center for helping her find her place in downtown Florence and for getting the word out about her dance studio.
Ellis is currently signing up people for Monday classes from 5:30 to 8:30 p.m. Ellis said starting in October she will offer classes two Saturdays a month. The times are to be announced.
Ellis is a native of Florence. She attended Southside Middle School and graduated from high school in Canada. She attended Coastal Carolina University, majoring in history and theater.
"I taught ESL and lived in Korea for six years and Abu Dhabi for two years," Ellis said.
She and her husband, Ryan, have one son, Alai.