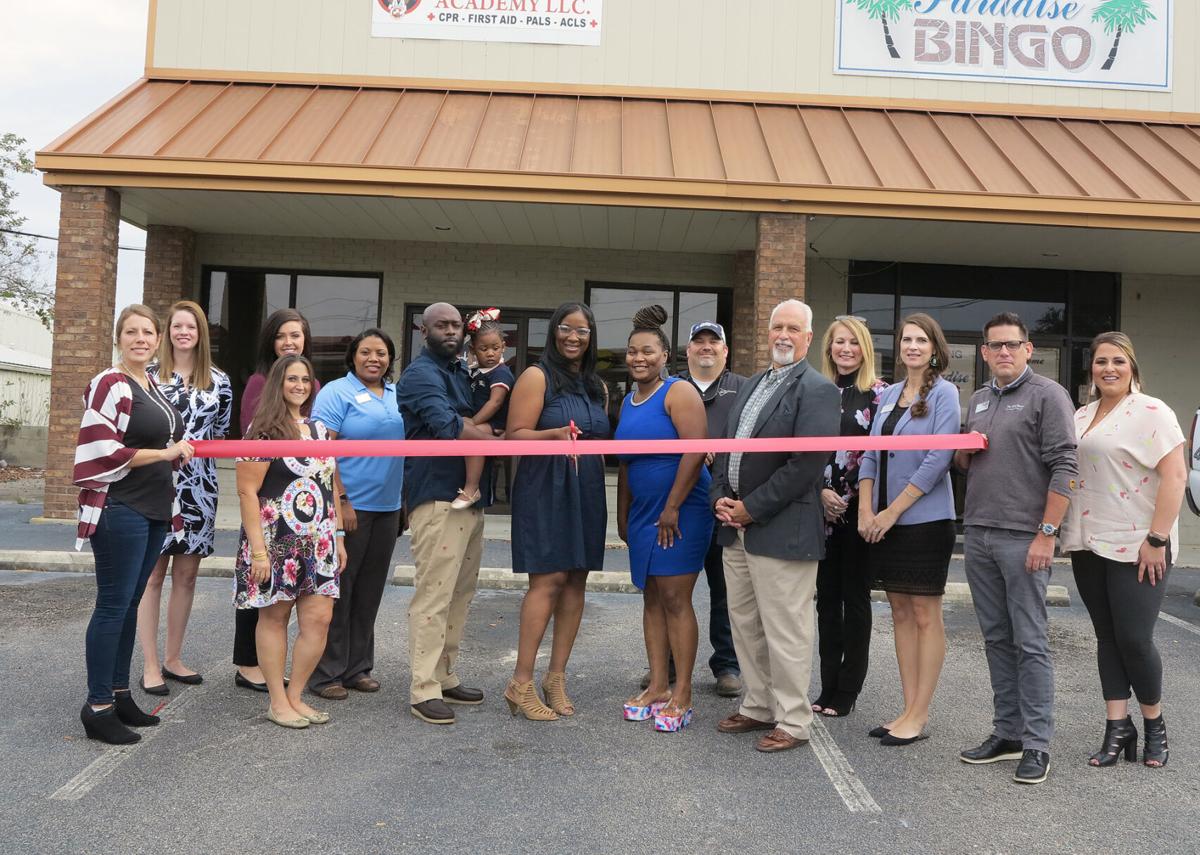 FLORENCE — A ribbon cutting with the Greater Florence Chamber of Commerce was held Thursday morning at Breath of Life Academy LLC, located at 1356 James Jones Ave, Suite 5, in Florence. Chamber ambassadors joined owner Vanity Timmons and family for the celebration.
Breath of Life Academy is a training academy for American Heart Association courses. 
A grand opening will be held on Saturday from 12 to 4 p.m. Free CPR demonstrations will be given.
As an American Heart Association instructor, Timmons is certified to teach – BLS, First aid/ CPR, ACLS (advanced cardiovascular life support, and PALS (pediatric advanced life support). She has been an AHA instructor since February 2013. In the future more courses will be added.
"I am the first African American (in Florence) to have all four AHA courses under one training center at this time," Timmons said, "I wanted to make a difference and didn't realize I was making history: My long-term goal is to provide more courses to help in the medical field."
Timmons is a registered nurse specializing in pediatrics, case management and COVID -19 testing.
Timmons said she wanted to make a difference in the community by offering courses that other schools needed and have a hard time finding.
She said that during the pandemic it is important to teach the skills needed to help to save as many lives as possible.
Timmons said she experienced an emergency when four employees surrounding her were not CPR certified and someone had died. Timmons said she decided that day she would do anything to teach someone CPR so they could help save someone else's life.
 "I do volunteer training in the community at events, military bases for free, schools for employees, for police officers, cosmetologists, Medicaid state drivers, babysitters, football coaches, teachers, nurses, doctors, and others," she said.
Timmons said everyone has been so accepting of her and what she hopes to accomplish, especially the chamber ambassadors at her ribbon cutting.
Timmons said she has always heard wonderful things about the chamber and the benefits of becoming a member. She said being a member of the chamber of commerce is good for business. She said the chamber is a way to market your business through networking. She said it open doors for small businesses and large businesses. And that you meet a great group of people who support each other and the community.
"Another plus it helps with discounts and gaining access to other resources," she said.
Timmons is a graduate of Timmonsville High School and Florence Darlington Technical College, where she earned her CNA, LPN and RN licenses.  
Timmons and her husband, Warren, have one daughter, Jocelynn, who is a busy 2-year-old.
 "I love to sing and do crafts," Timmons said. "During my free time I run my 2-year-old daughter's company, Jocy Jewels. Jocy Jewels does customize shirts, cups, umbrellas, picture puzzles, pillowcases. I love spending time with my family and friends and helping others."
As a staff of one, Timmons will be doing classes by appointments only with a flexible schedule.