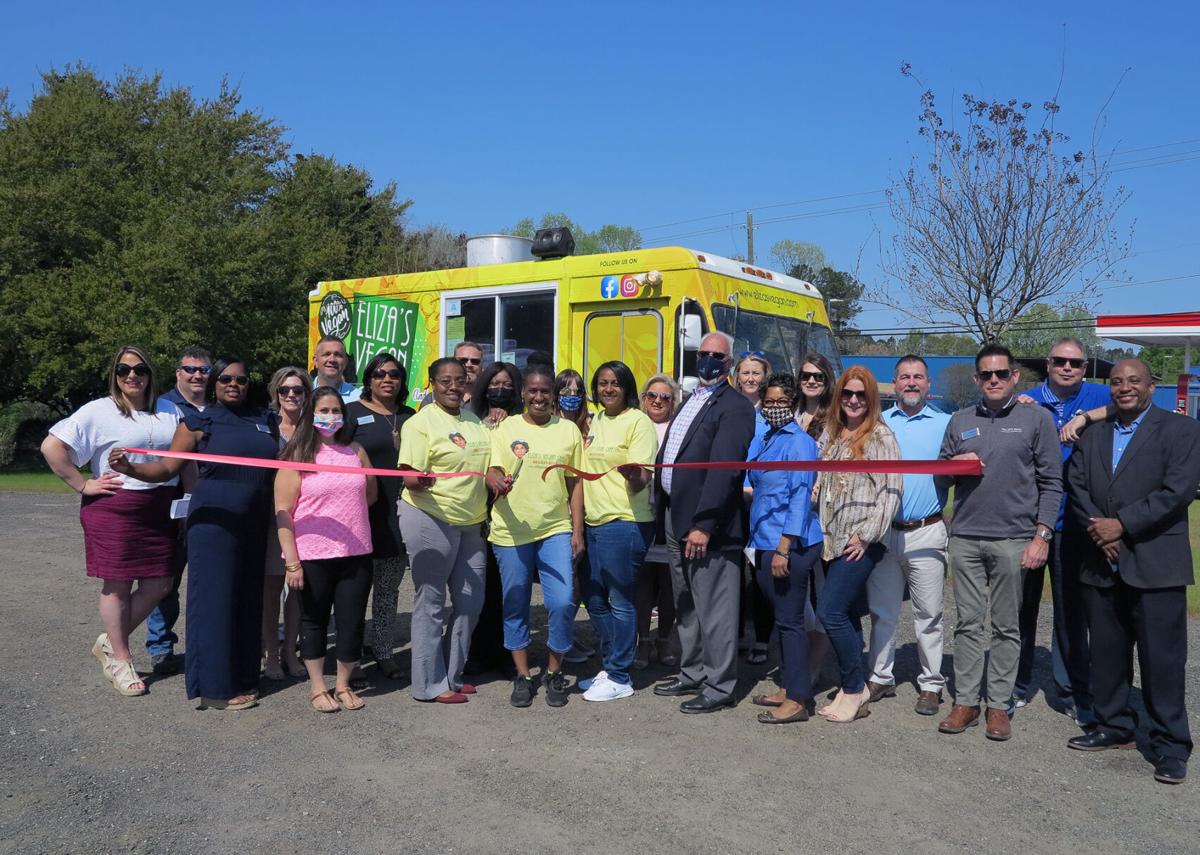 FLORENCE, S.C. – Eliza's Vegan Café Food Truck held a ribbon cutting on Tuesday morning at Eats on the Creek, 2402 W. Palmetto St. in Florence, to celebrate its grand opening and membership in the Greater Florence Chamber of Commerce.
Owner Markeyshi K'Patrick cut the ribbon and was joined by chamber ambassadors for the event.
People were ready and waiting to try food from the bright yellow food truck that rolled into Eats on the Creek.
Originally from Queens, New York, K'Patrick said there are numerous reasons a person becomes a vegan – a person who does not consume any animal or animal byproducts.
K'Patrick said she became totally vegan on Jan. 1 2001.
"It was my New Year's resolution," she said.
K'Patrick said people become vegans for a variety of reasons. Some feel strongly that people weren't meant to eat animals while others defend an animal's right to live. Still, others have had health issues that prohibit them from eating certain foods, or found that the vegan diet assisted with shedding unwanted pounds.
Eliza's, the "café on wheels" pays homage to K'Patricks' grandmother, Eliza Jenkins, who was originally from Hartsville. She was born in 1916 and died in 2001. Her grandmother moved to New York in 1934.
"She was phenomenal," K'Patrick said. "She was before her time, especially for a black woman."
She said her grandmother was an entrepreneur and a great cook.
K'Patrick said. "She was someone who as a mentor to me."
Her grandmother was not vegan, K'Patrick said, but she was a huge fan of healthy eating and exercise.
She said her grandmother was also a remarkable woman who taught many lessons about life, such as not getting in debt, but if you do have to borrow money, pay it off quickly. She said her grandmother encouraged her to value the importance of education, whether from books or from life experience.
She always worked four or five jobs, K'Patrick said. She owned several businesses, including a TV repair business, garbage pickup business and a laundromat. Most of her businesses were the result of needing a service or seeing the need for one.
K'Patrick has followed in her footsteps. She needed a place to get vegan food and saw a need to help others in their quest to eat healthier and become vegans without the worry of cross-contamination or food being fried in the same oil with non-vegan food.
She said she has always enjoyed cooking.
"I wanted a Vegan Café," she said.
There were obstacles that got in the way of that, including COVID-19.
"I decided to open a food truck instead," she said. "It is fun to teach people to eat healthy."
K'Patrick came to Florence the first time in 1989 and returned in 2015.
She had people tell her she couldn't make a go of it with vegan food because there were not enough vegans in the area to sustain such a business. She has since discovered there are others that are vegans.
"We utilize organic fruits and vegetables when possible, and purchase locally, when possible," she said on her website.
Her menu includes vegan burgers and other items and will soon include vegan ice cream.
She said her first day on Tuesday was not without its ups and downs. The first hour nothing worked, K'Patrick said. She said other food truck owners at Eats on the Creek came to her rescue.
Patrick said she will be taking it one day at a time until she gets everything operating as she wants and finds some more help.
"I will be back on tomorrow (Wednesday)," she said.
Check out her website or Facebook page to find out where her food truck will be located.