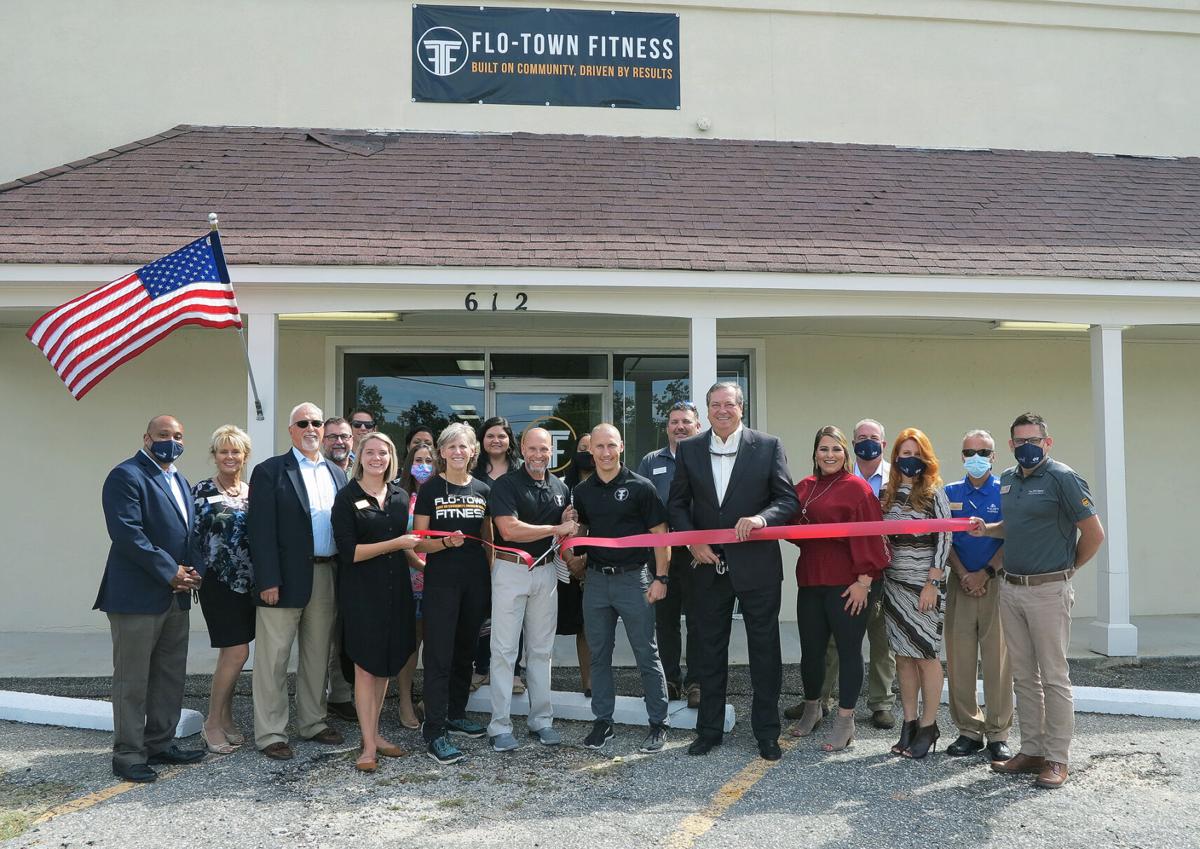 FLORENCE – Flo-Town Fitness was joined by the Greater Florence Chamber of Commerce on Thursday for a ribbon cutting celebrating its opening on Aug. 22 and its membership with the chamber. Chamber ambassadors joined Flo-Town owners and staff for the celebration.
Flo-Town Fitness is located at 612 S. Irby St. in Florence.
Owners Brock McCallister and Bobby Bethea and most of their staff were previously trainers at the Fitness Forum on Dargan Street, which closed in July.
"When it (Fitness Forum) closed it gave us a chance to move out on our own," McCallister said.
McCallister said many of their 112 members came with them from the Fitness Forum.
In addition to the two owners, there are four trainers on staff.
McCallister said they provide three levels of membership.
The premier level includes personnel training classes, which are 45-minute classes with a trainer. The classes focus on strength training and conditioning. The second level is the basic membership access to the facility but not participating in a class. The third is working with a personal trainer.
McCallister said each trainer brings a different set of skills, certifications and background.
McCallister is also a firefighter with the city of Florence. He lives in Florence and played baseball at Francis Marion University before joining the Fitness Forum in 2013.
Bethea lives in Florence County and is retired law enforcement. He joined the Fitness Forum in 2012.
One member of the staff, Robin Parker, has been a trainer for more than 20 years. Another member has a karate background.
Classes are taught on Monday through Thursday at 5:30 a.m., 6:15 a.m., 7 a.m. 12:30 p.m., 4:30 p.m., 5:15 p.m. and 6 p.m. Once class is taught on Saturday at 9 a.m. Flo-Town is open 24/7.
Discounted membership is available for the first 100 signing up at each level.
McCallister said it was important to them to join the chamber of commerce.
"Our slogan is 'Built on Community, Driven by Results.'" McCallister said.
He said their goal is to help people fit fitness into their everyday life. He said they try to build a personal relationship with their members, and through classes and training, members will build relationships with each other. He said people make connections with people of all levels of fitness, people who they might not meet otherwise.
McCallister said when people come to the gym to get healthier, stronger they want to make sure each member is getting the results they desire, whether that goal is to lose weight or get stronger.