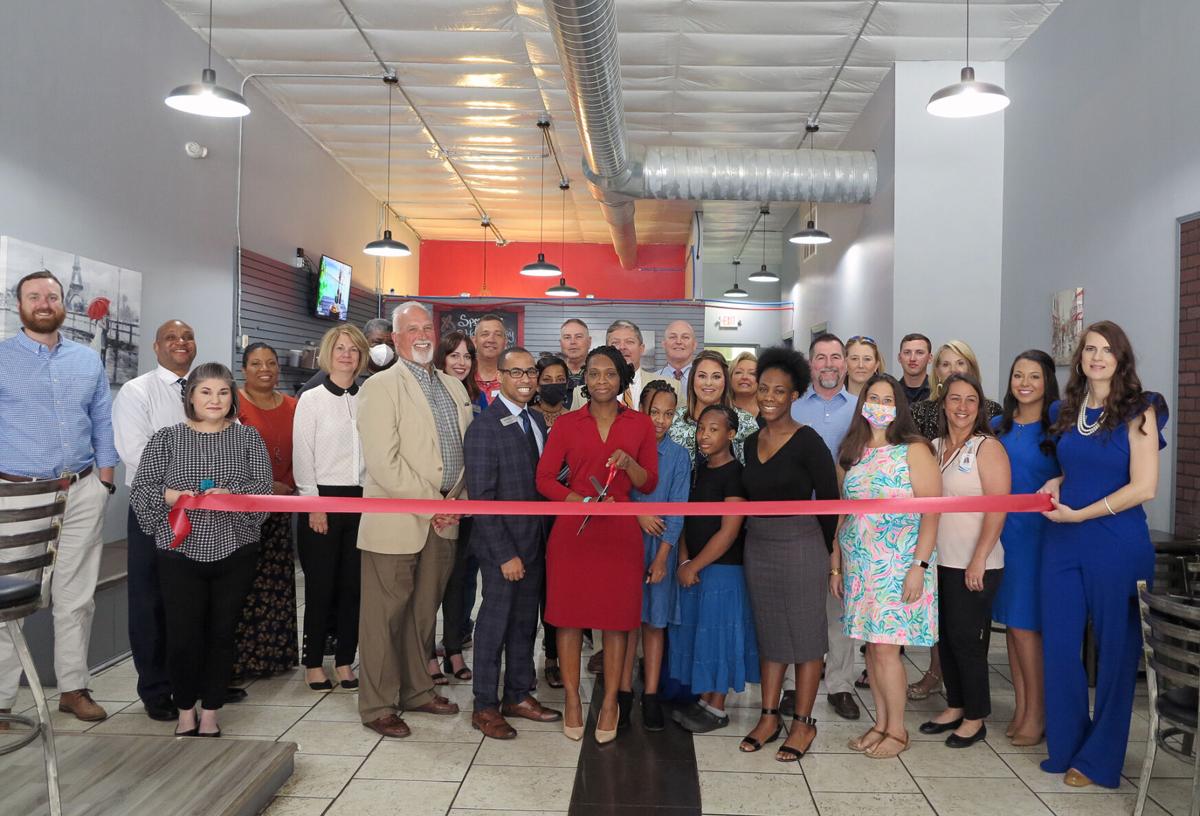 FLORENCE, S.C. — LilJazZi` Cafe held a ribbon cutting on Wednesday celebrating its membership in the Greater Florence Chamber of Commerce. The Dargan Street café opened in January. Owner Andrena Mullins cut the ribbon surrounded by family and chamber ambassadors.
The café is at 163 N. Dargan St. and serves breakfast and lunch.
Mullins also operates a café by the same name at the Florence Regional Airport that is temporarily closed during COVID. She said that location will open back up in May.
Mullins, who worked for 16 years at Target before going into the restaurant business in March of 2017, said she closed the airport café in October and "couldn't sit and do nothing." She said the opportunity presented itself to open this new location, and she jumped on it.
"I don't mind cooking," Mullins said. "But if you had told me four years ago I'd own a restaurant (in downtown Florence) I would have said no way."
She said business has been good so far.
"I have been blessed," Mullins said.
The café on Dargan Street offers a variety of breakfast foods including French toast, grits bowl, biscuit and gravy and build an omelet, along with breakfast sandwiches. For lunch, Mullins serves sandwiches, salads, burgers, hot dogs and other lunch fare. There is also a kids menu and a variety of coffee drinks, smoothies and other beverages.
Mullins said she and her staff of nine try to offer exceptional service and great-tasting food.
The atmosphere is family-friendly where people can lounge, watch television and look out the windows while they eat. She has seating capacity for 70.
Mullins said she was a member of the chamber at the airport location and has seen the benefits firsthand from being a chamber member. She said the chamber really supports its members and provides many networking opportunities. She said it keeps a business informed and connected with other businesses in town.
Café hours are 6 a.m. to 6 p.m. on Monday through Friday and 7 a.m. to 3 p.m. on Saturday. The café will be closed on Sunday.
The inspiration for the name, LilJazZi's, came from Mullins' three daughters and is a combination of parts of their names — Lily, Jazmine and Zion.
Her husband, David Mullins, is a branch manager at First Reliance bank.