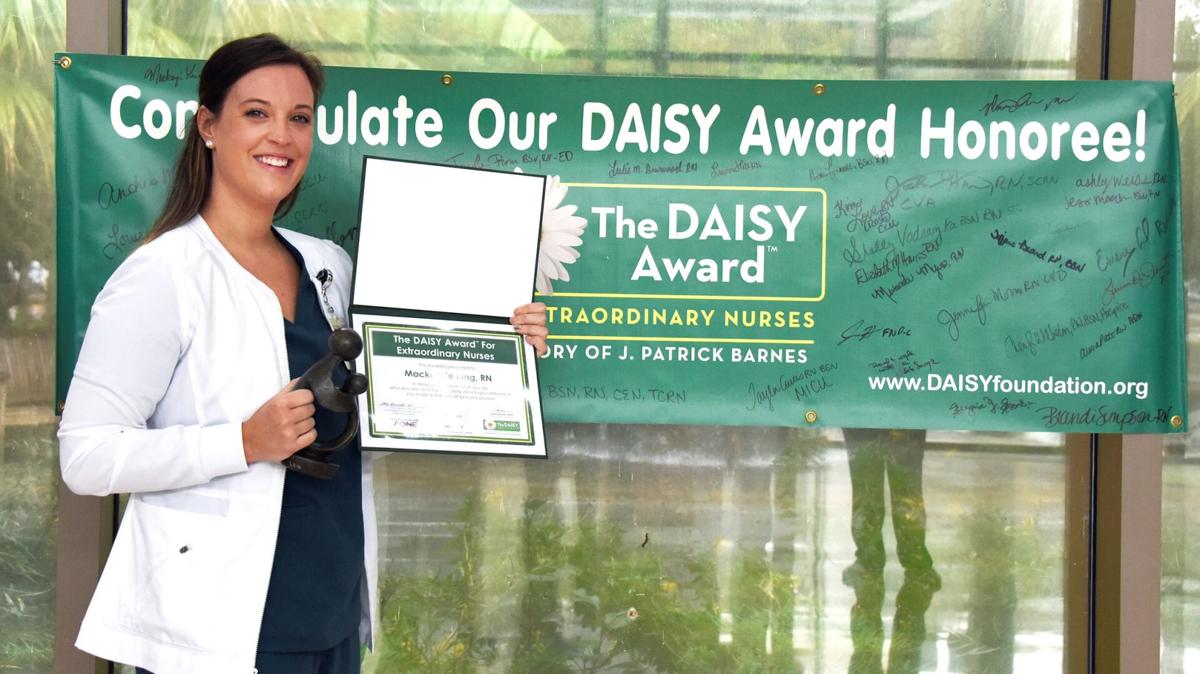 FLORENCE, S.C. – Mackenzie King, RN, a staff nurse on the cardiology floor, recently was named the October DAISY Award Recipient for McLeod Regional Medical Center. King was nominated by a patient for her extraordinary care and compassion.
To recognize those Nurses at McLeod Regional Medical Center who are true examples of Nursing Excellence, patients, family members and co-workers can nominate nurses for the DAISY Award for Extraordinary Nurses. The award is part of the DAISY Foundation's program to recognize the super-human efforts nurses perform every day.
The patient wrote, "Almost one year ago, I met a young lady who had such an uplifting and positive way about her. I came in during the night with Atrial Fibrillation (AFib). I previously had only one other experience with this before. I was on vacation in Chicago and had to be in the hospital for several days. It caused a great deal of anxiety. When this episode began, the same anxiety returned.
"I was very scared. For anyone who has experienced AFib, there is a fear that the symptoms will never go away. I didn't know how long this was going to last.
"When I arrived in the cardiology unit, Mackenzie welcomed me and immediately recognized my anxiety. She went the extra mile to ensure that I was comforted and reassured. She made every effort to ease my anxiety. She was so attentive. She talked me through everything to help calm me. All of my concerns were important to her. She didn't make light of them or brush them off like she could have. She even stayed over past the end of her shift to be sure that I was settled and OK. That meant so much to me.
"I am submitting this almost one year after my last event. Recently, I went for a check-up and saw the DAISY Award brochure. Things are going well, and I am so thankful that I haven't had another episode.
"But I will never forget you Mackenzie. Thank you for your energy, enthusiasm, care, compassion and kindness to an elderly lady who was terribly afraid. You were always there, ready and willing to help me. For that, I will forever be grateful."
The not-for-profit DAISY Foundation is based in Glen Ellen, California, and was established by family members in memory of J. Patrick Barnes. He died at the age of 33 in late 1999 from complications of idiopathic thrombocytopenic purpura (ITP), a little-known but not uncommon auto-immune disease. The care that Barnes and his family received from nurses while he was ill inspired this unique way of thanking nurses for making a profound difference in the lives of their patients and patient families.
Nurses can be nominated for their strong clinical skills and the compassionate care they provide. Nomination forms are available on each nursing unit at McLeod Regional Medical Center or can be found at McLeodNursing.org.
Recipients of the DAISY Award are chosen by the DAISY committee, led by nurses at McLeod Regional Medical Center. Awards are given throughout the year at presentations in front of the nurse's colleagues, physicians, patients and visitors.
Each honoree receives a certificate commending her or him for being an "Extraordinary Nurse." The certificate reads: "In deep appreciation of all you do, who you are, and the incredibly meaningful difference you make in the lives of so many people."
The honoree also is given a beautiful and meaningful sculpture called "A Healer's Touch," hand-carved by artists of the Shona Tribe in Africa.