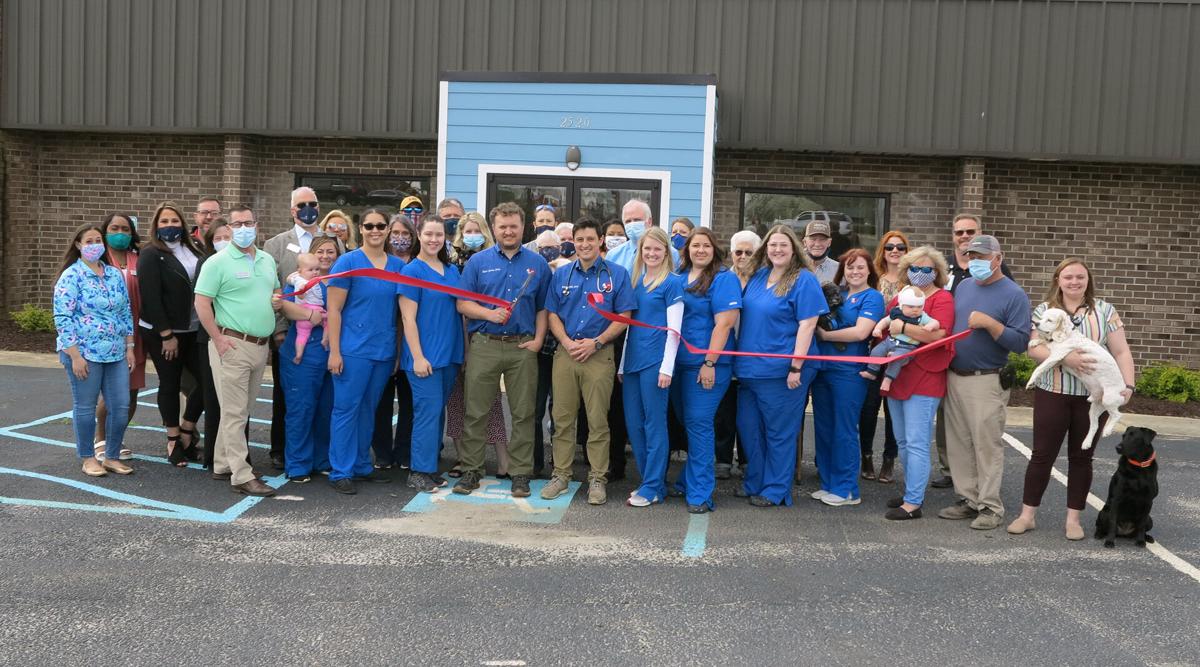 FLORENCE, S.C. – Florence Animal Hospital celebrated joining the Greater Florence Chamber of Commerce on Tuesday with a ribbon cutting. Joining the doctors and staff were chamber ambassadors.
The Animal Hospital is located at 2520 Melon St. in Florence, just off U.S. 52 and across from the Pee Dee Farmer's Market.
The facility opened in mid-June 2020 and is a part of an on-going practice with Ryan James, DVM, and Kenzo Tochiki, DVM. James and Tochiki have been working together at the Hartsville Animal Hospital at 914 W. Carolina Ave. since they purchased that practice in 2014.
"We always planned to expand, with the hope that by creating a network of hospitals we would be able to offer the best possible care to our patients," James said in August to the Morning News. "That was always our goal."
Tochiki said on Tuesday that business started out slow due to COVID but that it has noticeably picked lately.
Already members of the Greater Hartsville Chamber of Commerce, Tochiki said they wanted to become more involved in the Florence community. He said networking and introducing their services to the area are important.
Both veterinarians see patients at the Florence and Hartsville locations on alternating days. There are five veterinarians total with about eight staff members in Florence.
Their mission has always been to practice the best medicine possible, Tochiki said.
The doctors bring a fear-free approach to practicing quality veterinary medicine to the Florence Animal Hospital. He said this involves offering treats, light sedatives and other means to make the animal less fearful. He said it is an attempt to calm the animal's fears and avoid the snapping and growling often associated with an animal's fear of people it doesn't know who are trying to manipulate it. He said often this means just being patient.
To aid in calming the patient's fears, Tochiki said the facility is designed with a small quiet waiting room for animals such as birds that might become agitated being with other animals. Also, the clinic is configured so that cats have their own separate room when boarding to ensure that they don't become stressed while in the vicinity of dogs. In addition, sick and hospitalized patients can be kept in the ICU, which is connected to the treatment area. This ensures that sick patients are never out of sight.
Attention to even the smallest details has been given with the patient in mind such as textured flooring throughout the hospital to avoid a slipping and sliding dog, which is never a good thing, he said.
"Bringing your pet to the vet doesn't have to be a stressful experience, and at the Florence Animal Hospital is dedicated to serving the surrounding communities and ensuring that your pets are pulling you through the door and not out of it," Tochiki added.
The Florence Animal Hospital takes care of most animals except venomous snakes.
While they do make scheduled house calls for larger animals (horses/cows), some are seen in trailers in the parking lot, he said.
Hours are 8 a.m. to 5:30 p.m. Monday, Tuesday, Thursday and Friday and 8 a.m. to noon Wednesday.