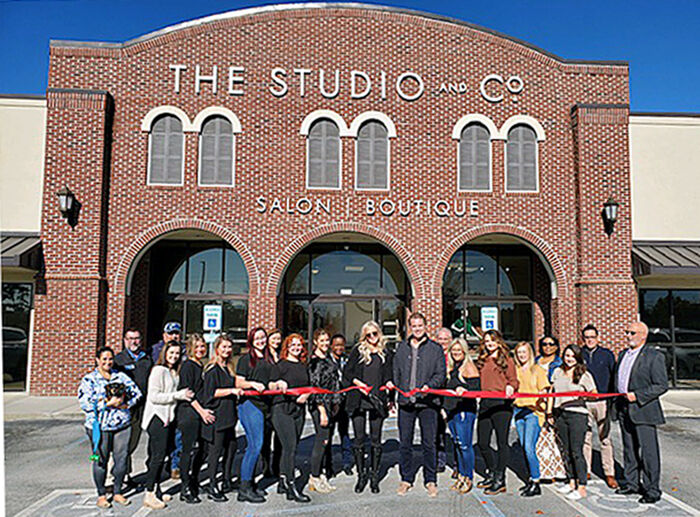 FLORENCE, S.C. – The Studio, A Salon, located at 1381 Celebration Blvd. in Florence, has rebranded and expanded to a new location.
To celebrate the move to 2515 S. Cashua Drive in the Shoppes at Celebration shopping center and the change to The Studio & Co. Salon and Boutique, a ribbon cutting was held with the Greater Florence Chamber of Commerce on Monday. Owners Doug and Tara Smith were joined by chamber staff and ambassadors for the celebration
"This is something that makes sense to our business model," Doug Smith said. "One of our core values is 'own the guest experience,' and providing a full women's boutique complements what we do on a daily basis – making our guests feel great."
He added, "We outgrew the space we were in."
The Studio and Co. Salon and Boutique has five full-time stylists, four associates in a training program and four front-desk employees. Tara Smith said the associates are receiving training that would go along with a master's course.
"Part of the beauty behind the boutique is that it's a stand-alone retail front allowing anyone the freedom to shop without feeling that they have to be a client of the hair salon," she said. "The boutique will offer unique pieces that complement all facets of a woman. Styles such as casual elegance, bohemian—chic and a little something that speaks to the inner rock star in all of us will be some of what you will experience at the boutique. My vision is to provide styles that are for any mood or occasion. These styles will be appropriate for everyday wear, the professional woman or a night out on the town with the girls or that special someone."
Tara Smith said their clients have expressed a desire for help with the total look from head-to-toe. By providing hair stylists, clothing and shoes, she said, they are able to meet the clients' needs.
"We are able to make our customers feel the best that they can be," she said.
Tara said clients can leave with confidence that they are presenting their best self.
"I started in fashion," Tara said. "I modeled when I was younger."
She said opening the boutique side of the business has been a lot of fun.
"It has been a long time since I emerged myself in the fashion culture; it has been fun," Tara said.
The Smiths started The Studio in 2011 with the vision to provide guests a superior service that extended beyond the quality of hair services and to provide a salon company with a fun, professional environment that would give stylists the opportunity to establish a performance-based career path.
As business owners, the couple recognize the benefits of being a member of the Greater Florence Chamber of Commerce. The chamber networking opportunities afford them exposure that locally owned business find so valuable.