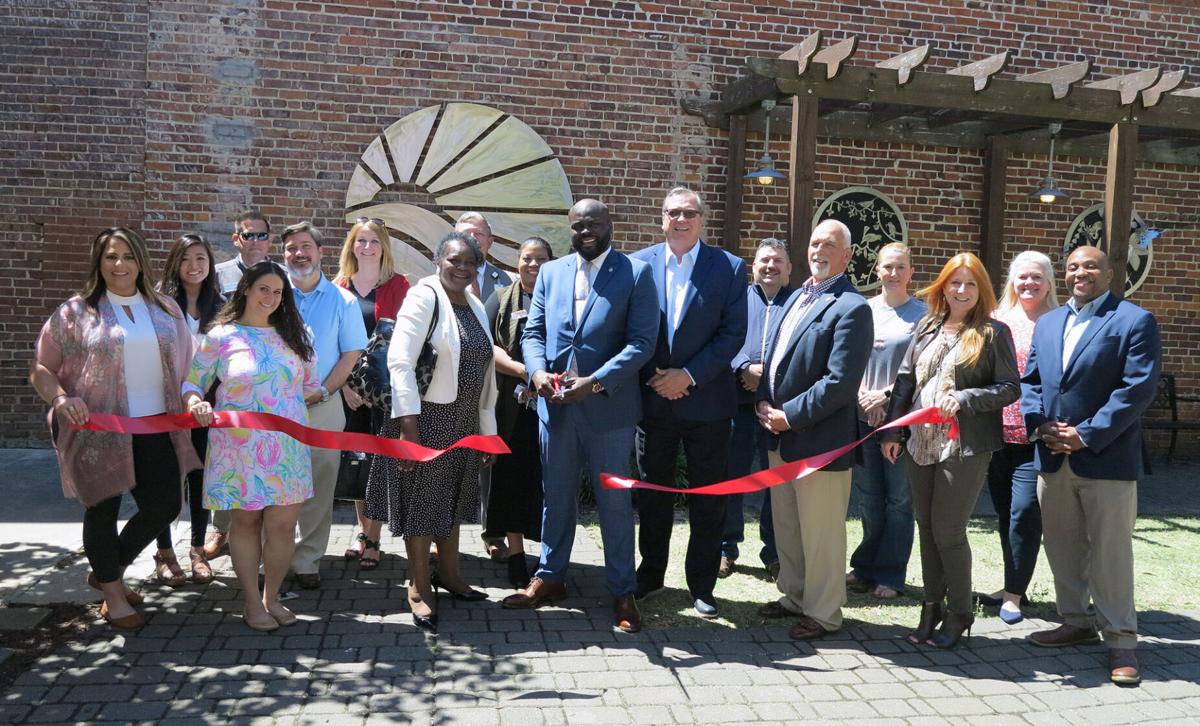 FLORENCE, S.C. — VBC LP held a ribbon cutting in the James Allen Plaza on Dargan Street Thursday morning in celebration of joining the Greater Florence Chamber of Commerce.
Managing partner Vincent Coe cut the ribbon and was joined by chamber ambassadors and staff.
VBC LP (Balcony Advisors) is a partnership that was formed in 2020.
"I previously lived and worked in New York City as a bank regulator with the Federal Deposit Insurance Corporation (FDIC)," Coe said.
"I still can remember my very first assignment — my team lead said I need, 'Vincent. We want you to spread the balance sheet.' We former examiners call it the 'California Spread,' where you disassemble a bank's balance sheet (assets, liabilities and equity) into different categories in order to determine if the bank properly reported each of these components on the 'Call Report.' This report is just one, but very important, resource that bank regulators assess the performance of a financial institution."
"That story sticks with me today, 12 years later, as a defining moment in my career history," Coe said.. "I learned the importance of responsibility and accountability, which served me well in every new challenge that I have faced since then. In a nutshell, this is work that I do. I disassemble an issue, piece by piece, in order to determine what course of action to pursue. As a finance guy, when numbers are involved, I get super excited because I love working with numbers. Beyond my personal feelings, I really enjoy helping businesses succeed, especially when it comes to protecting consumers."
Coe said his first job out of college was with the Lieutenant Governor's Office of South Carolina, which at the time covered the Office on Aging. In that role, he helped senior adults and people with disabilities access community resources through an Internet database administered by the Office on Aging. "
"Fast forward 10 years," Coe said, "I have been blessed to sit at many boardroom tables and work alongside some brilliant executives at Fortune 100 companies. I decided to harness all of the experiences I have had over the years into my company."
Coe said the company does three things for all of its clients: Listen. Innovate. Deliver.
"This concept drives everything that we do," he said.
Coe said the company is a nationally certified minority-owned business through the National Minority Supplier Diversity Council (NMSDC). He recently became inducted into the NMSDC's 2021 Emerging Young Entrepreneurs (EYE) cohort, which consists of about 30 other minority entrepreneurs from all over the world to help support young entrepreneurs grow and remain in business.
Coe said having a relationship with the chamber is critically important to connect with business owners — not just for the sake of connecting, but to really become acclimated with the local business culture. Coe said it is important to him to reinvest in the community — "be it mentoring, volunteering or helping others who may need a hand up."
"I hope other members share some of the same qualities that I have and are willing to work together when opportunities exist. The Pee Dee is my home, and I am looking forward to whatever the future has in store through the Chamber and beyond," Coe said.
Coe is native of Darlington. He graduated from Lamar High School, Darla Moore School of Business and Case Western Reserve University School of Law.
He is not married and has no children, but said he has three little nephews (L.J., Miles and Ellington) here in Florence and two nieces (Leila and Gabby) in North Carolina.
"Our company is completely virtual," Coe said.
It operates via Zoom, Skype or any other virtual (secure) platform that is convenient to the client. "We are available 24/7 to our clients," Coe said.
He can be reached by phone Monday through Friday from 9 a.m. to 5 p.m. at 843-624-3491 or email at vincecoe@vbclp.org.