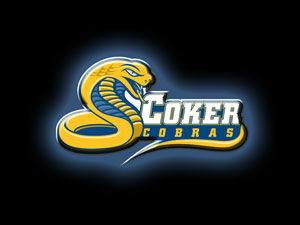 HARTSVILLE, S.C. – After one round of play at the Panther Run Golf Club, the Coker University women's golf team sits tied for third place in the 2019 Myrtle Beach Intercollegiate.
Finishing with a combined team score of 332 (+46) on Monday, Jordan White and Alicia Fajardo got off to a quick start on the front nine shooting plus-1 and plus-2 respectively. White birdied on hole 8, and Taylor Mayers had a strong back nine shooting a birdie on hole 12.
Individually, Fajardo, White, and Mayers are each tied for ninth after shooting an 81 (+9). Katie Smith finished with a score of 89 (+17).
The Cobras will back in action today for the second round of the 2019 Myrtle Beach Intercollegiate. Tee time is set for 9 a.m.
Coker men's golf tied for 7th at Griffin Invitational
HARTSVILLE – After day one at the Country Club of Petersburg, the Coker University men's golf team sits tied for 7th place at The Griffin Invitational.
Finishing with a combined team score of 594 (+18) in the first two rounds of play. Freshman Killian Ryan led the way for the Cobras shooting a 70 in round 1 (-2) and a 73 (+1) in round two. Coleman Bess shot a 71 (-1) in round one, and two-under-par on the back nine in both round one and two.
Individually, Ryan is tied for fourth place with his score of 142 (-2). Bess is tied for 21st after shooting a 147 (+3), and Haydon Norwood is at 150 (+6) which has him tied for 32nd.
The Cobras will be back in action for the final round of The Griffin Invitational today.
Coker E-Sports defeates University of Texas-Dallas
The Coker Cobras took on The University of Texas - Dallas in week three of the Tespa Hearthstone Championship on Monday.
Both teams entered this week at 2-0. UT Dallas brought their Murloc Paladin, Murloc Shaman, and Zoo Warlock, which Coker brought Control Warrior, Highlander Warlock, and Token Druid. This line up favored the Cobras, with only one matchup, Druid versus Warlock, going in favor of UT. The first game Coker decided to bring their Token Druid deck and UT chose their Murloc Shaman. Coker got early control of the board and was able to land some buffs on their minions. Murloc Shaman does not have a lot of board wipes and UT was forced to use all of theirs early. The Cobras were able to continuously apply pressure and win the first game.
The second matchup was Coker's Control Warrior and UT's Murloc Paladin. The win condition for UT was to continuously apply pressure with low cost minion, and Coker's win condition was to keep the opponent's board empty. Coker was able to continuously destroy UT's side of the board with their use of Warpath and Brawl to win the second game.
The third matchup was Coker's final deck, Highlander Warlock, was up against UT's Murloc Shaman. Highlander, also known as singleton, is a deck that contains no duplicates and relies on powerful cards that need specific conditions. Zephyrs is a card that works only if your deck has no duplicates, and was able to give Coker a card that specifically destroys Murlocs. Woth this early tempo, Coker was able to apply pressure and eventually give Coker the 3-0 match win.