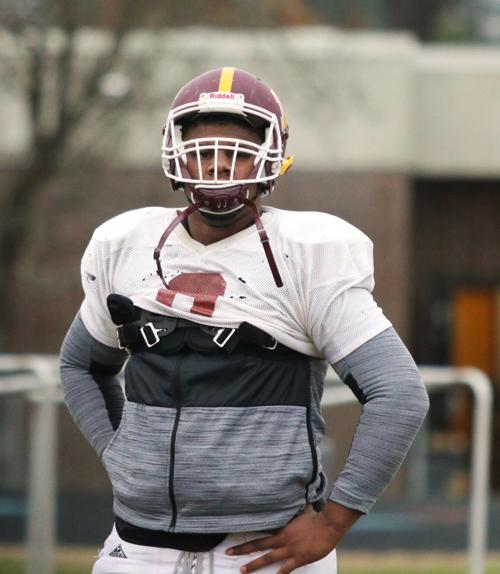 FORT MILL, S.C. − It's been an emotional couple of days for Anthony Walton.
On Wednesday, the Lamar High offensive lineman signed with NCAA Division I school Coastal Carolina. On Friday, he was named All-State.
Saturday was the ultimate feather in the cap as Walton was among seven Pee Dee area players selected to the 2020 Shrine Bowl of the Carolinas. He joins Dillon's Avery Hewitt and Ahmari Huggins-Bruce, Hartsville's D.P. Pendergrass and Bailey Carraway, West Florence's Nyke Johnson and Marion's T.J. Sanders on the Sandlappers squad.
Due to the COVID-19 pandemic, the Shrine Bowl game that normally takes place at Gibbs Stadium at Wofford will not be played this year. It would have marked the 84th game between North and South Carolinas.
But the excitement remains all the same for the 6-foot-4, 300-pound standout for the Silver Foxes. He graded out at 93% this season with 12 pancake blocks en route to earning the high honor.
"It's been kind of all over the place, but all good," Walton said after hearing the news. "It means a lot to me. Being selected to that team is such a big deal, and I've just been waiting on this moment all season. I'm just ecstatic.
"...I've had it in my mind since my sophomore year that I wanted this honor and I've worked toward it. Just so happy I was named to the roster."
Joining Walton in the trenches is Hewitt – an All-State selection and Campbell University signee. The Dillon standout was part of a Wildcats' offense that rushed for 1,758 yards and 35 touchdowns this season.
The Shrine Bowl was something Hewitt had wanted to play in for a long time, and might have been the most disappointed that the game was canceled for this year.
"It's weird knowing I won't be able to go (to the game)," he said. "I would have loved to have gone because it's something you always heard about at Dillon growing up playing football. It's an honor to be selected, but I was really hoping to get to go and play."
He wasn't the only Wildcat to make it as Huggins-Bruce was chosen at wide receiver. Bruce has had a week equal to Walton's after signing with the University of Louisville on Wednesday and being named All-State on Friday.
Huggins-Bruce led the Wildcats with 30 catches for 621 yards and six scores this season.
"It was something I really worked hard for," he said. "It's an honor to be part of the team. Something I can tell my kids about one day. I just tried to play my best and ball out every year, and good things will come if you keep doing what you need to on and off the field."
Also making the squad at wideout was Pendergrass. Proving his versatility, the Red Fox standout made All-State on Friday as a running back and recently signed with the University of South Carolina to play baseball.
He ran for 685 yards and 13 touchdowns, caught 16 passes for 250 yards and four TDs and returned seven kickoffs for 379 yards and two more scores – not to mention another 110 yards on punt returns.
"I know there's a lot of guys who wanted to play and wanted to earn one of these spots, so it's just an honor and a blessing to have been chosen," Pendergrass said. "I knew I could compete at a high level and not many people were able to do what I do, so I felt like it was within my reach if I just worked hard this year."
Carraway, Johnson and Sanders make up the Pee Dee's defensive trio. Carraway has been the leading tackler for the Red Foxes each of the past few seasons. He finished with 64 this year to go along with two sacks and two blocked field goals.
"I'm very honored to earn this," he said. "Since (recreation) league ball I always to play in the Shrine Bowl and looked up to the people that made it before me. I just always wanted to beat the odds and do something no one else in my family did.
"It's disappointing to not be able to play in the game, because I wanted to show what I could do against the best of the best."
That was a driving factor for Johnson as well. During his sophomore year at West, two teammates were selected to the Shrine Bowl (Ailym Ford & Michael Hayes).
"Just to be able to represent the state and be selected as one of the best is big," said Johnson, who recently signed with Virginia Tech and earned All-State honors as a defensive back. "It was kind of on my mind since my sophomore year, but I just tried to work hard and do what was best for my team."
The journey was much shorter for Sanders, who started playing varsity football two years ago. He helped lead the Swamp Foxes to the region championship and the 2A state title game this year.
The All-State defensive lineman had 18 tackles for a loss and six sacks prior to Friday's game.
"It was something I didn't really thing about it until this year," Sanders said. "I'm honored and blessed to make the team. I didn't really think about big football (honors) like the Shrine Bowl. It was just a lot of work and hours that I put in throughout the year."