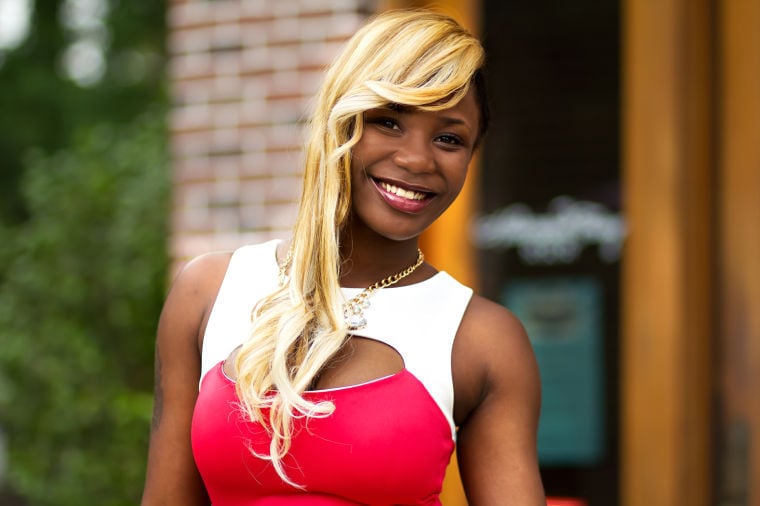 FLORENCE, S.C. — Ashleigh Nicole Mabry is clear about this: She is a bad girl.
Don't let her appearance fool you.
"I keep the bad girl inside," Mabry said. "On the outside, you see this nice, innocent person. I keep her inside until she has to show out."
Television audiences will see her show out when she stars in "Bad Girls Club: Atlanta," which begins filming in September.
The hit reality show airs on the Oxygen network and is known for bringing a select number of women, all with strong personalities, under one roof. According to Oxygen, each "bad girl" is willing to make a change to their bad girl tendencies.
"It's going to be tough in a house full of females," Mabry said. "It's going to be tough with all of that drama."
The 19-year-old Kingstree native, who currently resides in Florence, didn't set out to show her bad side to the world.
During her junior year at Kingstree High School, she auditioned for the popular Twerk Team dance group out of Atlanta but was turned away when the group decided not to add another member.
On July 17, though, she received a letter that gave her the chance of a lifetime.
"We are pleased to announce that you are the youngest female ever to be selected to the cast of 'Bad Girls Club,' and the first female that was chosen from the state of South Carolina," the letter read. The letter states that she was selected from 7,000 application entries from the Southeast and is one of a selected group of eight who was chosen from a total of 697,000 submitted applications in the United States.
"I screamed until my brains were about to bust," Mabry said. "I could not stop screaming that day. I was too excited and shocked that I'm going to be on there. Me, out of all people."
Mabry said she is excited to begin the show because it is something she wanted to do for a while. Mehgan James, a "bad girl" from the ninth season of the show in 2012, is who really inspired Mabry.
"I was looking at (Mehgan James') season and was like, 'This is what I want to do,'" Mabry said. "I just want to go on there and wild out like Mehgan James but be my own self. She's my inspiration."
To prepare for the show, Mabry said she is watching the current season, "Bad Girls Club: Chicago."
"I don't have time to do anything else because I work all the time, Mabry said. "I just watch what they do and get ready for my season."
Mabry has already established a fan base under the name "Mz. Hershey," which she will be known as on the reality show.
"They will see what the youngest thing can do," Mabry said. "If I make friends, that'll be good. But if I get that vibe that they don't like me, then oh well."
Mabry said she plans to smile through it all.
"I'll just be smiling in their face the entire time," Mabry said. "You know, smiling kills them."
She intends to represent Kingstree and South Carolina on the show by simply being herself.
"I'm going to go on there and be the person that I am. I'm going to be real," Mabry said. "I'm going to take what I learned in Kingstree and what I learned in Florence, and take it all out in Atlanta."
"Bad Girls Club: Atlanta" is set to air in early 2015.
"It's time to show the world what it is," Mabry said.
Be the first to know
Get local news delivered to your inbox!