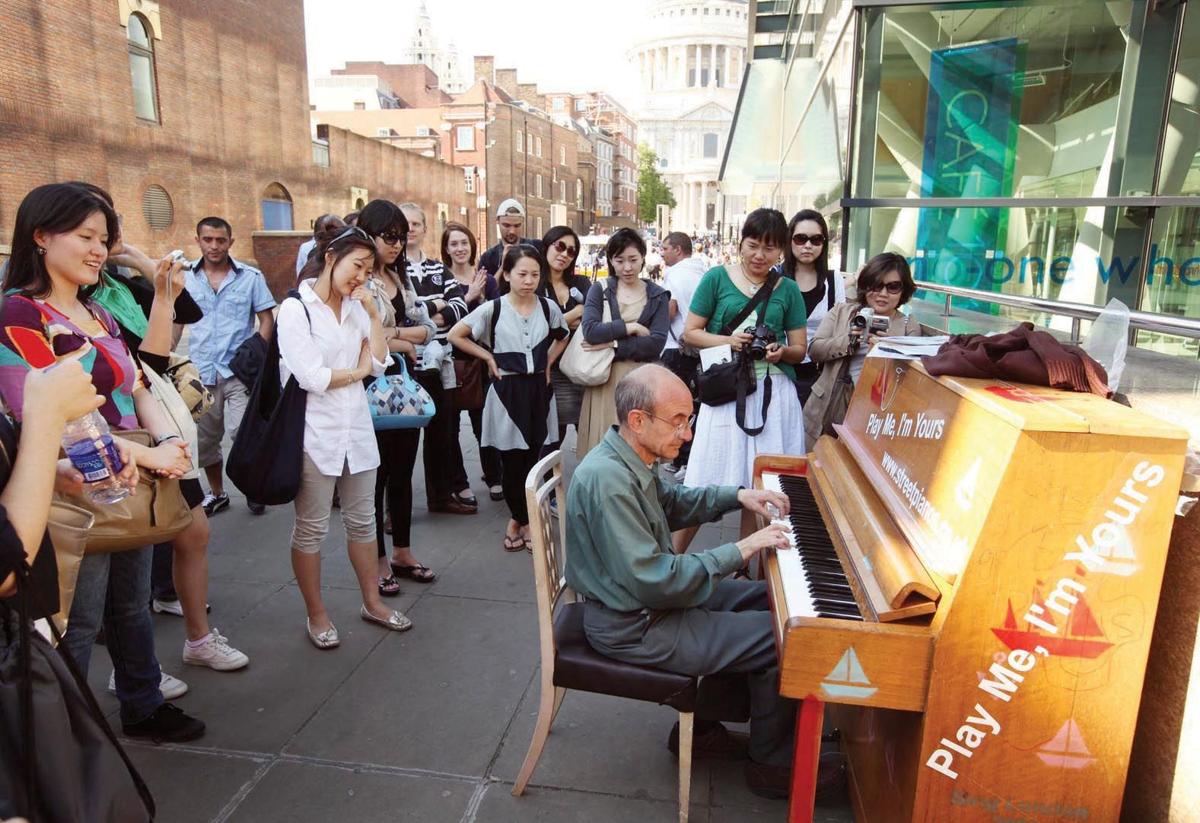 FLORENCE, S.C. – In April, randomly placed street pianos will begin to appear throughout Florence.
This street piano event is part of the project "Play Me, I'm Yours" by British artist Luke Jerram. The exhibit has been touring internationally since 2008 in locations such as New York, Boston and London and will make its debut in Florence from April 15 to May 3.
The Florence project is sponsored by the Wilcox Foundation.
"We are going to be placing about 20 pianos around Florence," said project manager Roger Malfatti. "This is an international activity that's being done all over the world. We're the only place in the southern half of the country that's going to be doing it this year."
Malfatti said the purpose of "Play Me, I'm Yours" is to get people to create their own art, whether it is playing a piano, or decorating one.
To get the project going, Malfatti said, organizers are looking for pianos and artists. Local residents can donate playable upright pianos to the project. The piano does not have to be in tune, but it has to be able to be tuned.
Local artists can participate by decorating the pianos.
"We're looking for people to express themselves," said Reynolds Williams, one of the organizers of the project. "It can be one person or a group. We do want it to be fun art. Artists are artists."
Williams said his main reason for wanting to bring "Play Me, I'm Yours" to Florence is that it is something everyone will be able to enjoy together.
"There's plenty of talented people in Florence. That's one thing that brings people together," Williams said. "All of us can enjoy music and art together. The point is not to make money or raise funds; the point is to bring people of Florence together, and people of the state."
Pianos will be located throughout the city, downtown, in parks, shopping centers, and wherever people gather. Malfatti said he is currently looking for more locations.
Anyone who sees the pianos is encouraged to play and enjoy them. Written on pianos will be the words "Play Me, I'm Yours."
Malfatti and Williams said the project is meant to be impromptu.
"It's a people's artwork," Williams said. "The people are going to create their own music and artwork."
Williams said anyone can participate, including individuals, Sunday school classes, choirs and children.
Each piano will have a "piano buddy" who will look after it and report anything that may go wrong.
People interested in decorating a piano are invited to send a short letter of interest about their work to rmalfatti@sc.rr.com. Anyone interested in donating a piano can also contact Malfatti at the same email address.
More information about "Play Me, I'm Yours" will be released as the project date gets closer.