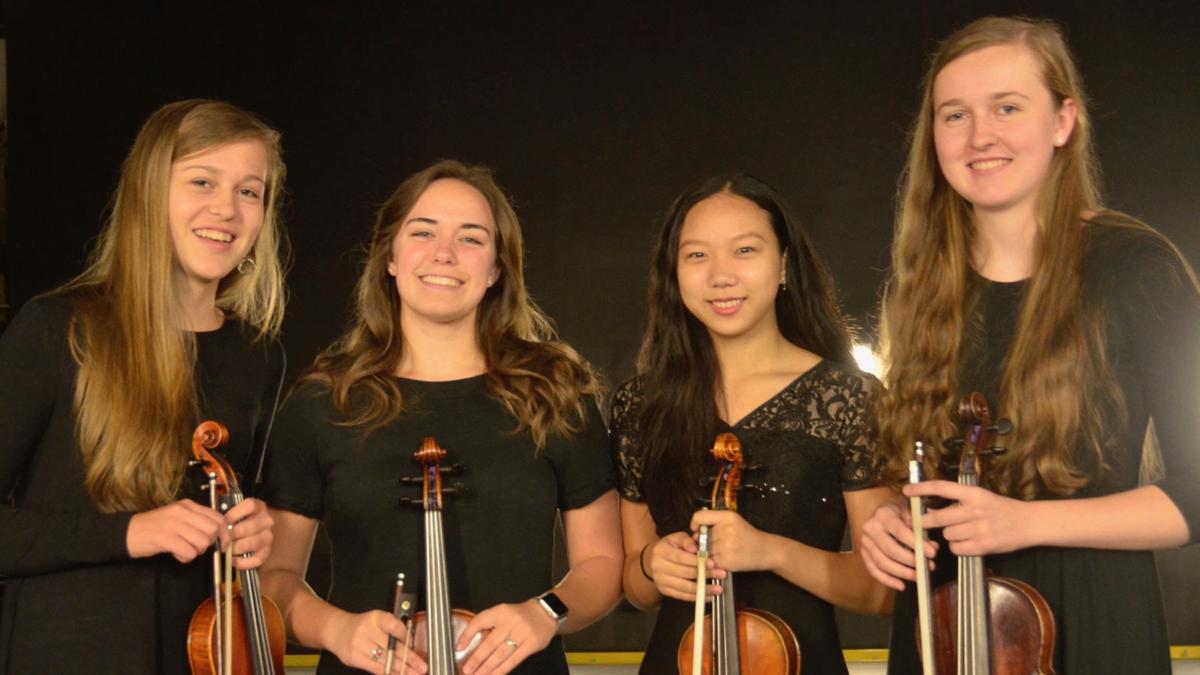 FLORENCE, S.C. -- This season's auditions brought exceptional young talent to the Florence Symphony Orchestra.
Stephanie Dersch, Emma Lynch, Lilli Lynch and Isabella Ouyang, all violin players who studied under Sherry Woods, are now part of the FSO string section.
Dersch is a senior at Florence Christian School. Sisters Emma and Lilli Lynch are from Darlington, where they are homeschooled. Isabella Ouyang is a senior at Wilson High School.
Dersch has been playing the violin for "as long as I can remember." That is, since age 4, when she began lessons with FSO's principal violist, Mary Louise Nagata. Dersch also plays the piano and is active in school sports.
"I love participating in choir, drama, public speaking, yearbook and other organizations at school," she said. "I'm very involved in my church, where I serve in the nursery, children's church and worship services.
"Playing in the FSO is a privilege, and I am thankful for the opportunity. It is a wonderful experience to be playing such high-level music with professionals."
Dersch plans to attend Bob Jones University in Greenville and study nursing and biblical counseling. Her ultimate goal is to become a medical missionary.
For the Lynch sisters, music has always been part of their lives.
"So far my experience in the Florence Symphony Orchestra has been awesome!" said Emma, who has been playing the violin since age 5. Now 17, she also is accomplished on the piano and guitar, and just for fun, she plays the organ and banjo.
She is the assistant accompanist at her church and teaches weekly lessons to five violin students. Next year, she will attend Bob Jones University to pursue a degree in nursing.
Younger sister Lilli, 15, has been playing the violin for 10 years. Lilli also has played in All-State and All-Region orchestras where she has had the opportunity to be concertmaster.
"I love to read and write fantasy novels, play with my two dogs and hang out with my family and friends," she said. "I will be graduating next school year and will most likely attend Bob Jones University, majoring in business."
Ouyang has been playing the violin and piano since age 4, studying under Woods and the late Linda McKenzie.
"My love and passion for music has grown continuously over the years, and I am grateful for the incredible experiences I have been given because of it," she said.
Ouyang has played in numerous orchestras, starting at the Florence Youth Symphony Orchestra, the Fleur de Lis Orchestra, the All-City, All-Region and All-State Orchestras and most recently the High School Honors Orchestras at Carnegie Hall and the Sydney Opera House.
"Being able to play in an orchestra as professional as the FSO is truly an honor, and I look forward to this performance season," she said.
Outside of orchestra, Ouyang is involved in Wilson High School's swim team, mock trial team, math team and the community and service club. She plans to continue her education after high school and "will carry my love for music no matter what I decide to choose as my profession."
Stay up-to-date on what's happening
Receive the latest in local entertainment news in your inbox weekly!