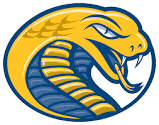 HARTSVILLE, S.C. — Coker University Athletics has signed a partnership with HomeTown Ticketing to be the digital ticketing provider for the Cobras, announced Thursday by Vice President of Athletics and Athletic Facilities Dr. Lynn Griffin.
As a part of the partnership, Coker will implement online ticketing for all of its 2020-21 home athletic events in part to help prevent the spread of COVID-19.
"We are excited to partner with HomeTown Ticketing as we work to streamline our ticketing options," said Griffin. "With the new realities that we face with facilities and sport, we believe this will be a great partnership and move us into the touch free ticketing process."
"We are excited to support Coker University and the Cobra community," stated Ryan Hart, CEO of HomeTown Ticketing. "HomeTown Ticketing provides schools the tools that they need to achieve fast scans and happy fan."
The partnership presents online ticketing options for customers, as well as additional security and reporting capabilities for Coker Athletics staff. Fans will need to purchase game tickets online at www.cokercobras.com.