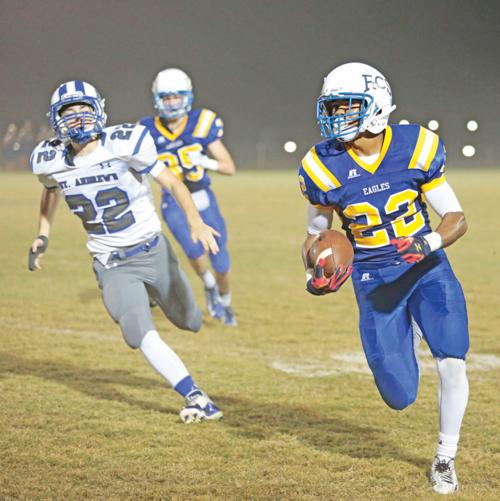 FLORENCE, S.C. – Alex James had every intention of finishing his collegiate career in upstate New York, but life sometimes doesn't go exactly as planned.
The former Florence Christian School standout was having a solid redshirt junior season at the University of Albany, earning the Colonial Athletic Association's Co-Offensive Player of the Week award at one point, while contributing as both a running back and kick returner.
And like all of his games, his family was in the stands watching. But a health issue popped up late in the season as James' father, Arnett James III, suffered a light stroke.
"It kind of shook up my time in Albany," the younger James said. "Family is the No. 1 thing in my life besides my Lord and savior, so them not being able to see me play would have hurt them in the long run, because every game I've ever played, they've always been at."
Fortunately for the James family, the long trips to the Northeast won't be an issue this season as Alex James will suit up on the same field where his brother, Arnett James IV, played at South Carolina State.
"I was blessed to receive another opportunity at S.C. State, so that was kind of fun to sign with them, being that I watched my brother play in the same stadium that I'm going to be playing in," Alex James said. "So I'm excited."
The youngest James pointed to his father and brother as two of the biggest influences in his football life, so the decision wasn't too difficult for the fifth-year senior to return home. He also played at Coastal Carolina for three seasons.
"The past few years, I feel like I've shown that I have the ability to be successful playing ball at the (NCAA) Division I level," Alex James said. "So hopefully this year I can put it all together with all of the work I've put in over the past few years."
In 14 games at running back and kick returner for Albany, he had 95 carries for 629 yards and one touchdown to go along with 18 kick returns for 340 yards.
The CAA award was given following a 229-yard rushing performance, including an 83-yard touchdown, against Bryant.
"Playing at Coastal (475 yards, 7 TDs) was a little different for me, because I was thrown into an offense that didn't necessarily fit my play style," Alex James said. "So getting to Albany, which was more of a multiple spread offensive scheme, it allowed me to get back in space and get a feel for the game that I had in high school."
The former Eagle is banking on that continuing with the Bulldogs and their spread, run-pass-option scheme. Aside from playing mostly running back, Alex James is looking to get into space and showcase a little more of his offensive versatility in the passing game as well, he said.
"Being able to spread the defense out and get put one-on-one with linebackers and defensive backs, I think anytime you can put a running back in that position, you can be successful," he said. "Hopefully we can put it together and I can play a part in helping S.C. State bring home a MEAC (Mid-Eastern Athletic Conference) championship."
The ultimate goal is still the same, as the younger James hopes to step onto an NFL field at some point – whether as a late-round draft pick next year or as an unrestricted free agent.
"Coming back home is the same mindset," he said. "It's the same game, same everything. Now I just get to do it back home in front of my people and my family. So I'm looking forward to it."
Concerned about COVID-19?
Sign up now to get the most recent coronavirus headlines and other important local and national news sent to your email inbox daily.