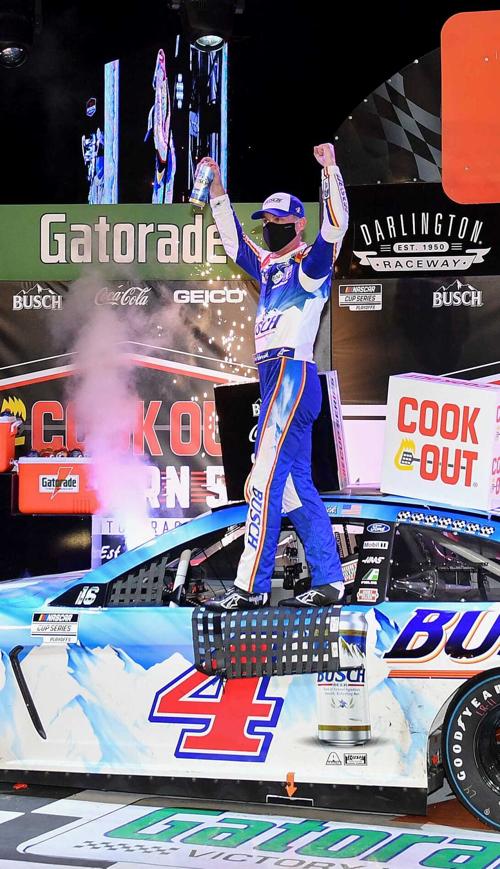 DARLINGTON, S.C. – Darlington Raceway had a rare, arch nemesis in 2020. It was Kevin Harvick who was too tough to tame.
Harvick not only won two of the track's three Cup races, he was third in the other. And with Darlington preparing to host the Goodyear 400 on Sunday, the track's first regularly scheduled spring race since 2014, it's worth remembering who won that race, the Cook Out Southern 500. It was none other than Harvick, who went on that year to claim his lone Cup points championship to date.
In the May 17, 2020, Real Heroes 400, NASCAR's first Cup race since the coronavirus pandemic stopped everything, it was easy to hear Harvick's victory spinout. That's because there were no fans.
"The weirdest part of the day for me was getting out of the car and not hearing anybody cheering," Harvick said after winning that race. "When the engines are running, you're kind of in your own little world in the car. … The practice and in-the-car part are something we can figure out. The not having any fans in the infield, for me, that took some of the enthusiasm of the win away just because of the fact you weren't able to celebrate with the crowd.
"For me, that was really awkward, because I feed off of that stuff, enjoy those types of moments," he added. "For me, didn't really know what to say after the race, because it's such a unique situation that we're in."
But Harvick was in his element on the track, in tune with his team, which helped him win his fifth race off pit row that day to edge then-leader, Brad Keselowski. After that, Harvick never looked back for what was then his 50th career Cup victory.
"When you look at a win like this today, this is an organizational win because you have to have your car dialed in when you get here in order to win a race like this," Harvick said. "Our guys have just done a great job of putting all the pieces together. Today, we were able to capitalize on that and win a race."
And in September's Southern 500, Harvick took advantage of Chase Elliott and Martin Truex Jr., making contact with the wall, and holding off Austin Dillon to take the checkered flag.
And this time, it was in front of fans.
"Anytime you can win the Southern 500, it's a good day," Harvick said. "This is one of the most prestigious races in our sport and one of the most prestigious race tracks in our sport. Any time you can win at Darlington, it's a big deal."
And it's also a big deal that Harvick has gotten better with age. In his 17 Darlington stars in a Chevy for Richard Childress Racing, Harvick posted three top-five finishes. But since jumping into a Ford for Stewart-Haas Racing, Harvick has finished outside the top five just once.
"He's really good at just bending the race car to his will. He knows how to work the front tires really good, he knows what he wants out of a race car. He knows how to get in his rhythm very well, and keep the car driving the way he wants it to, over the course of the run," fellow Cup driver Tyler Reddick said. "And he and (crew chief Rodney Childers) have a good relationship, so they're able to make really good adjustments on their cars. They understand each other well. A guy like that running good at Darlington is not a surprise. Kevin's one of the best at managing that stuff. So when you see him just do it and win two out of three last year at Darlington, it's not surprising."
Twenty years ago, Harvick won his first Cup race, at Atlanta Motor Speedway. He has won 57 more since and ranks ninth all-time.
After Harvick won No. 56 at last year's Southern 500 to break a tie at 10th with Kyle Busch, Harvick was asked what it was like to be ranked by a single digit.
Harvick simply responded, "We're getting old."