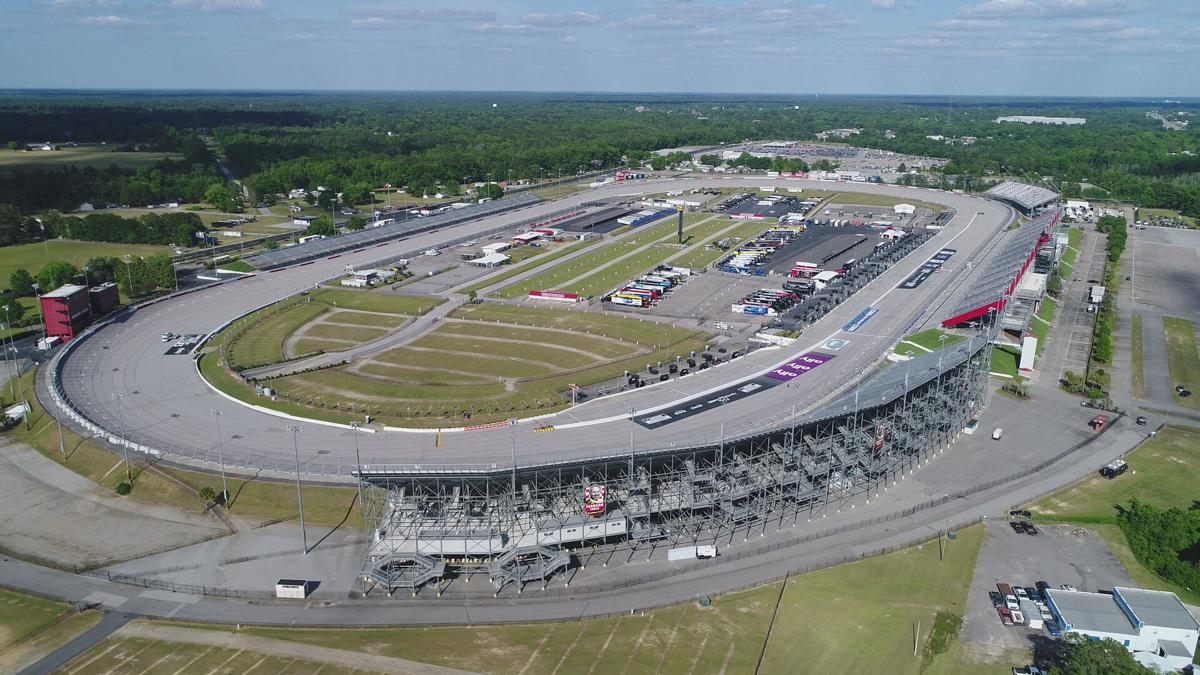 DARLINGTON, S.C. — For all of the tradition that embodies Darlington Raceway, with the Cook Out Southern 500 and NASCAR's official throwback weekend, a rarity is actually nearing the Track Too Tough to Tame: A Mother's Day Cup race — only the eighth in the sport's 73-year history.
Sunday's Goodyear 400 actually will be Darlington's second Mother's Day race, since the 2007 Southern 500 was postponed a day later from its Saturday start because of weather.
As the track Too Tough to Tame prepares to host two regularly scheduled Cup races for the first time since 2004, why not start a new tradition with the Lady in Black?
But first, some history between the sport and Mother's Day, and how a couple of drivers with local ties were at their best on those days.
Hall of Famer Buck Baker, whose first wife, Margaret, was born in Florence, won NASCAR's first Mother's Day race, in 1954, by dominating the field and winning on Wilson Speedway's half-mile dirt track. Baker won on Mother's Day again, in 1956, at the 9/10-mile Orange Speedway dirt surface.
A year before Bucker's first Mother's Day win, he won the 1953 Southern 500 in an Oldsmobile sponsored by then-Florence car dealership Griffin Motors. He went on to win the Southern 500 again, in 1960 and '64. How else is Mother's Day prominent with Buck Baker's success on this day? Margaret bore him his son, Buddy, here in Florence. And Buddy went on to continue the family's NASCAR dominance while becoming a Hall of Famer, himself, after winning prestigious races such as the 1970 Southern 500.
During the 1960s, NASCAR set somewhat of a tradition that it later followed at Darlington by competing on the Saturday night on Mother's Day weekend on seven occasions.
While there were two Cup Mother's Day races during the 1970s, in the 1978 spring race at Talladega Superspeedway (Alabama International Motor Speedway at the time) the checkered flag went to Timmonsville's Cale Yarborough, a five-time Southern 500 winner.
Then in 2007, for the first time since the '78 race, Jeff Gordon led the final 22 laps to win his record sixth Southern 500.
What does racing on Mother's Day mean to today's Cup drivers? It means a lot, considering how many different roles their mothers played at the track and behind the scenes.
Tyler Reddick, who won back-to-back Xfinity Series championships before going full-time Cup racing, recalled the early role his mother played.
"Back then, in the early days of watching film, she used to film all the races with her camera, and me and my dad would study it. She would record every heat race, every practice session, everything," said Reddick, who posted a top-10 finish in last year's first spring Darlington event. "After they were filmed, me and dad could look at it on camera about what I did right, what I did wrong and get a better understanding of what would help me.
"It's crazy. I never really thought of it like that before," he added. "Watching that film that Mom did probably helped me more than I ever realized."
Fellow Cup racer, Ricky Stenhouse Jr., also talked about the role his mother had.
"I think most drivers always know that they worked really hard with their dad to get to the point that they're at," Stenhouse said. "But if it wasn't for our moms supporting us on the back side, I don't think any of us would make it here either."
Of course, mothers also try to attend in person every race their sons or daughters are in. And before the recent Talladega spring race, Ross Chastain was excited about that.
"She's driving to Talladega right now with my aunt. They're road-tripping and bringing some fresh watermelon from our farm. She sent me a video last night from the field, and that was her last stop," Chastain said. "Starting out, she was always there to support me and did everything from sewing the patches on my suits, helping us load the racecar and driving me to the track before I was 16 if my dad was in the field or on our farm. She knew I wanted to race, so those early years were hobby racing and what we loved to do.
"We've had some special times," he added. "It's brought our family closer together. It's brought in her parents and giving them a more active role. It all gave us excuses to be around each other, so it really brought us together."