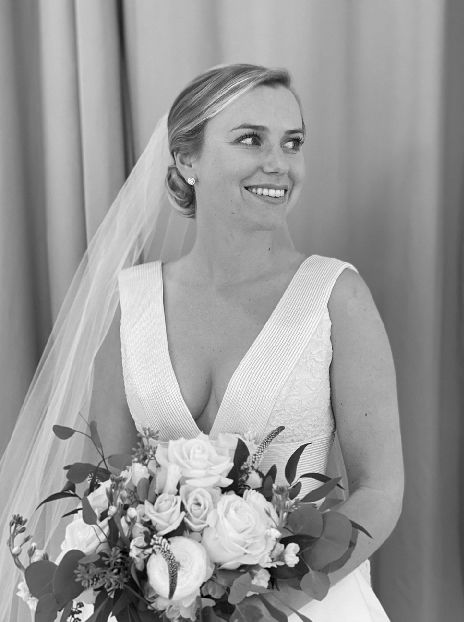 Laura Evans Jones and Grey Keisler Strait, both of Florence, were married March 14, 2020 at six o'clock in the evening at Central United Methodist Church. The Reverend Thomas C. Pietla performed the ceremony. The bride, who was escorted by her father, is the daughter of Mr. and Mrs. Stewart Evans Jones of Florence. She is the granddaughter of the late Mr. and Mrs. Barry Webb Jones of Florence. She received a Bachelor of Science in Health Science from Clemson University and is in her fourth year of school at the Medical University of South Carolina College of Dental Medicine. She will graduate in May of 2020.
The groom is the son of Mr. and Mrs. David George Strait of Florence. He is the grandson of the late Mr. and Mrs. George Sterling Jordan of Florence and the late Mr. and Mrs. Jacob Fox Strait of Georgetown. He received a Bachelor of Science in Packaging Science from Clemson University.
Matron of Honor was the bride's sister, Emily Jones Judy. Maids of honor were the bride's sisters Katherine Marie Jones and Margaret Frances Jones. The groom's father, David George Strait, served as Best Man.
Bridesmaids were Alexandra Richey Cole, Olivia Wolfe Daniels, Alice Gray DeLoache, Jordan Strait Johnson, Georgia Hunter Keith, Hannah Hubbard Proctor, Mia Jane Schneider and Sarah Browning Taylor.
Groomsmen were Connor Glenn Bennett, James Coker Courie, Phillip Maurice Gardner, James Judson Godbold, Gregory Allen Johnson, John Bascom Judy, II, John Nichols McCarter, III, Samuel Tompkins Ramey, David Jacob Strait, David Warren Yowell.
The reception followed at the Florence Country Club. The couple will live in Florence.