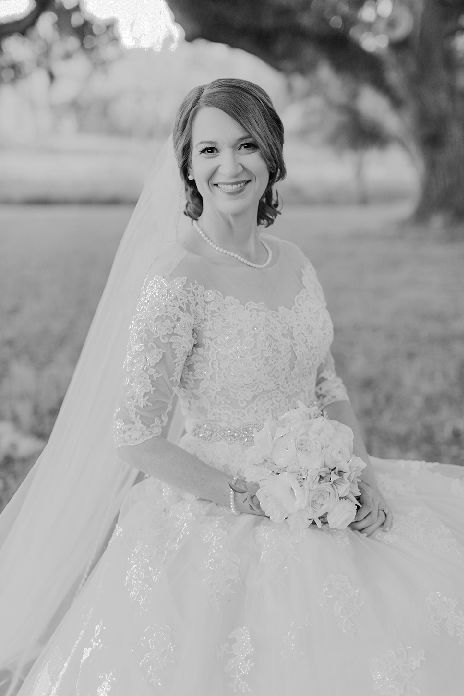 Jenna Alyssa Jordan Weds Stephen (Steve) Roy Squires May 23
Jenna Alyssa Jordan, daughter of Tony and Debbie Jordan of Georgetown, SC, was married to Stephen Roy Squires, son of Sammy Squires and the late Cynthia Owens Squires of Hemingway, SC on May 23, 2020.
The ceremony was held at Pleasant Hill Baptist Church in Hemingway, SC, with the groom's Pastor, Jim Legendre, and the bride's Minister, Dan Hager, officiating at the ceremony.
Given in marriage by her father, the bride wore an
illusion, off-the-shoulder-, A-line wedding gown with romantic lace motifs cascading over tulle layers along with an heirloom diamond cluster ring belonging to the groom's late mother. The bride was attended by Melody
Jordan Skipper as matron of honor and the bridesmaids were Ashley Squires Smith and Dayne Squires Lewis, both sisters of the groom. Flower girls were Claire
Cynthia Lewis, niece of the groom and Hannah May Skipper, niece of the bride.
Best man was the groom's father and the Junior Groomsmen were Jake Owen Squires, son of the groom and Jordan Garrett Skipper, nephew of the bride. The ring bearer was Thomas Wayne Lewis, nephew of the groom.
The bride's mother, the bride's best friends, the groom's father's wife, Ellenor Watson Squires, the groom's daughter, Stephanie Elizabeth Squires, and the groom's grandmother, Marilyn Owens were all honorary members of the processional.
Kaitlyn Martin played the piano and sang "Holy Spirit" by Francesca Battistelli and "Goodness of God" by Bethel Music & Jenn Johnson. She was accompanied by Mary Wright who played the cello.
A reception was held at the home of the bride's parent in Georgetown, SC on Black River. Its A Twin Thing
Entertainment provided the music for the reception.
A short honeymoon excursion followed the wedding and a European River Boat Cruise honeymoon is planned for the fall. The couple will live in Hemingway, SC.
The bride graduated from Georgetown High School and Furman University and earned her Master of Business Administration and Human Resources from NorthCentral University in Arizona. She is a partner with Strovis Holdings LLC in Georgetown, SC.
The groom graduated from Pleasant Hill High School and Clemson University and is a partner with S2 Farms LLC in Hemingway, SC.