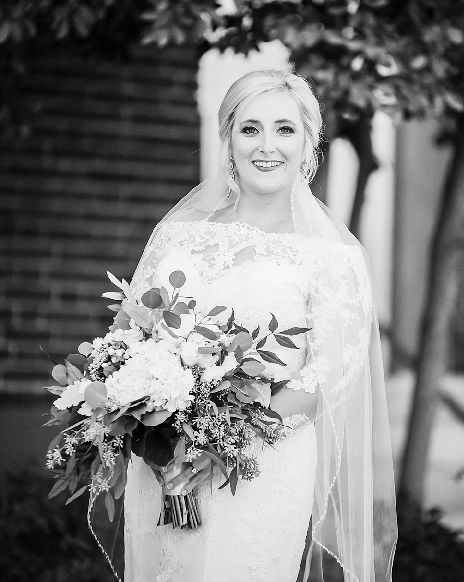 Claire Ashley Mahoney and Paden Alan Capps, both of Florence, were married February 22, 2020 at five o'clock in the evening at Central United Methodist Church. The Rev. Thomas Wesley Smith performed the ceremony. The bride, who was escorted by her father, is the daughter of Mr. and Mrs. Robert Leonard Mahoney, Junior of Florence. She is the granddaughter of Mr. and Mrs. Jerry Wardell Langston of Florence and Mr. Robert Leonard Mahoney Senior and the late Frances Perry Mahoney of Florence. She received a Bachelor of Science in Biology at Francis Marion University and Master of Science in Occupational Therapy at Lenoir-Rhyne University.
The groom is the son of Mr. and Mrs. Michael Alan Capps of Florence. He is the grandson of the late Mr. and Mrs. Theodore Lawrence Maxwell, junior of Florence and the late Mr. and Mrs. Edwin Lawson Capps, senior of Marion. He received a Bachelor of Science in Biology and a MBA with a concentration in Healthcare Executive Management at Francis Marion University.
Matron of Honor was the bride's sister, Meagan Mahoney Bennett. The groom's father, Michael Alan Capps, served as Best Man.
Bridesmaids were Elizabeth Gibbs Atkinson, Madison Kaylee Bass, Kasey James Boatwright, Lauren Weatherford Freeman, Kirby Maxwell Garrison, Meredith Hinson Goodwin, Nikki Capps Horne, Campbell Cooper Jacobs and Hailey Anna Speight. Honorary Bridesmaids were Callie Cen Bonnoitt, Courtney Bonnoitt Coker, Lauren Adlevia Hopkins, Olivia Langston Jacobs and Hannah-Marie McKay. Flower girl was Kinsey Nicole Horne, niece of the groom.
Groomsmen were William Luther Benton, III, Landon Robert Bracey, Justin Hart Chatlosh, Zeb Geddings Freeman, Scott Ryan Garrison, William Matthew Heustess, Christopher Mark Lawhon, Barrett Neilson McRae and Douglas Burton White. Ushers were Kenneth Scott Bennett, Dylan Evander Horne, William Evander Horne, Wardell Wallace Jacobs and Tristen Dalton McKay. Ring bearer was Cooper Vance Chatlosh, nephew of the bride.
The reception followed at the Florence Country Club. After a honeymoon to St. Lucia, the couple will live in Florence.