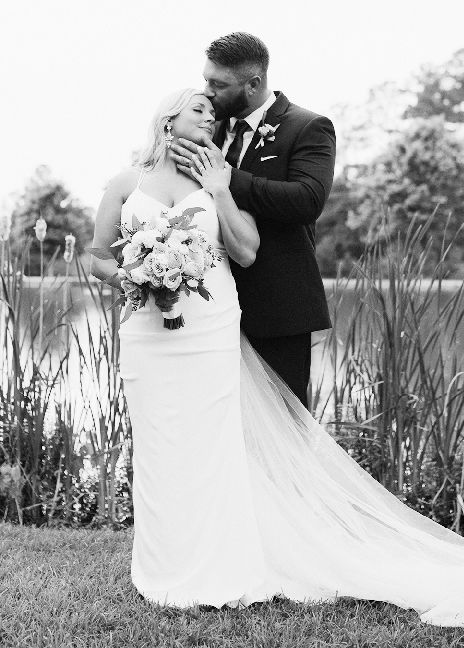 Kayce Lynn McGee and Michael Brooks Purvis were united in marriage May 11, 2019 at six o'clock in the evening at the home of Randall and Christine Brock in Camden, SC. Mr. Wayne Galloway, a lifelong friend of the bride, was the officiant. The reception followed at 833 Broad Street, courtesy of the bride's Aunt Rengy Marshall.
Kayce is the daughter of Mr. and Mrs. Donald C. McGee of Bishopville, SC. She is the granddaughter of the late Lo Ran Ross and Ted C. Cobb of Camden, Mrs. Barbara D. Cobb of Camden, the late Mr. and Mrs. James "Cleo" McGee of Bishopville. She is a graduate of Robert E. Lee Academy in Bishopville, FDTC with an associates in Science and S.C. Massage & Esthetics. She is employed with Sentinel Health Partners as a Registered Radiological Technologist.
The bride wore a signature Nicole Miller wedding gown made from luxurious stretch silk with a low open back with crisscross straps. A semi sweetheart neckline and ruching details. A long train was the dramatic finish of the elegant modern gown. She carried a bouquet of pink roses and white hydrangeas with greenery. Pink roses were used to decorate the gazebo. The bridesmaids wore a chanti long dress featuring a lace bodice with an illusion neckline with a ribbon defined waist and a full mesh skirt with a slit and carried matching bouquets.
The groom and groomsmen wore a blue suit by Calvin Klein, a white dress shirt and a blue slim tie.
Brooks is the son of Mr. and Mrs. Michael Lawrence Purvis of Florence. He is the grandson of the late Mr. Joe Matthews and Mary Matthews of Effingham, Ms. Wilma Purvis and the late Graham Purvis of Asheboro, NC. He graduated from South Florence High School and FDTC with a degree in Electo-Mechanical Engineering. He is employed with Duke Power as an Instrumentation and Control Technician.
Maid of Honor was Brandi Jeffords of Hartsville. Matron of Honor was Amanda M. Woodard, sister of the bride, of Darlington. Bridesmaids were Ashley G. Trimnal of Lugoff, Tiffany B. Brown of Florence, Lauren D. Christmas of Darlington and Brittany Goins of Pamplico. Honorary bridesmaids were Shelby Campbell of Darlington, Jessica T. Jones, cousin of the bride, of Camden and Delaine Ross, cousin of the bride, of Atlanta, GA.
Bestman was Michael L. Purvis, father of the groom. Groomsmen were Jason Thompson of Florence, Lonnie Lane of Lake City, Pete Gioldasis of Florence, Seung Hun Cho of Florence and Blake White of Florence.
The bride and groom would like to thank the Brock's for all of their help to make sure their day was so special.