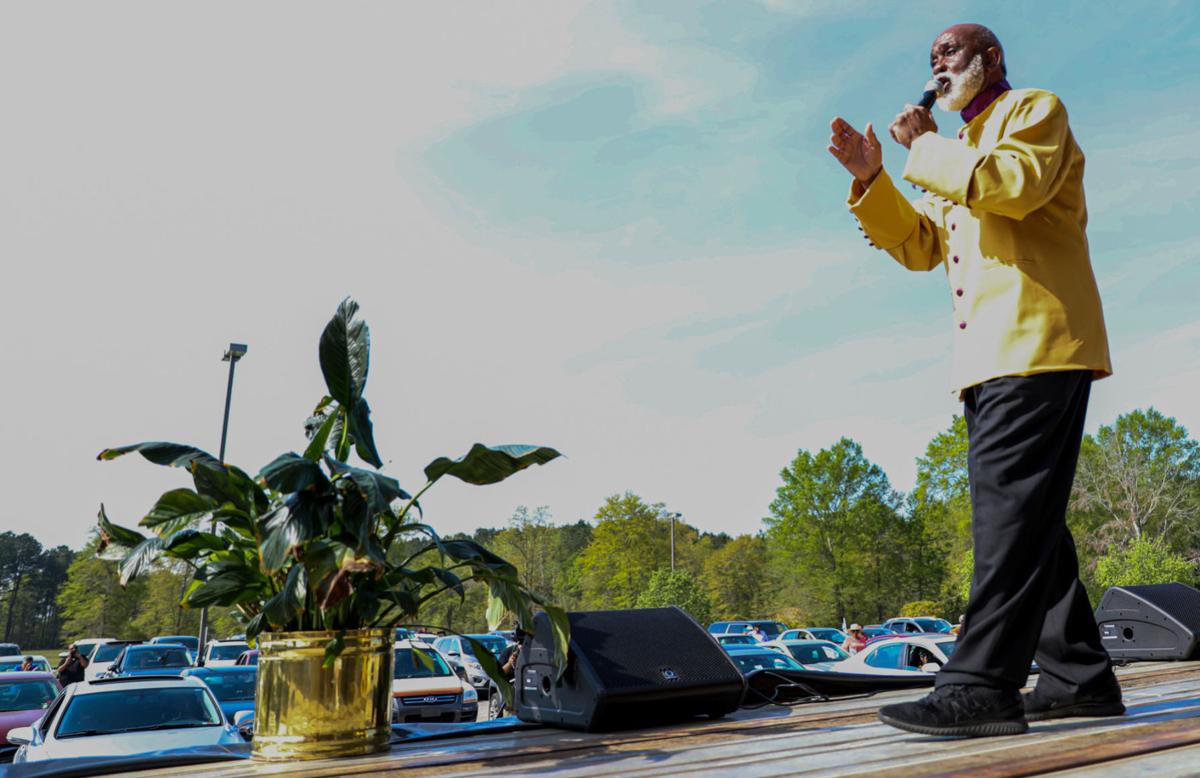 FLORENCE, S.C. — As restrictions resulting from the coronavirus pandemic begin to ease, church leaders in the Pee Dee region are considering when and how to reopen sanctuaries for in-person worship.
A number of church leaders have said it is not necessary for them to be the first to open their doors, but it is important that their church open responsibly and in the best interest of their congregation, especially the most vulnerable.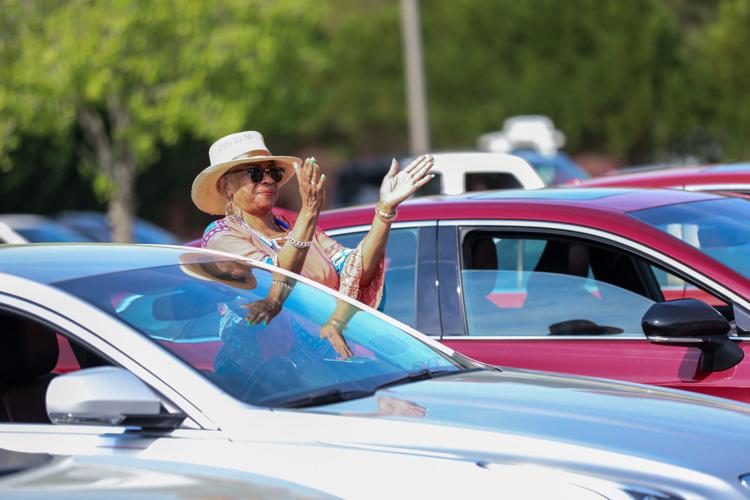 For the past couple of months, churches have been providing virtual services and sermons while in-person services have been suspended. Some church leaders are wondering if this will become the preferred method of worship for some people even after the church doors reopen for worship.
COVID-19 certainly has affected churches for the short term, but will it have a lasting effect on churches and the way people worship?
"I think that things will have to change, at least for now," said the Rev. Ashley Cheek, the interim pastor of First Presbyterian Church in Hartsville. "I hope we can go back to 'passing the peace,' passing the offering plate and communion as it was before, but for the foreseeable future, we have to protect our most vulnerable members of our congregation."
Cheek said this can be an exciting time for the church.
"The world needs the church more than ever," she said.
This information is current as of May 20, 2020 and includes information from more than 70 communities served by Lee newspapers. Please check directly with the place of worship for any change in status or services prior to attending or tuning in.
She said the church needs to rethink how it meets the needs of people throughout this time.
"I feel like the world is struggling, but there is a lot of healing going on," Cheek said. "I think the church, at least from my perspective, is always going to be thinking from now on how to do things differently and better."
Cheek said she is excited about the possibility of the church reinventing itself for 2020.
"When the doors open in whatever stage we are in, I think people are going to want to get back together," she said. "I am not worried about our congregation."
Cheek said she thinks people are ready to come back to worship together. She is confident her faithful members will return as soon as it is safe to do so.
She thinks people will still turn to online worship but as a way to worship when they are out of town, something they might not have considered before now.
Dr. Bill Monroe, the pastor of Florence Baptist Temple on South Irby Street in Florence, said one of the positive effects of the COVID-19 pandemic has been that it has made the church take a second look at its programs and re-evaluate what is important.
"We haven't assembled in the church since March 11," Monroe said.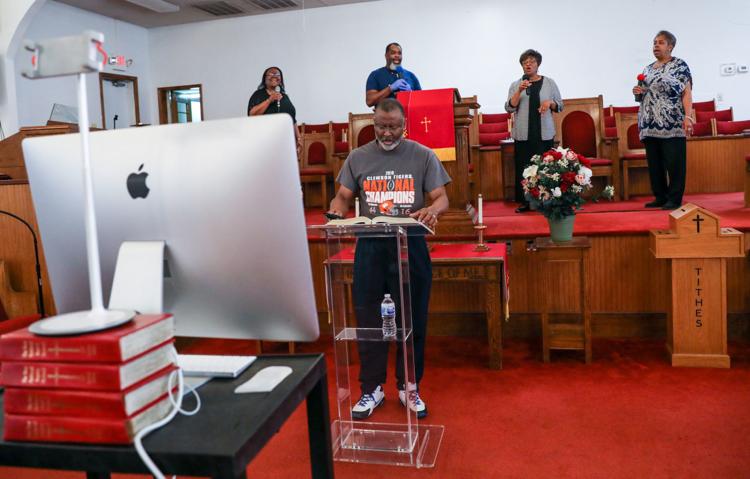 Last Sunday, May 17, Florence Baptist Temple held worship services outdoors, the first since the virus caused the church to stop in-person worship in the sanctuary. Nearly 900 people attended. Monroe said they brought people together in the sunshine, social distancing with chairs 6 to 8 feet apart. The church has a large amount of outdoor space.
If the weather permits, the church will continue outdoors for the time being. FBT also has a television service on Sunday morning.
Normally FBT's Sunday morning services have an estimated 1,500 people in attendance, Monroe said.
One of the negative effects of the coronavirus, Monroe said, is people have been out of the habit of going to church so long, they might have developed bad habits.
"Some people have gotten out of the habit of worshiping," he said. "I hope people come back strong."
He said church is more than preaching and singing. It includes fellowship and a people ministry.
Monroe said people haven't been able to hug or have personal contact with fellow church members for a while. He said they miss that person-to-person contact.
Monroe said church is not a building, but "a called-out assembly." He said the word comes from the meaning of an assembly of people." He said you can't really have an online church, because people are not together to sing, worship and love one another.
"They have to assemble to be a church," Monroe said.
Monroe said his congregation is going through several transitional phases as a result of COVID-19. The first phase was the church closed to public services. Phase II is the coming together for outdoor services. Phase III will be coming back inside, he said.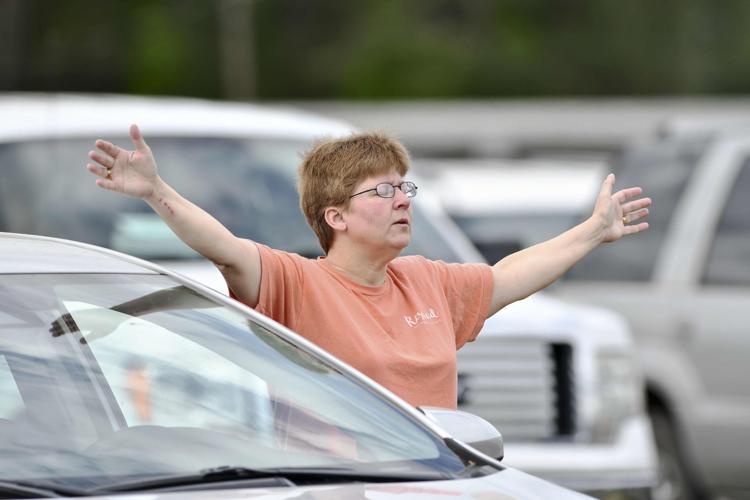 "I hope there will be a phase IV where we can get back to the traditions," he said.
Monroe said the biggest concern to come out of COVID-19 might be the "slipping away of our freedom of religion."
"I'm afraid of the loss of liberty as much as anything else," Monroe said.
"I think people are rethinking their priorities of what is important," said the Rev. Chris Handley, associate pastor of First Presbyterian Church in Florence. "There could be some choices about the use of time that are healthy and could be a positive out of this."
He said the overwhelming response he has had from his congregation is that they are ready to get back together.
"There is something really good about being together," Handley said. "I am ready."
He said the church might have to rethink passing the plate for offerings and do more giving online. He said online giving has spiked since COVID-19 arrived.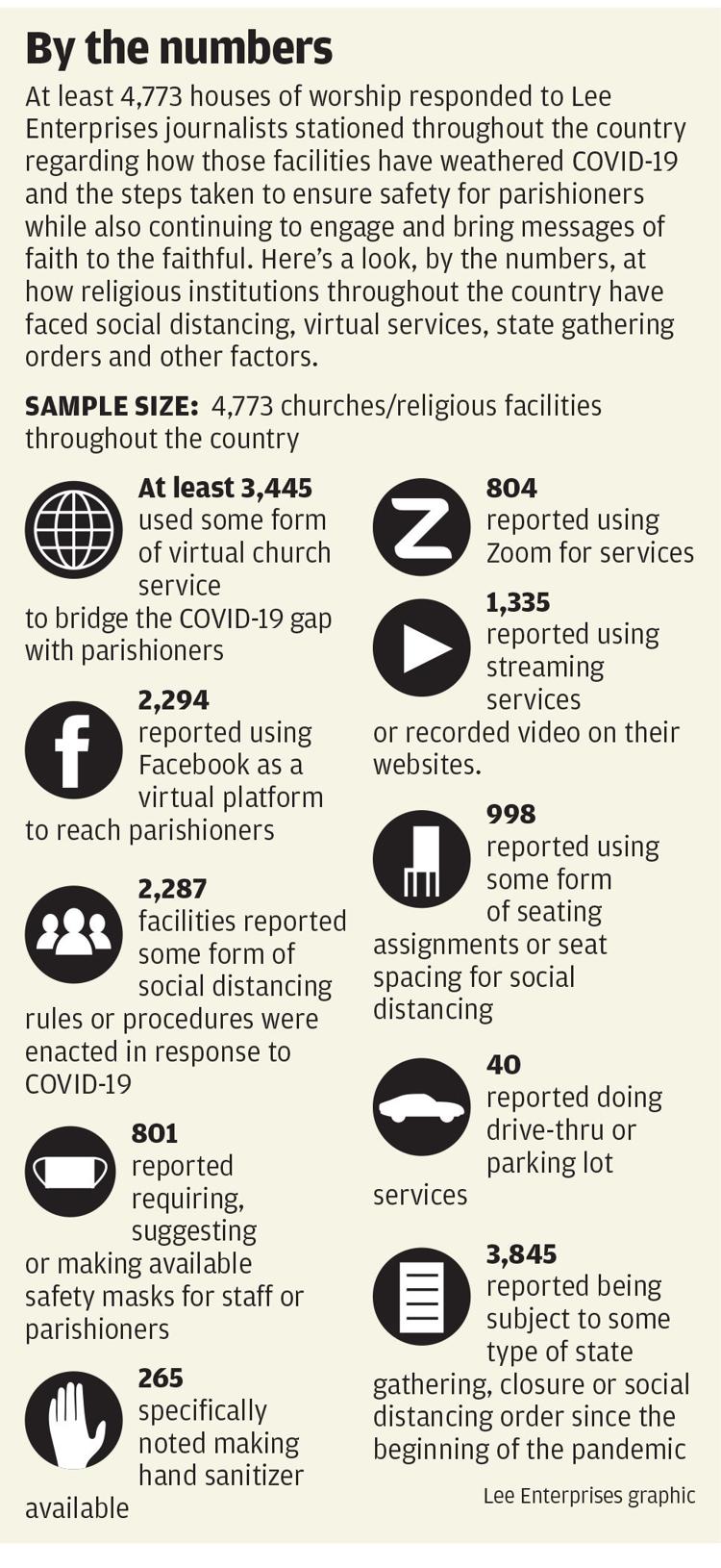 The Rev. Mike Mills, the pastor of Calvary Baptist Church in Florence, said there have been some positive effects of the COVID-19 pandemic. He said it has forced churches to look at how they communicate. He said his church is now streamlining content on a daily basis. He said the church is taking advantage of Zoom and online means of worship. Children are gathering in small groups, he said, doing videos, reading scriptures and performing plays.
"We will be better at getting out our message than before," he said.
"We have a beautiful sanctuary with stained-glass windows, but right now it looks more like a television studio," Mills said.
Mills said people are all going to be more "germ conscious" when in groups because of the coronavirus.
Mills said he hopes the world will return to where people will feel comfortable with a handshake and a hug. He said he was taught "to look a man in the eye and shake his hand."
"We are cooperating and doing, but our duty is to God," Mills said. "Our goal is not to be the first church to open but to do the right thing."
COVID-19 has had a tremendous effect on Savannah Grove Baptist Church in Effingham, said Ralph W. Canty Sr., the pastor of the church.
"It has allowed us to look at ministry through other lenses. For too long we have been locked between the walls of our churches. COVID-19 has pushed us out of those walls, and now we are doing ministry in a far more creative manner."
He said churches are doing their ministries in a way they never thought of a year ago.
"We are reaching more people than we ever had," Canty said. "The technology so many have thought was the devil has proven to be a gift from God."
Dr. Michael Crawford, the senior pastor of First Baptist Church in Florence, thinks the lasting effect of COVID-19 will be the abrupt departure of the congregation. There is a need for people to be able to gather for worship, he said. Some people will continue to go online for their Sunday morning worship services while most will want to get back to worshiping in the church sanctuary, he said.
"We don't want to lose our online presence," Crawford said. "It has been a great tool to spread the gospel."
Crawford said the coronavirus will change the way the church performs some of its rituals, at least for the near future. Some rituals will change, he said, but it will be mostly a matter of common sense, like the way the church takes up its offerings. He said churches will still offer communion, but the manner in which it is offered might change.
"I think people will be more cautious coming to church if they are sick," Crawford said.
The Rev. Thomas Smith, the senior pastor at Central United Methodist Church in Florence, said the lasting impact from the pandemic will be felt collectively on the church and the community. He said going forward people are going to be much more mindful to ensure public health is guarded.
As a church, Smith said Central UMC has been forced to think about how to get the word of God out to people who are staying in place at home.
"Until this, we had not had any streaming, but protocol has called for an entire online presence." Smith said.
Smith said he sees the church building on that and expanding its online footprint.
In the short term, people will continue to worship online, Smith said, "but I don't think that in-person worship will ever go away."
He said there is a need for people to come together. Smith said he is even hearing teenagers say how much they miss being together with their church friends.
COVID-19 has caused churches to think outside the box, said Rev. Sandra Carter, the assistant to the pastor and youth minister at New Ebenezer Baptist Church in Florence. She said churches have turned to social media as a way to communicate with congregations.
"It has opened up for a new population," Carter said. "We have reached a population that we have not before."
Maria Aselage, the director of media relations of the Roman Catholic Diocese of Charleston, said the diocese is "closely monitoring the impacts of the delivery of the sacraments to the faithful but also the financial impacts on our ministries that serve the poor and vulnerable in the state."
She said the Catholic Church has directed those who are vulnerable to disease and those who do not feel comfortable attending Mass in person to continue to attend virtually.
How might the rituals of the church change going forward? "That is something we are currently discussing," Aselage said. "For now, people are strong(ly) encouraged to receive Holy Communion in the hand. Additionally receiving the Precious Blood and attending the Sacrament of Confession is suspended until further notice."
"We will be more intentional about looking for ways to love our neighbor," said Dr. Adam Richardson at the Church at Sandhurst in Florence.
Because of COVID-19, Richardson said, churchgoers probably will continue to watch services online until a vaccine is found. He said Church at Sandhurst is working to "ramp up our tech game – learn remote meeting, texting and emailing."
Richardson said the rituals of the church could change.
"We already don't pass a plate (offering)," Richardson said. "For years we've used unmarked boxes on the back wall."
He said the way the congregation partakes in communion could change.
"FORMS are all in flux but the FUNCTIONS remain the same – loving God and people," he said.
Be the first to know
Get local news delivered to your inbox!