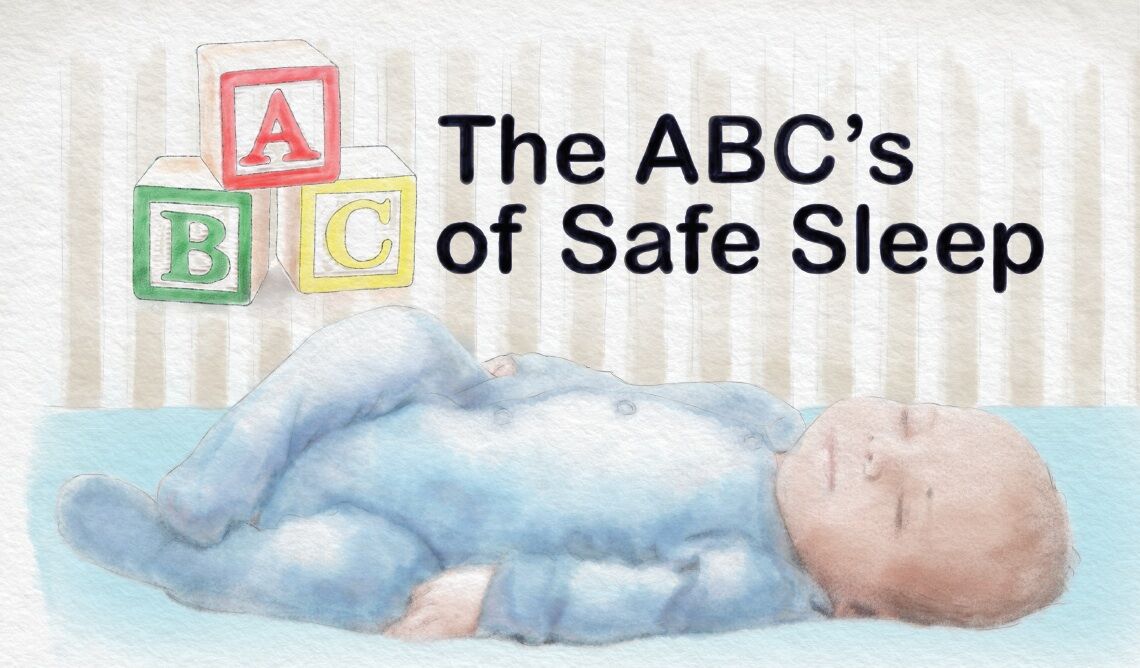 As parents, we protect our children from danger as much as possible. But do we consider the dangers of an unsafe sleep environment? For children under age one, unintentional suffocation is the leading cause of injury-related deaths. Babies aged two to four months are most at risk.
Protecting our children while they are sleeping is as simple as ABC: A baby should sleep Alone on her or his Back in a Crib.
ALONE. Your baby should not sleep in your bed (also called co-sleeping or co-bedding). Your baby is not strong enough to hold his/her head flat on an adult bed. As a result, babies are at an increased risk of bending their neck, which blocks their windpipe. In addition, an adult in deep sleep can roll over on the baby, causing suffocation. The same holds true for sleeping on a chair or couch.
Instead, put the baby's crib nearby or in your bedroom (also called room-sharing or co-rooming).
BACK. Place babies on their back when sleeping to reduce the chances of their mouths and noses becoming buried in bedding. Babies have poor muscle strength and head control after birth, so placing them on their backs to sleep keeps their airways open so they can breathe safely.
CRIB. Always place babies flat in a crib or safe sleep environment every time they sleep – during the day or night. To avoid overheating, use light sleep clothing or a wearable blanket and keep the room temperature at a comfortable setting.
Safe Kids Worldwide also recommends making sure your crib is up to date with these easy steps:
Check that your crib meets safety standards of the Consumer Product Safety Commission (CPSC) and make sure it has all the right pieces. If your crib doesn't meet CPSC standards, don't use it.
If you are getting a used crib, check to see if it has been recalled at www.recalls.gov.
If you can fit a can of soda between the slats of a crib, that means a child's head, hand or foot could get stuck.
If the sides go down, don't use the crib.
While stuffed animals, bumpers and cute accessories make a baby's crib seem warm and cozy, unfortunately, they can often do more harm than good. A firm mattress covered with a tight-fitting crib sheet is all you need to make your baby sleep like a baby.
Corner posts of the crib should not stick up more than one-sixteenth of an inch. It doesn't seem like much, but anything more can be risky.
Check to make sure there are no design cutouts in the headboard or footboard.
In addition to these tips, the organization also offers guidance on where to position your baby's crib:
Avoid placing a crib, bed, high chair or playpen near windows, draperies, blinds, or wall-mounted decorative accessories with cords.
Do not hang anything on or above a baby's crib on a string or cord.
Room-sharing is a safer option than having your baby sleep in bed with you. Place your baby's crib, bassinet, or pack-n-play in your room for more convenient feeding and close contact.
Remember to always return your baby to his or her own crib when you're ready to go back to sleep. This is tough sometimes because parents are often more tired than the babies, but it is much safer.
It is important to share safe sleep information with family, friends, church groups, daycare employees, babysitters and anyone else who may care for an infant. The American Academy of Pediatrics reports these startling statistics: one in five infant deaths occur when the infant is being cared for by someone other than a parent and infants who usually sleep on their back but are mistakenly placed on their stomach to sleep by a caregiver are 18 times more likely to suffer a sleep-related death.
Gold Safe Sleep Champion
Since 2018, McLeod Regional Medical Center has been recognized as the National Safe Sleep Hospital Certification Program's highest designation, Gold Safe Sleep Champion. The hospital was one of the first in the state to achieve this goal.
As a Gold Safe Sleep Champion, McLeod Regional Medical Center demonstrates a commitment to model and teach infant safe sleep best practices.
We model these best practices by clothing babies born at McLeod Regional Medical Center in wearable blankets. In addition, parents will receive a special wearable blanket as a gift from us when they go home.
We teach these best practices through education from our trained staff during your stay in the hospital as well as in the community through monthly education courses including a Safe Sleep education class free of charge. This class provides families with education designed to decrease the risk of SIDS (Sudden Infant Death Syndrome) and sleep-related infant deaths. To register, please contact McLeod Reservations and Scheduling at (843) 777-2005 or 1-800-667-2005.
For more information on safe sleep, or to access available materials, please call McLeod Safe Kids at (843) 777-5021.
Board certified in neonatology, Dr. Doug Moeckel is the medical director of the McLeod Neonatal Intensive Care Unit. He completed his medical degree at the Washington University School of Medicine in St. Louis, Missouri. He also completed his residency and fellowship at the St. Louis Children's Hospital in St. Louis.