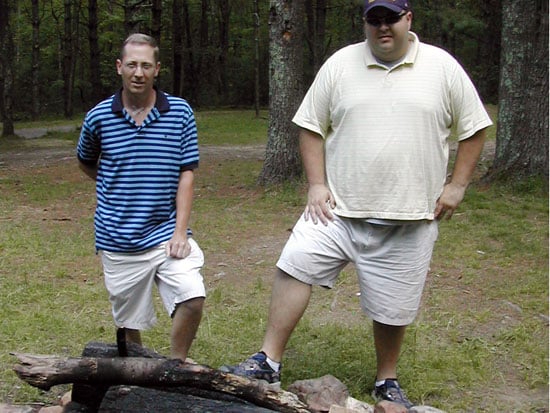 DISMAL CREEK — The killer, wearing camouflage clothing and expensive-looking boots, walked into Sean Farmer and Scott Johnston's campsite around 5 p.m.
Of course, at the time, the two fishing buddies from Bluefield, Va., didn't know the gaunt, frail man with the snowy white beard was a killer, or that he intended to shoot them. They wouldn't know that for nearly four hours — after he had told them lie after lie, after the gun came out.
"The next thing I knew — boom, boom, boom! He never said a word, he just started firing at us. He tried to kill us," Farmer said as he and Johnston granted their first interview after their May 6 ordeal.
Farmer, a 33-year-old coal-truck driver, still has a bullet in his skull and a nasty wound in his chest.
A bullet remains in Johnston's back, and his neck is marred by a bullet wound and a surgical scar.
The two men sat in a small brick home on Dismal Creek Road — the same home to which they had fled after being shot — and told the tale of how they barely escaped with their lives after inviting a hungry man and his seemingly starving dog into their camp in the George Washington and Jefferson National Forests.
The man who tried to murder the two lifelong friends was 54-year-old Randall Lee Smith, a Pearisburg native who killed two Appalachian Trail hikers in 1981, a crime so outrageous to the trail town's residents that they all but shunned him when he returned from prison in 1996.
Like most everyone in this mountainous part of the state, Johnston and Farmer had heard about the 1981 murders. But they didn't know Smith had been released from prison.
Johnston, a 38-year-old layer of ceramic tiles, said his brush with Smith began at 1 p.m. Johnston had been fishing for trout all morning in Dismal Creek, just below the Appalachian Trail, and had driven his Ford Ranger pickup truck the nearly 4 miles to Trent's Grocery to pick up some supplies.
On the way back, he saw a dog that looked famished, so he stopped the truck. Smith, carrying a fishing rod and a bag, walked up and said he recently had found the dog. It would be the first of many lies he told.
"My first impression was that maybe his wife had kicked him out of the house and he was living in the woods," Johnston said.
Worried because the thin, 5-foot, 8-inch stranger said he had been unable to catch any fish, Johnston reached into his ice cooler and pulled out five trout for him. Before driving off, Johnston told the man he was camping just up the road at the Lions Den Campground.
Farmer arrived at the campground at 4 p.m. and was setting up his tent an hour later when the bony dog ambled into camp, followed by Smith.
Smith introduced himself as Ricky Williams of Newport. As Johnston cleaned the fish by the creek, then placed them on a grate over the fire, along with a pot of beans, Smith talked about football and music and himself.
He said he had a master's degree in engineering from Virginia Tech, another lie. He said he had been in the woods for two weeks, hunting turkey with an uncle. Another lie.
Johnston and Farmer recalled that they sensed the stranger was taking liberties with the truth, but they didn't hold it against him. They figured he just was trying to impress them.
They each drank a Bud Light but didn't offer Smith one. Johnston said the bedraggled stranger had the look of an alcoholic already near bottom.
Smith declared the trout delicious but didn't eat with the relish Farmer and Johnston expected from a man who looked as if he'd missed many meals.
As 8:30 p.m. approached, darkness began to creep over the campground. Johnston and Farmer, while not sensing anything amiss as they sat by the fire, each privately wondered why Smith was staying so long. He had told them his campsite was an hour away.
Then, Smith stood up and smacked his hand against his thigh to wake his sleeping dog, Johnston said. "He said, 'Come on, boy. It's getting dark, we got to go.' "
"I wasn't even looking at him, and the next thing I know, I didn't see him pull a gun or anything, I just had this ringing in my head where he shot me right in the side of the face," Farmer said. "I was sitting down in a chair and he was standing up between us."
Johnston, meanwhile, had not seen Smith shoot Farmer, but after hearing a bang he looked up from his seat, fashioned of two rocks and a log, and saw Smith's arm stretched out toward Farmer.
Farmer said he then stood up, unable to figure out what had happened, and felt his face, hot and swelling. For a split second he thought someone had sneaked into camp and shot him, but he turned and saw a flash of fire from the stranger's hand, which now was stretched out toward Johnston. Farmer began cursing the stranger.
Johnston jumped up and dashed away from Smith, trying to get to a stand of cedar trees 20 feet away.
"I didn't even know I had been shot," he said. In the trees, though, "I saw the blood squirting a foot long out of my neck."
He stuck a finger in the bullet hole to stop the gusher of blood.
Farmer, meanwhile, had staggered back and watched as Smith fired at Johnston running to the trees. Smith turned the gun, a .22-caliber revolver, on Farmer, shooting him in the chest from several feet away.
Farmer, feeling no pain, turned and ran toward his Jeep Cherokee, 20 feet away and parked on the other side of Johnston's pickup. He jumped into the cab, grabbed his keys from the console, placed them in the ignition and turned. "It happened so fast, I was just thinking, I've got to get out of here."
Smith came around the front of the Jeep and pointed the gun at Farmer. Farmer held up his hand through the rolled-down window to block the bullet, but Smith didn't fire. Instead, he walked a few feet farther until he was standing outside the Jeep just behind Farmer's left shoulder.
Farmer said he then crouched down in his seat, waiting for the inevitable shot to the back of the head.
But as Farmer put his Jeep in gear, the shot he was expecting didn't come. He gunned the engine and raced out of the campground. As he hit the dirt road leading out, a bloody Johnston stepped out of the woods and into the road. Farmer stopped and Johnston jumped in.
"What the hell just happened?" Farmer recalled saying.
But as he crossed a narrow bridge, Farmer began to drift in and out of consciousness behind the steering wheel. Also, he had lost all vision in his right eye.
As Johnston yelled "Go, Sean!" he grabbed the wheel and began to steer while Farmer worked the pedals. At one point the Jeep hit an embankment and nearly flipped, but the two kept on.
Four miles down the road at last, they stopped at the brick home of Sammy and Pearl Miller, who were home with daughters Sheila and Melissa and son Chris. As Johnston banged on the door and pleaded for help, Farmer wobbled from the Jeep.
The family put the wounded men on their porch and cleaned them with wet washcloths. Sheila called the rescue squad, then Johnston's mother and girlfriend, then Farmer's mother.
Eventually, ambulances would carry them to the local community center, where a helicopter picked them up to take them to a Roanoke hospital.
At one point during the flight, Johnston thought he must have died. "I kept telling myself, you're tough, hang on, you're going to make it," he recalled.
Not until the helicopter landed and the doors were opened and he felt the fresh air, though, did he know that he was still alive.
Smith, meanwhile, had driven off in Johnston's black truck. A state police trooper, alerted to the shootings, prepared to chase him. Almost immediately, Smith crashed the truck, suffering head injuries that required a helicopter to take him to a Roanoke hospital.
On May 9, he was released from the hospital and taken by deputies to the New River Valley Regional Jail in Dublin. There in his cell the next day, officers found him unresponsive. He was pronounced dead at 6 p.m. May 10 at a Pulaski County hospital.
Medical examiners still are trying to determine the cause of death.
"If I had to ask him one question," Johnston said, "it would be, Why? That's it: Why?"