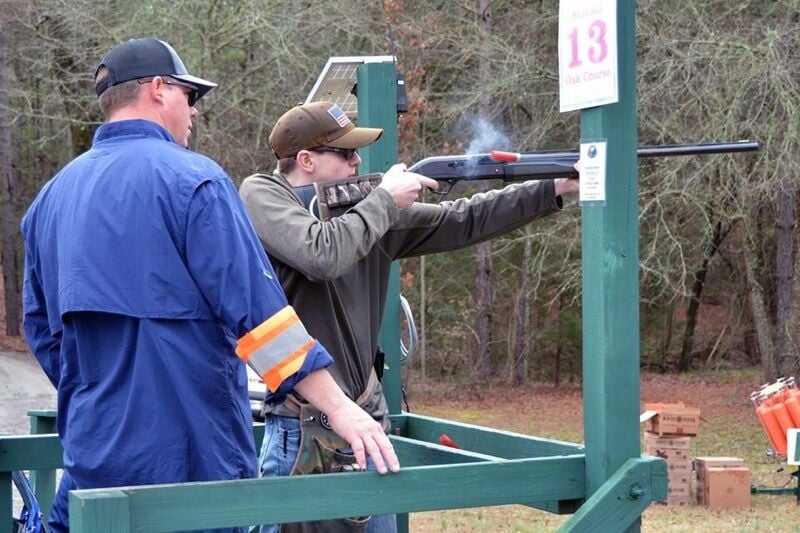 FLORENCE, S.C. – Clay shooting not only enhanced Jacob Graham's hunting skill, it helped lay a foundation for his future – as a cadet at The Citadel and enlistee in the U.S. Army.
The King's Academy senior is in his sixth year as a member of the Lions' clay-shooting squad and was a member of the Lions' 2018 state championship team.
But before Graham joined the team, he needed a reason for doing it.
"I was into hunting (deer and duck), and I saw sporting clays as an opportunity to get better, because it has a lot of the same functions you would be doing for hunting," Graham said. "It takes a lot of patience for hunting, like when to take the shot and learning timing and when to get ahead of the target and what not."
From there, Graham found there were more benefits to being on a clay-shooting team than meets the eye.
"I developed a love for it, because I was around my friends, and I had never played a sport before that," Graham said. "So, I built a team relationship and brotherhood from being on the team, and I learned a lot from my teammates, too."
With the season starting soon, on Dec. 5, The King's Academy athletic director Keith Rogers thinks this could be a very successful year for Graham.
"Jacob has done a great job," Rogers said. "He has a desire to be a cadet at The Citadel, and he was accepted there last week. I think this definitely helped him achieve that goal in mastering what he needs to do. And he will continue to do well this upcoming season as not only a clay shooter but a leader. He'll be the only senior on this year's team, and we have a rich history in sporting clays. Jacob will be up to the task."
Meanwhile, Graham is getting ready.
"I want to make sure I've practiced the same way as I've done before, and I want to make sure I impress the other guys below me so they'll be able to continue on that legacy," Graham said. "This year, we've been going to a different practice field, which allows us to have more guys being able to shoot at a time. So, as a result, we get more practice time in."
Graham can already notice an improved approach in his hunting because of clay shooting.
"It's showed me how to use more patience when I'm hunting and how to get out in front of the target farther and learn how to gauge that kind of range," Graham said. "It's like you learn new skills you didn't know you had. I've gotten the same amount of game, but I've learned to be more efficient"
Graham talked about how clay shooting helped foster his desire to join the military after graduating from The Citadel.
"I love the brotherhood of being on a clay-shooting team, so I looked for a job where I could be in that same kind of atmosphere," Graham said. "And I have a lot of military service members in my family, and I talked to them about it, and they said it was a great opportunity. The Citadel is the best school if you want to get into that field, and the military is the best option based on what I want to do."