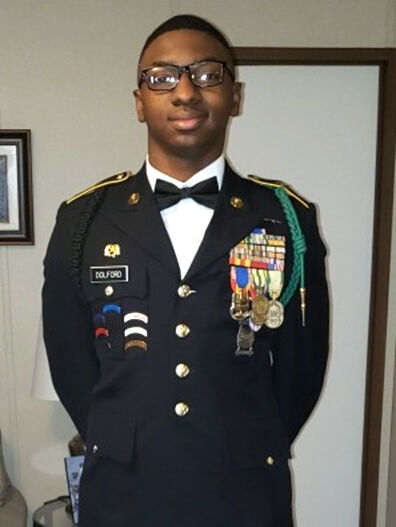 HARTSVILLE, S.C. — A senior set to graduate from Hartsville High School will be trading in the red and white of his high school for the blue and gold of the United States Naval Academy.
Keyshawn Dolford was appointed to the academy by U.S. Sen. Lindsey Graham.
Dolford said he had wanted to join the military since he was 8 years old.
"I made the decision to join the military roughly around 8 years old," Dolford said. "How I was going to approach that was always up in the air."
He said he was inspired to attend the academy by a visit during his sophomore year from a former Hartsville student who attended the Naval Academy.
"Roughly two years ago, we had a Midshipman [students are known as Midshipmen at the academy] and a former student from Hartsville High School come to talk to us about the Naval Academy and the admissions process," Dolford said. "He gave us his personal training and his insight and it pretty much sold me on the Naval Academy."
Dolford said he was sold on the Naval Academy because he could get a "top of the line" engineering education at a school with NCAA Division I athletics while still being able to get to his end goal of serving his country in the military.
In 2021, U.S. News and World Report ranked the Naval Academy as No. 6 in National Liberal Arts Colleges, No. 43 in Best Undergraduate Teaching, No. 1 in Top Public Schools, No. 5 in Best Undergraduate Engineering Programs, No. 5 in Aerospace /Aeronautical/Astronautical, No. 10 in Electrical/Electronic/Communications and No. 9 in Mechanical Engineering.
Dolford said that in Junior Reserve Officers Training Class [JROTC], he had learned that he could attend college for free, serve his country and be set up for civilian jobs when he retired by attending a service academy.
Dolford called the application process strenuous and stressful.
In addition to a recommendation from a member of Congress, an applicant needs recommendations from math and English teachers, needs to write a few essays, and needs to participate in interviews.
"It was a long process but it was pretty rewarding once you get to the end goal, which is earning an appointment to the Naval Academy," Dolford said.
Dolford played football [he said he played defensive end, linebacker and tight end], ran in the 4x100 relay and threw the shotput, javelin and discus and was a member of the Chinese Club, the National Honor Society, the Beta Club, the Fellowship of Christian Athletes and also participated in community service.
He said he also served as delegate to Palmetto Boys State and was set to attend a summer program at the Naval Academy last year but the program was canceled due to COVID-19.
Dolford said he was looking at participating in football and track and field in the academy.