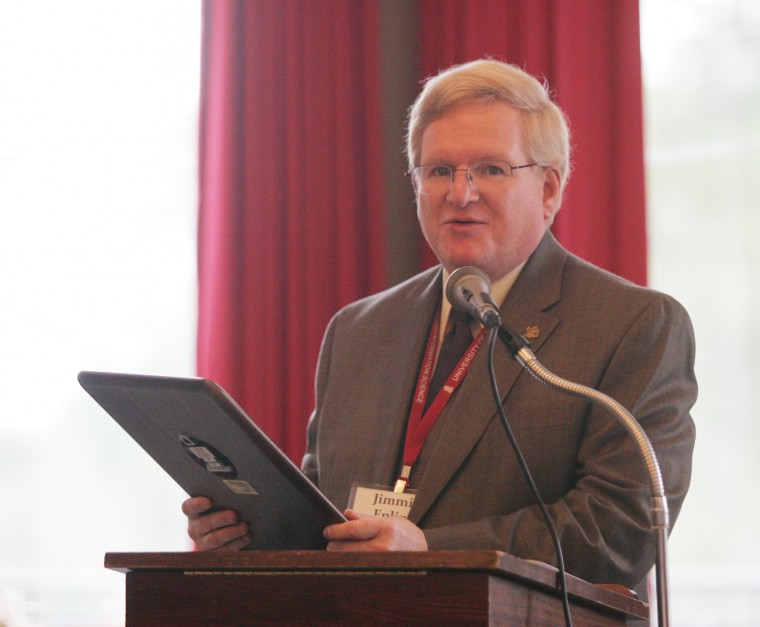 HARTSVILLE, S.C. _ Rather than honor an individual, teachers in Darlington County chose instead to recognize the invaluable contributions of Darlington County libraries by awarding the Darlington County Library System the 2012 Jimmy Newsom Signature Award on Friday during the Darlington County School District's Education forum at Hartsville Country Club.
Named after the school district's former superintendent, the recipient of the award is nominated and chosen by county teachers based on the impact the individual or organization had on the school district over the past year.
Newsom himself presented the award to Darlington County Library System Executive Director Jimmie Epling and Darlington County Library System Board Chairman Ken Hughes.
"It is said that to read is to light a fire," said Newsom in presenting the award. "Every syllable that is spelled out is a spark. This year's recipient has not only lighted the fire of learning in the children of Darlington County, but they are a vital part of the communities they serve. More than a repository for books, our libraries are modern, technology rich centers that promote literacy and learning through year-round services for the children and the families of Darlington County."
Newsom referred to the comments of one teacher in her nomination letter, stating "Our libraries have been caught doing great things many times over."
In accepting the award on behalf of the school system, Epling said the library system is proud to work hand in hand with the school district to educate children.
"We feel like we've worked hard to provide you with the best possible library service we can," said Epling. "We are always looking for input. We want your input so that we can to partner with you to help make the Darlington County Library System and the Darlington County School District the best it possibly can be."
A statement released by the school district said the libraries provide "extraordinary services to the children of Darlington County."
"The library system works closely with the Darlington County School District to promote literacy by supporting school reading programs and ensuring appropriate books (for various reading programs) are readily available," the release stated. "The Darlington County Library System supports the students and teachers of the Darlington County School District and actively seeks new ways to promote literacy at all levels."
The 2011 recipient was Major League Baseball player and Darlington native Orlando Hudson.