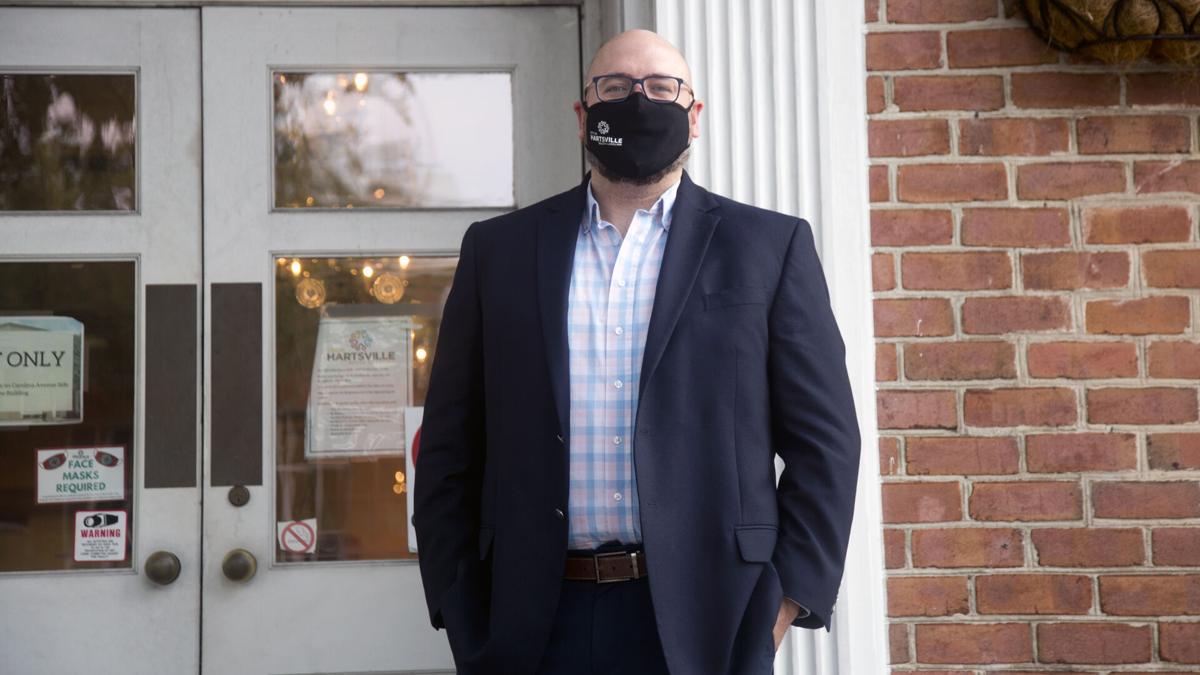 HARTSVILLE, S.C. — Hartsville City Manager Daniel Moore recently spoke with the Morning News regarding his first four months on the job. 
In the conversation, Moore spoke about his background, his views on city government's role in the life of residents,  why he applied for the Hartsville job, his impressions of the city, COVID-19, and his role with the city. 
Q. So, you said that you had a degree from Georgia Regents University? 
A. So, yeah I went to Georgia Regents to get my master's in public administration. I originally thought I was going to do federal government work and then I did an internship with a city administrator down in North Augusta, Todd Glover, and it kind of just opened my eyes to the rock-star lifestyle of a city administrator. I was hooked. I've been in city government since 2013 and I've loved every minute of it.
Q. What is it about that rock-star lifestyle that appealed to you? 
A. It's being able to really make a difference in the community where you live. Local government, it has its hand in everything more so than state and federal. All that stuff matters but local government is where rubber meets the road. And this is where if you want to make a difference in your community, this is where you do it. It's right here. Everything that you do, you deal with people daily. So sanitation, turning your faucet on, police in the street, fire, all that impacts people every day and I just want to be part of it and see what I can do to make it better. 
Q. Did you grow up in the Augusta area? 
A. I grew up in Augusta. My father was in the Army. Fort Gordon is over there. He was in the Medical Corps. I didn't have to travel a lot. I was the youngest of four. So my dad actually instead of being transferred like my brothers and sisters did, he would just go out for different stints. I stayed my whole life as an Army brat in Augusta, which is completely unusual.
I didn't think about South Carolina or North Augusta until I started dating a girl over there. It was just that city across the river, smaller. I started going over there; then when an internship came available, I took the chance. 
I really got to work one on one with the city clerk there and that's where I really got in. City clerks, by the way, they know what's going on. They're the ones who know everything about state government. I really got taken by Donna Young, who was just a fantastic city clerk for North Augusta. She's since retired but she took me under her wing and I learned so much. Her and Todd [Glover], they really turned me into who I am today. They really gave me an appreciation for what to do and how to do it. 
Todd is now the executive director for the municipal association and he's such a great contact for me. That whole group, the South Carolina Association of City Managers and City Administrators, is such a tight-knit group. You can rely on them for anything. The whole group just took me under their wing essentially. I won't be here without them as well. 
Q.  After your internship, did you go back to school? 
A. No. I was doing my master's at night and doing the internship during the day. They created a position for me in public services, so the public works department, so sanitation utilities. I essentially became the No. 2 out there. I got my hand in everything. I didn't hang my degree on the wall. It didn't matter out there. I was riding on the back of garbage trucks, jumping in utility holes. I got to work at the recycling center and ended up managing that for a little bit, too. Working with inmates pulling trash, all that fun stuff. 
I really got my hands dirty. I worked alongside of the best men and women who work in the streets every day. I worked there for four years, doing that. 
At some point, I said it's time for my to step up. So, I took a leap and I became the assistant city administrator in Goose Creek outside Charleston. And that's where I really hit my stride ... And then, when that job [the city administrator job] became available, I tried for that one. I went up against Natalie Zeigler. 
Q. You guys traded. [Moore was the acting administrator for Goose Creek. When Zeigler, the Hartsville City Manager,  became the administrator in Goose Creek, Moore became the Hartsville city manager.]
A. First, we were up against each other for the city administrator job in Goose Creek. I was honored to be compared against her. I told people that when I was trying to figure out who was applying — of course, you have to figure out who is applying — there's only really one name I don't want to see against me and it was her. 
I had known Natalie for a long time and I had the utmost respect for her. Again, it was a privilege to be compared against her. She's standout. She really is. Even when she got the job, I was excited to work alongside of her because that was awesome. 
When this job became available which I knew it would, I texted her and said do you mind if I apply for this. And she said of course. She gave me a tour of the city. She drove me around. She's been a valuable asset. We text almost every day about stuff going on in either city. 
I've taken leaps to get to where I am today. I'm thankful because the right people have been great mentors for me. I just kind of tell how I do things. I speak from the heart and that's the way it goes.
Q. What is it about Hartsville that appealed to you? 
A. Hartsville reminds me a lot of Augusta. It's a smaller community but it has a lot of the same things. Coker College became Coker University. Augusta College was the same way.
I went to elementary school right across from the gravel that I then parked in for classes when I went to school there.
It's got a lot of the same rich history that I feel. It reminded me of home immediately. It also, the last 10 years under [Mayor] Mel [Pennington IV] and Natalie and before that even up to that point, has an excellent reputation across the state. 
It's doing things that a city this size shouldn't do or shouldn't even try to do. 
And then we have people like Sen. [Gerald] Malloy and [House] Speaker Jay Lucas here.
There's no other city like Hartsville in the state. 
I know this is one of the top jobs in the state and I'm excited that I got this opportunity.
Hartsville was just one of those jobs that you never thought was going to come open. You never really knew and then as soon as it is, you jump on it.
Q. That's one of those you keep the resume ready for. 
A. Exactly. Day one I applied. 
I was happy where I was at. I would have been excited to stay in Goose Creek. I told council that. They asked me why do you want that. Well, A I am ready to be a city manager. I'm ready. This is what I want to do. It's not what I thought I wanted to be when I was a little kid but now that I am here, this is what I want to do. 
It's just one of those things where the timing worked out perfectly. 
Q. After four months on the job, what have you learned that surprised you? 
A. The major thing that everyone is dealing with is COVID-19. You come into a job and you think that you're going to take some time to ease in. You don't really want to make a lot of waves but I've had to hit the ground running. The second day on the job, we had massive flooding downtown. 
Since then, it's just been whatever we can do to help immediately. 
I don't mind rolling up my sleeves and getting into it immediately. I was actually more excited to do than to have to sit there and wait and bide my time. 
The thing that surprised me was how much COVID-19 we're having to deal with affecting every single part of our job. It's affecting everything: the events we've had to cancel, the stuff we've had to do. 
The exciting part about Hartsville is how involved in the community everyone is. I've never met a city that's had so much citizen involvement for the good. It's just amazing how active this group is and willing they are to work with the city to do the work. 
That's not often the case. I've had cities where you struggle to fill vacancies on boards and committees and things like that. 
That's not the case here. 
Believe me, there's a lot of boards and committees and things like that. More than most cities even have. 
That's really cool. It makes my job fun when you have a lot of people who really care and want to do things and they're like minded. 
Q. Do you have goals for the city or are those set by the city council? 
A. It's both. I am in a partnership with all of the city council members. It's my job to help facilitate the city's goals. Now, the policy and the direction of the city, it absolutely is the discretion of the city council. 
That's what we're here to support. We're already trying to set up a planning session so that we can review those goals and talk about them. We hope to have one set up. Actually, Nov. 9 is when we're going to have one. 
The goal there is to get everyone on council on the same page. Then, I can develop a budget around it and we can start driving the city in that direction. 
That's largely how you do things. City council, they're steering and we're rowing. It really works out well that way.
This council is a big reason why I came here. It's a great group. They really care. When I was being interviewed, I was trying to interview them too and they passed. They did a great job.
I really impressed by all of them, by how much they care and want to see this city grow and do things. 
Again, a city of 8,000, we're doing stuff that cities of this size don't do. And that's why Hartsville stands out. 
A. Yes. My wife is Sarah. We have 7-year-old Oliver and 3-year-old Ava and we're actually expecting a third. We know it's a boy but name to be determined. 
Be the first to know
Get local news delivered to your inbox!