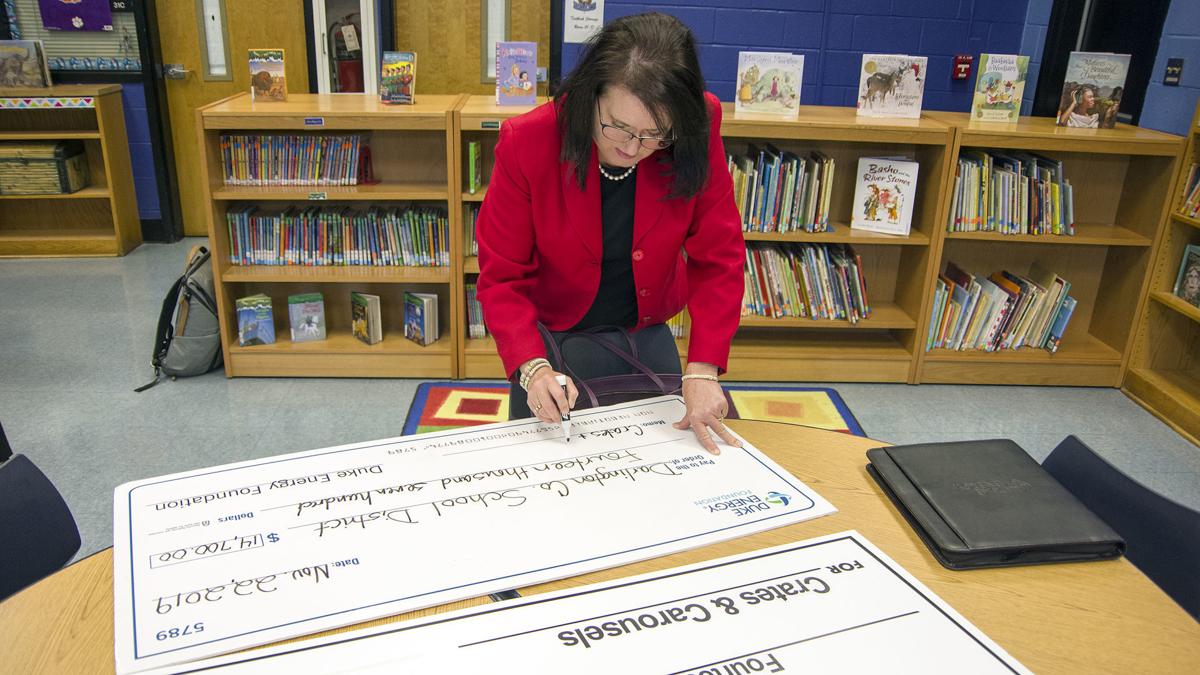 DARLINGTON, S.C. — Students in the Darlington County School District soon will have an innovative way of picking up school supplies as a result of a grant from the Duke Energy Foundation.
The $14,700 grant will fund the "Crates and Carousels: Student Supplies Equal Student Success" program.
Duke Energy and the school district announced the grant Friday during a news conference at Brockington Elementary Magnet School.
The program will allow the school district to distribute crates filled with school supplies to schools across the district. Supply "carousels" will also be set up in the district's media centers to provide a central location for students to grab supplies like paper, pencils and markers. The program is designed to make school supplies available and easy to access, resulting in equitable classrooms and higher student self-esteem.
Darlington County School District Superintendent Tim Newman thanked the Duke Energy Foundation for providing resources that will directly and positively affect students.
"Darlington County School District is excited to have Duke Energy partner with us and support our classrooms," Newman said. "We typically receive school supplies at the beginning of the school year from our communities, and that is always greatly appreciated. As the school year continues on, a lot of our students need supplies."
The grant will help the district fill that need in a creative way, Newman said.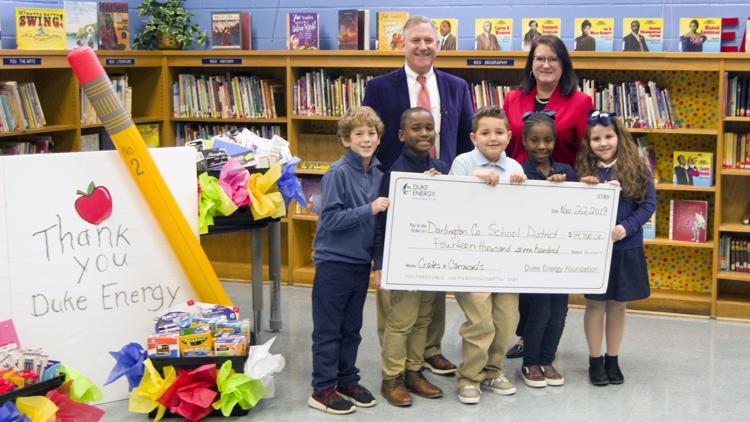 "Bright futures begin in the classroom, and every child deserves a fair chance at academic success," said Mindy Taylor, government and community relations manager for Duke Energy. "Our hope is these funds will help these classrooms and students have a very successful school year."
Marisa Johnson, the school district's coordinator for arts and innovative programs, applied for the grant. The nearly $15,000 award is part of a $200,000 total funding investment by the Duke Energy Foundation for school districts across the state. The grants are part of an initiative focused on projects to help underserved communities thrive and prosper.
The Duke Energy Foundation provides philanthropic support to meet the needs of Communities where Duke Energy customers live and work. The foundation contributes more than $30 million annually in charitable gifts and is funded by Duke Energy shareholder dollars.
In 2018, the company donated more than $2 million to nonprofit organizations in South Carolina. More information about the foundation can be found at duke-energy.com/foundation.
Be the first to know
Get local news delivered to your inbox!