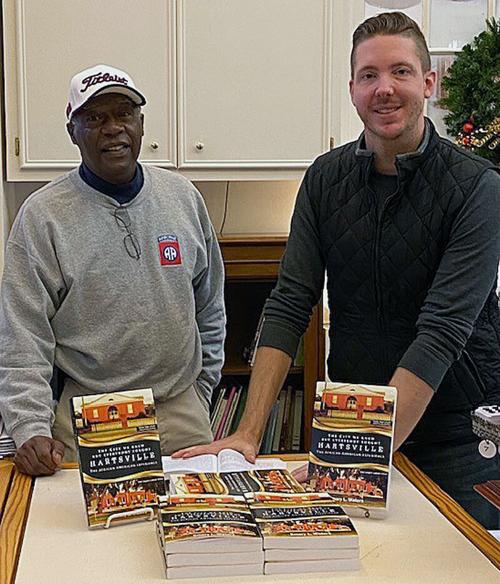 HARTSVILLE, S.C. — In searching for a historical account of the African-American community in his hometown of Hartsville, Emory Waters discovered it was sorely lacking.
He said he couldn't find a single book devoted to the community where he grew up or the outstanding citizens who were a product of Butler High School, where he graduated in 1965.
Waters said he found one book of local history which devoted one paragraph to the African American community, which briefly mentioned there was a school in the black community on Sixth Street.
Waters is a  former FBI agent and a veteran of the Vietnam era. He said he found it a "little disconcerting" that nothing had been written about the African-American population in Hartsville. He said it was as though they hadn't existed.
With the publication of his book, "The City We Knew but Everybody Forgot — Hartsville the African-American Experience," he hopes to shed some light on this part of Hartsville history.
After nearly two years of research, which was mostly talking with older people in the community and cross-checking information to verify its accuracy, the book was complete. Waters said he spoke with respected members of the community, including Dr. Alvin T. Heatley, Bernice Wilson, Franklin Hines, Linwood Robinson and others. He also interviewed his mother, Cora Bell Waters Hawkins, who is 92 and living in a nursing home in the area.
"Mr. Waters has done an outstanding job chronicling his views of 'The African American Experience' of growing up in Hartsville," said Andrea Steen, Hartsville Museum manager.
The book is now available at the museum.
"We're grateful for this historical perspective (the first of its kind) which will help us interpret and preserve the history of Hartsville's Black community," she said. "This book will also help the museum with future projects and provide community members with a new appreciation for history.  We hope this book will inspire others to share their stories and images about life in Hartsville in an effort to help preserve this rich culture."
Waters said children growing up today and attending Hartsville High School have no idea about the world their grandparents lived in or about the school they attended — Butler High School. Waters, who is in his 70s, said he grew up in a community that included a school, barber and beauty shops, neighborhood stores, gas stations, night spots and other businesses.
He said they had all they needed in their own community, along Sixth Street and the adjoining neighborhood.
The landscape of the African American community in Hartsville is vastly different today than in the past, Waters said. He said almost every neighborhood had at least one store. There were five or six barber and beauty shops, five funeral homes, a shoe repair shop and about 20 night spots. He said the community had everything that you needed from the 1920s to 1960s. He said there were about 120 businesses in that area of Hartsville. Now there are about 30.
In his book, Waters said he attempts to recapture the greatness of the African American community in Hartsville and highlight some of the many factors that contributed to the greatness of the African Americans who lived and worked in Hartsville.
Waters said Butler High School had a history of turning out outstanding graduates over the years. He said Butler also brought home state championship trophies in athletics. He said his book includes a listing of all the teachers who taught there until it closed in 1982.
"Butler High School provided an outstanding educational base, allowing its students to pursue higher education and a better way of life for the future," he said. "The goal of the teachers which was constantly mentioned and emphasized was to prepare its student to be twice as good as and better than the rest."
Waters said Butler produced outstanding citizens in all areas of life — military, government, education, religion, law and medical fields.
He said the African-American community in Hartsville has a two-star general, a U.S. ambassador, several college presidents, ministers, educators, doctors, lawyers, FBI agents and leaders from all segments of society.
 "I am in my 70s and witnessed some of its history," he said.
Waters said his family didn't have the money to send him to college, so his grandmother signed for him to go into the Army. He got out of the Army in 1968 and went directly to Benedict College. He earned a scholarship to Indiana University, where he received his master's degree. He taught school in New York for one year and eventually settled on a 27-year career with the FBI.
"The things I experienced are part of the book," he said. "I am a veteran and served two tours in Vietnam. I am proud of my military service."
He was awarded a Purple Heart.
Waters says he touches on racism but does not dwell on the subjects in his book.
Waters said he also remembers a time when the KKK rode down Sixth Street on a Saturday night.
The memories of growing up and witnessing life in Hartsville were educational and rewarding yet at times difficult, Waters said. He said people were forced to get as much experience and education as possible to navigate and negotiate the life thath was presented to them as a result of the culture of the Deep South. He said on the surface, Hartsville presented many opportunities for African American citizens but also placed them in a box that would only allow them to advance to  "a recognizable point."
Waters said the African American church furnished a "solid spiritual conscience and base," which grounded its parishioners. The church encouraged its members to always put God first and treat others as they would like to be treated.
Throughout the years, the African American population in Hartsville has built a legacy of accomplishments and produced respected leaders in the community.
He said all of Hartsville would benefit from reading his book and learning about a part of its history that is not told in other historical accounts of the community.
Waters lives in Maryland with his wife, Virginia, but maintains a home in Hartsville, where he routinely stays when visiting with his mother. They have two children and two grandchildren.
"The book is a treasure for the museum," Steen said.
She said it is packed full of wonderful facts and a must read.
"This fascinating book is in hot demand, and we're selling them every day," Steen said. "People as far as New York and Hawaii have reached out to purchase this Hartsville best seller."
The book is also available on Amazon.