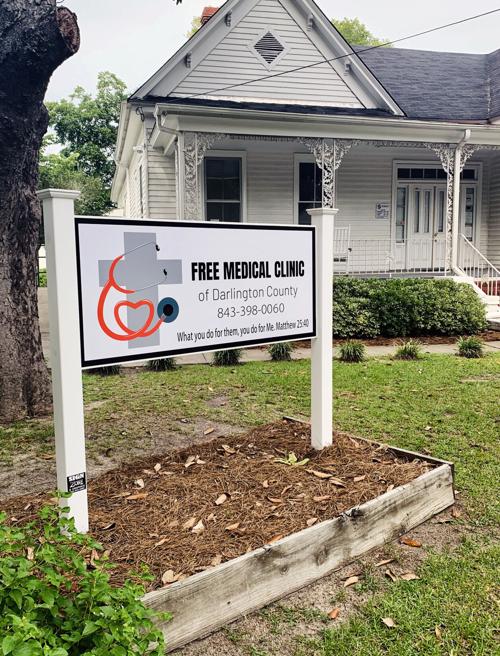 DARLINGTON, S.C. — The Free Medical Clinic of Darlington County is celebrating its 20th anniversary this year.
The clinic was started after a need for free medical care was brought to the attention of The Lord Cares (TLC) Ministry in November 1996. A plan was put in motion to create a clinic.
In 1997, Dr. Joe Matthews, Dr. Olin Whitener and Cora Taylor visited the Free Medical Clinic in Hilton Head. Upon their return a search was begun for a building  or site.
In 1998, Teddy Harrison donated his childhood home for a clinic. The donation included the TLC building on site. Turning the house into a medical facility was placed in the hands of Ed Stokes, local contractor.
In 1999 a steering committee, made up of Mary Butler, Ann Council, Deatrice Curtis, Donald Hughes, Novel Huntley, Jay James, Dot Johnson, Debbie Locklair, Dr Matthews, Charles Rogers, Stokes, Taylor and Whitener, was formed. The group decided on a name for the ministry — Darlington Free Medical Clinic.
Doctors, nurses and pharmacists were approached about signing up to staff the clinic.
The clinic opened on July 20, 2000. Dr. Luke "Buddy" Baxley and Matthews were the physicians manning the clinic the first night. Harry Muldrow was the pharmacist.
The Harrison House was dedicated as the Darlington Free Medical Clinic on Sept. 24, 2020.
Ryan Poston came to work at the clinic in April 2000. She was followed by Kathy Baxley, the second clinic director, in September 2002. She was the wife of Buddy Baxley, one of the doctors seeing patients the first night the clinic opened.
The clinic thrived for 16 years under Baxley's leadership. An assistant director position was added. Baxley set up appointment schedules where none had existed before. The building was remodeled several times and other improvements occurred under her watch.
Baxley got the whole community involved with fundraisers such as The Follies and Walk with the Docs.
In 2006, a second clinic location was opened in Hartsville to better serve patients in the Hartsville area.
With the Affordable Health Care Act, many people were able to receive insurance and the patient load dropped by about 50 percent, but as people discovered they couldn't afford insurance, the number of patients increased once again.
In 2015, to reflect the change in the number of patients, the Hartsville clinic hours changed to Monday, Tuesday and Wednesday mornings, and the Darlington clinic was open on Wednesday afternoon, Thursday and Friday.
Baxley resigned in September 2018 to move to Beaufort.
Stephen Edwards, a Darlington native, was hired in January 2019 as the clinic's third director.
Edwards set about reorganizing the clinic, remodeling the interior with friends and volunteers, creating a boardroom and private office for the director. He also computerized operations.
There is no longer an assistant director but a physician's assistant and part-time case manager.
The clinic could not have survived for 20 years without its many volunteers and the monetary contributions of the community, Edwards said.
For the two years, Edwards has been the executive director, he has tried to reacquaint the Hartsville and Darlington communities with the clinic's services.
"I was a little shocked when I got here to find the clinic was not more engaged with the communities it serves," Edwards said. "And that concerns me after being here 20 years. I've been trying very hard to get it engaged with the community."
Edwards said he even had some doctors tell him they didn't know about the free medical clinic.
One of his goals is to make the medical community as well as the general public more aware of the clinic and the services it offers.
"We couldn't do what we do without the support of the doctors in the community," Edwards said.
Eight doctors now volunteer at the Free Medical Clinic between Hartsville and Darlington.
"We now have a full-time PA (physician's assistant), Krissy Huntley," Edwards said.
Edwards said he is trying to partner more with the other health care facilities such as Caroline Pines Regional Medical Center, CareSouth and McLeod Health.
Edwards said 17 percent of the population in Darlington County delays medical care because of cost, and 15 percent of the Darlington County population, 18-64, is uninsured.
He said the uninsured use the hospital emergency room as their primary care doctor. This puts an unnecessary burden on emergency rooms, he said.
The role of the clinic is to help alleviate this situation — providing primary care free for those who qualify, he said.
Edwards is concerned that people are not taking advantage of the services offered by the clinic as they should. He said that this month the McLeod Mammography unit is coming to the Darlington clinic with 20 slots available. Last year only 14 women took advantage of the free mammogram service, he said.
Edwards said Darlington County has the highest mortality rate for breast cancer in the state. One reason, he said, is that women are not getting mammograms. Early detection is critical to a positive outcome.
"We are trying to do a holistic approach to patient care," Edwards said. "We want to have a positive impact on health statistics in Darlington County."
Edwards said the criteria limited the patients the clinic  could accept. The clinic has relaxed those criteria.
 "Working was a requirement but was changed in 2019 to allow that a person is eligible if unemployed but agrees to collaborate with a partnering agency such as SC Vocational Rehab for job coaching and placement assistance," Edwards said.
If someone is not working because of depression or anxiety and is partnering with Pee Dee Mental Health, Edwards said, the clinic will take care of the person's physical needs, likewise with the clients of the S.C. Department of Vocational Rehabilitation. If people are seeking help from South Carolina Department of Vocational Rehabilitation to reenter the job market, the Fee Medical Clinic's services are available to them as well.
Edwards said the clinic is also a part of the Best Chance Network and Colorectal Cancer Prevention Network of providers.
"We want to expand our dental program and vision program," Edwards said. "With early screenings we may be able to identify chronic conditions such as diabetes."
Before COVID-19, Edwards said, the plan was to visit with doctors, churches and other organization to spread the word about their services. Edwards said most of their referrals currently come from other patients and from Emergency Room personnel. He said when people without insurance visits the emergency room for care they are referred to the clinic for follow-up care.
 "People still don't know we are here or what we do," Edwards sad. "We have to change that."
Edwards said the staff had planned several activities for the 20th anniversary celebration but they were canceled because of COVID-19, including a big celebration in June.
The second annual Free Medical Clinic of Darlington County Heroes 4 Health Golf Classic fundraiser is still planned for Sept. 25 at the Darlington Country Club. There is a noon shotgun start. Fees are $100 for a player and $400 for a team.
A scaled-down 20th anniversary celebration and silent auction will be held from 7 to 10 p.m. Sept. 25 at the country club, featuring The Holiday Band.
"Come join us as we celebrate 20 years of service to our uninsured Darlington County friends and neighbors, and those that made it possible," Edwards said.
Indoor and outdoor spaces are available to safely accommodate guests. Tickets are very limited to insure COVID-19 safety guidelines are met. Tickets are $75 per couple or $40 for individual. To purchase tickets go online to www.fmcdc.org or mail FMCDC, 203 Grove St., Darlington, SC 29532 At the door cash, check, or card. No refunds after Sept. 21.
All proceeds from the events on Sept. 25 will be used to help provide medical care for the uninsured population of Darlington County at the Free Medical Clinic of Darlington County.
The Darlington Country Club is at 125 Country Club Road in Darlington.
Clinic hours are 9 a.m. to 5 p.m. on Monday and 11 a.m. to 7 p.m. on Tuesday in Hartsville and 9 a.m. to 5 p.m. on Wednesday and 11 a.m. t 7 p.m. on Thursday in Darlington.
The Fee Medical Clinic of Darlington County is at 203 Grove St. in Darlington and  at 500 W. Carolina Ave. in Hartsville.
Be the first to know
Get local news delivered to your inbox!