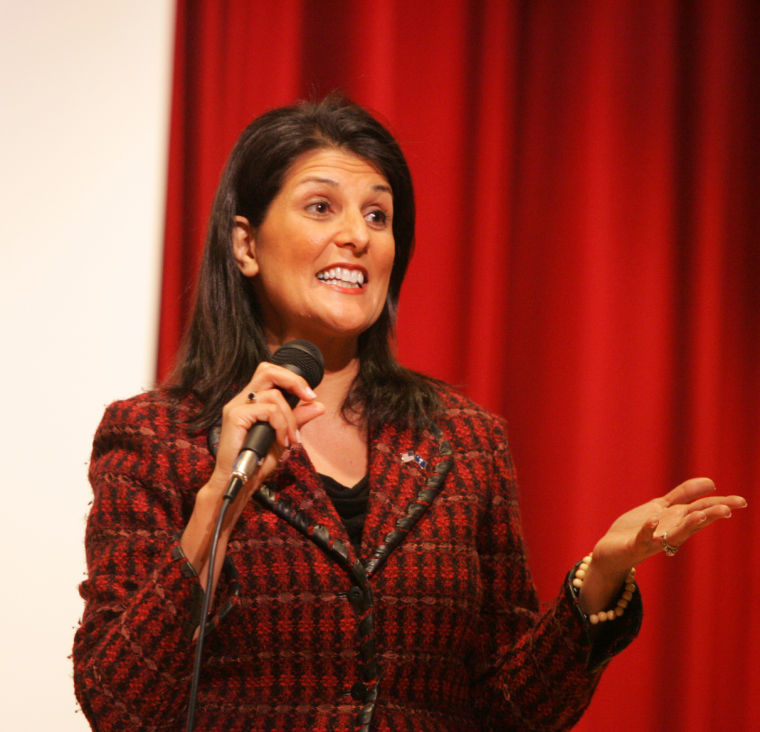 HARTSVILLE, S.C. _ S.C. Gov Nikki Haley visited Hartsville Middle School Monday morning as part of her Anti-Bullying Tour.
Haley said she has heard many positive things about the school, and she wanted to share her message of anti-bullying with the schools, speaking to the eighth grade students.
She encouraged the students to make the choice to be leaders, not bullies.
Haley said she knew first had what it was like to be bullied, having been bullied in the third grade.
Haley, the state's first female governor is also the first Indian-American governor. She grew up in the small town of Bamberg where her family was the only Indian family.
"I was bullied because they didn't know if I was black or if I was white," she said. "I didn't know. All I knew was I was brown."
She told her parents and the matter was taken care of.
She asked for a show of hands from the students how many of them knew someone who was made to feel bad about the way they dress, look, talk or act. Most students raised their hands. She said this is bullying and no one deserves to be bullied.
If they see someone being bullied or are bullied themselves, she said they should report it a teacher, guidance counselor, principal, parent or another adult.
Haley said three years ago, she received a suicide note from a young girl who was being bullied and was able to help her through it. She received others and decided something needed to be done at the state level and launched her anti-bullying campaign called "Cool Kids Don't Bully." Haley's message is that "cool kids don't bully."
She told the students they need to decide if they are going to be leaders or bullies.
Students bully others, she said, because they don't feel good about themselves.
Leaders tell them to stop bullying, she said.
She asked the students how they want to be remembered as a leader or a bully.
After talking to the students about bullying, Haley shared an anti-bullying video, and held a Q&A with the students.
The students asked questions ranging from is it fun to be the governor to how many schools do you visit a month.
Haley said being governor is sometimes fun. She said she is proud of South Carolina and all that it has accomplished like being the number producer of four wheelers and tires in the United States.
She said she visits about five schools a month. She told them she wants students to know that she believes in them, and she wants them to believe in our state.