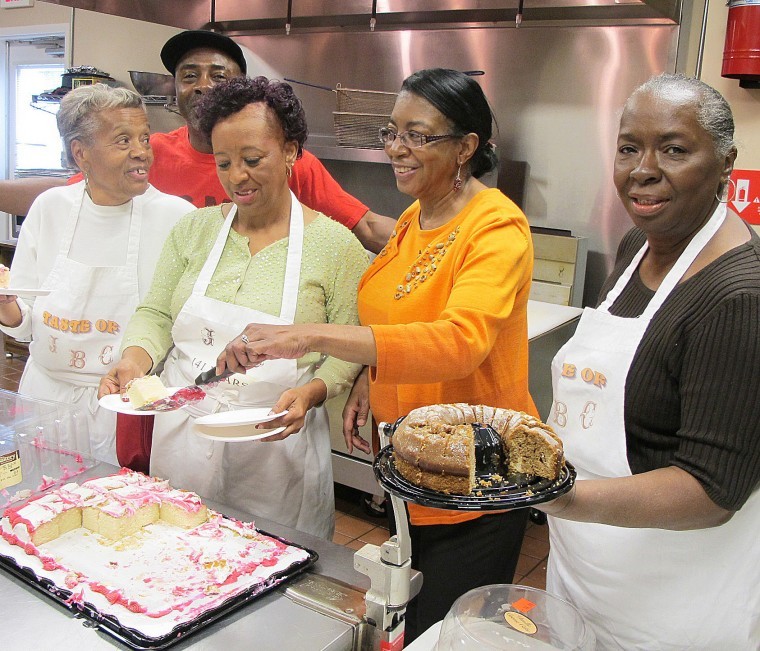 HARTSVILLE _ The spirit of giving mingled with the smell of turkey, dressing and all the trimmings permeated from Jerusalem Baptist Church on Sixth Street Tuesday morning as Patricia and Charles Douglas, along with their many volunteers from the church, prepared a Thanksgiving meal for the homeless, the sick and shut-ins, something Charles and Patricia have been doing for nearly 25 years.
While they shoulder most of the cost of the meal, they do receive donations and help from members of their church and the community.
"We started in 1988," said Charles Douglas, a retired educator of 40 years, who spent most of that time at Hartsville High School and Hartsville Middle School as assistant principal.
The meal was started for the sick and shut-ins of Jerusalem Baptist but spread throughout the community as the years passed and the need increased.
Charles, a deacon at Jerusalem Baptist, said he just wanted to do something for the less fortunate.
"I have been blessed," Charles said.
His wife said, "He has always been concerned with the needy. He thought this would be a great way to serve people."
"I just saw a need," he said. "This is also a time for the church to get together and develop unity. I like to get as many people as possible involved."
On Tuesday, the doors to the church fellowship hall were thrown open for all to come in and enjoy a hot, Thanksgiving meal of turkey, dressing, rice and gravy, green beans, cranberries and dessert. A joyful noise was heard as people's plates were filled, and they sat together to share a Thanksgiving meal.
Patricia Douglas said her husband gets the word out by announcing it in churches and to the homeless on the streets.
"You have to go to where they are," Charles said. "And you have to remind them."
Charles Douglas went out delivering meals while Patricia and others from their church served the folks walking in off of the street.
On Tuesday, they delivered 135 meals to the sick and shut in, and in all, prepared about 250 meals.
Charles said members of the church have been great about helping them prepare the food, serve and deliver it.
He said one individual in the church prepares the turkey. This year they cooked 12.
Charles said he just wants to make life a little easier for others during the holidays.
He said his reward for making this happen is the smile upon the faces of those receiving the meals.
"It's what I live for," he said.