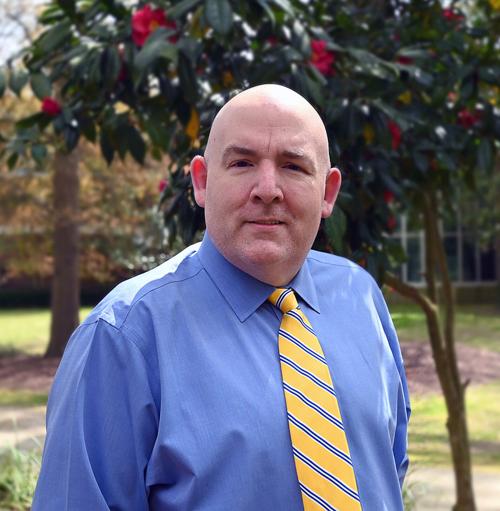 Hartsville, S.C. — Patrick Riccards, a national leader in strategic communications and public education in the education space, has joined Coker University as its new vice president of strategic marketing and communications.
Most recently, Riccards was the chief communications and strategy officer at the Woodrow Wilson National Fellowship Foundation. While at WW, he directed all communications and public affairs for the Woodrow Wilson Teaching Fellows program and its 31 university partners, and the MBA in Education Leadership program in partnership with six universities in three states. He was also part of the leadership team that created the High Meadows Graduate School of Teaching and Learning, a competency-based graduate school built in collaboration with MIT, and launched the WW Foundation's Higher Education Policy Fellowship program, working with higher education policy and practice leaders in more than a dozen states.
Riccards began his career on Capitol Hill, and has worked with multiple presidential administrations and the U.S. Department of Education. He has served as chief of staff to the National Reading Panel, executive director of the Pennsylvania STEM Initiative, and executive director of communications and public affairs for the American Institutes for Research, one of the nation's leading educational research organizations. He has also served as a communications and public affairs consultant to a range of universities, including Stanford University, University of Colorado Boulder, Princeton University, Columbia University, Miami University Ohio, and the University of Southern California.
"Patrick's experience in shaping narratives for institutions is exciting as Coker works to tell its story of excellence," Coker University President Dr. Natalie Harder said. "His experience in branding and building one voice to speak to multiple stakeholders is key skills for Coker's future communication efforts."
The vice president of strategic marketing and communications is responsible for the execution of Coker University's marketing, communication and branding strategies. The VP plans and directs marketing and communication activities in alignment with and in support of Coker's mission, vision and goals in order to advance the academic reputation and overall brand of the university. Riccards will direct all communication strategies for external constituencies, internal communication strategies that support a cohesive and well-informed university community and manages all communication aspects of crisis and issues management. Marketing and communication initiatives under the direction of the VP include brand awareness and ad campaigns, media relations, university publications, interactive and digital marketing, social media, collateral and implementation of market research and market segmentation strategies. In addition, Riccards will serve as a principal media liaison and will be both a university spokesman and co-strategist to Coker's president.
Riccards is the award-winning author of three books and is recognized as one of the most influential social media voices in education through his "@Eduflack" platform. He began his position as Coker University vice president of strategic marketing and communications in March.