Local
Brown, Norwood give back to their community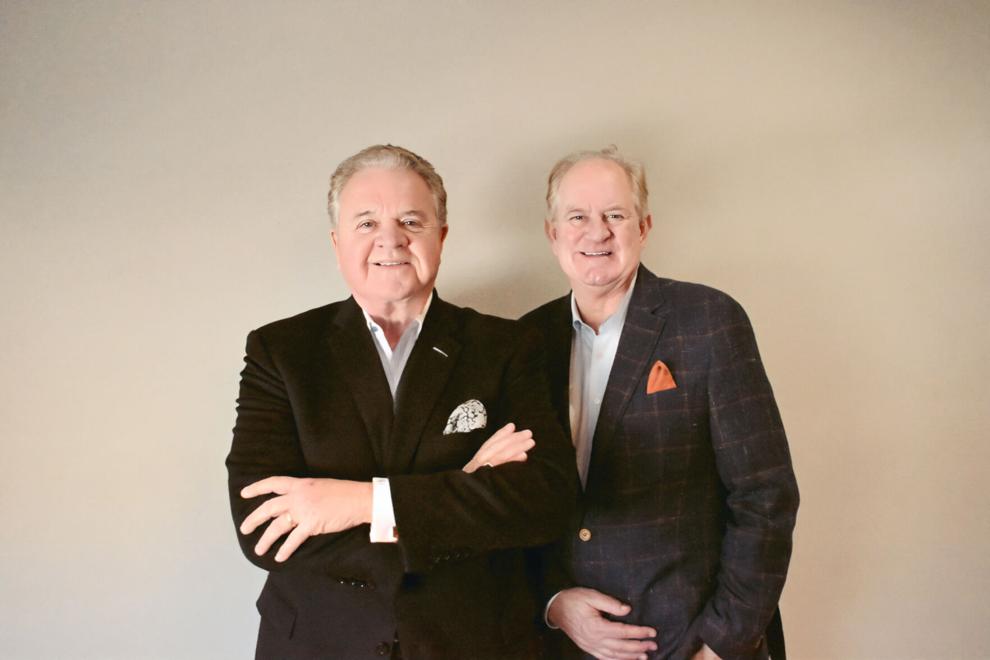 FLORENCE, S.C. — Francis Marion University and Florence have been very good to entrepreneurs Jim Brown and Tim Norwood. And Brown and Norwood have been very good to Francis Marion University and Florence over the years.
Downtown Florence would not be what it is today without Brown and Norwood.
Greater Florence Chamber of Commerce President Mike Miller said Brown and Norwood have been keys to downtown Florence's renaissance.
"Jim Brown, Tim Norwood, and their organizations have really contributed to supporting the downtown area," Miller said. "Their investments have helped the whole revitalization take place."
Brown is founding partner of Synergi Partners Inc. and EmployReward Solutions in downtown Florence. He has developed a long list of businesses in Florence and has been a partner in multiple hotels and real-estate ventures in Florence and around the state.
Norwood partnered with Ben Zeigler, Randy Key, Chris Scott, Greg Raines and Raines Development Group to renovate a vacant dilapidated building on West Evans Street into Victor's Bistro and Hotel Florence, one of downtown Florence's first anchors in 2013.
"Tim has always been one of those individuals who has been as involved as he possibly can in so many areas," Miller said. "I mean it's just amazing the areas that he has been a volunteer. He has served on boards, served on committees. He also has contributed to the growth of downtown."
Tim Norwood has served as president of the Chamber of Commerce twice and Jim Brown was named the Great Florence 2021 Businessperson of the Year.
Brown and Norwood graduated from Francis Marion in 1977 and 1978, respectively. The two were college roommates and political science majors. In 1995, they became business partners.
Francis Marion University President Fred Carter and Morning News President Matt Tranquill met with Brown and Norwood in January to tell them that they had been selected to receive Marion Medallions. The awards are presented annually by the university and newspaper to Pee Dee region residents who have made sustained and significant contributions to improve the region and the lives of its residents.
The awards will be presented at an 11 a.m. February 27 ceremony at the Francis Marion University Performing Arts Center in downtown Florence.
Brown and Norwood were surprised and touched when they learned they were Marion Medallion recipients.
Brown traces the spirit of giving and community involvement to his parents, James Austin Brown Sr. and Jean P. Brown.
His parents were involved in the community and always willing to help others, Brown said.
His mother taught science at public schools in Marion and Mullins and at Pee Dee Academy. She also served as women's varsity basketball coach.
The Marion Medallion Award recipient said he contributes to education to support his mother's legacy in education.
"Her emphasis was on education and the opportunity that education provides for people to improve their families and their lives," Brown said.
His father was a businessman who taught Brown about entrepreneurship, he said.
"My dad was the business guy and my mom was education," said Brown. "I credit him with a lot of the entrepreneurship that I've been able to develop and capitalize on."
Brown grew up in Marion. He graduated from Pee Dee Academy and began his college career at Campbell University in Buies Creek, North Carolina, before transferring to Francis Marion for his sophomore year.
After he graduated from Francis Marion in 1977, Brown went to work for Adrian Shelley, who was assisting companies managing federal and state tax incentives.
"That's how I got into that business," he said.
In 1993, Brown and local investors started Home Health of SC Inc., which had offices in Florence, Columbia, Summerville and Rock Hill. It grew into the largest privately owned home health care provider in the state. Part of the company was sold to McLeod Health and another part was sold to National Healthcare Corp. in Murfreesboro, Tennessee.
In 2004, ADP Tax Credit Services bought Shelley Management Services. Brown served as general manager of Tax Credit Services and vice president for government relations for ADP before retiring in 2018.
In 2010, Brown and his partners started EmployReward Solutions. In 2018, he became one of the founding partners and chief executive officer of Synergi Partners Inc.
His business enterprises helped Brown give back to the community and create jobs in Florence.
It has also allowed Brown to support Francis Marion University and other organizations in the Pee Dee.
Brown is married to Candace and the couple have five children — Elizabeth Miller, Ashley Hogsette, Hannah Brown, Hallie Brown and James Austin Brown III.
Brown said he was surprised to be a Marion Medallion recipient.
"It's an honor you never anticipate. I am appreciative of it," he said.
Norwood said he learned to give back to the community and others from his parents.
"We were a middle-class family. My dad worked at Sonoco for his whole life. My mom was always an entrepreneur. She was always doing stuff. Back then, if she saw someone along the side of the road that needed help, we would always stop and pick them up and bring them back for supper. We would always buy clothes and help kids who were less privileged than we were with whatever they needed," Norwood said.
The family attended Trinity Methodist Church in Darlington, which also helped develop the desire to help others, he said. He was also a member of the Boy Scouts.
"You were taught to leave the place better than you found it and to leave the world better," he said. "It's what I grew up doing and was taught to do," he said.
Norwood grew up in Darlington. The family had a little farm and a construction company, and his father worked at Sonoco. He had four older brothers, who were from nine to 18 years older. Sometimes, he said, it felt like he was an only child.
He attended public schools, but struggled academically because he "wasn't trying." Then, his mother enrolled him at Darlington Academy. He repeated the 10th grade, which was tough for a 16-year-old, he said. Norwood has an October birthday and was one of the youngest students in his grade level.
"My mother made me do that so I would be a better student," he said. "Repeating the 10th grade helped a lot."
After graduating from Darlington Academy, Norwood attended Francis Marion University where he majored in political science and history. He joined the Pi Kappa Alpha fraternity. Brown was also a member of that fraternity.
Norwood was president of the Student Government Association at the university. Brown was vice president of the SGA.
After graduation, Norwood moved to Austin and San Antonio, Texas, for a job. He lived in Texas from 1978 to 1980.
He moved back to Darlington and worked with his mother and the construction company she had formed. The construction company thrived for six years, but Norwood said he overbuilt some spec houses and the company started a downward spiral.
Norwood said he lost several hundred thousand dollars and considered filing for bankruptcy. He didn't. He negotiated with his contractors to pay them off over time.
"All kinds of bad things happened to me. I had what I call seven years of hell," Norwood said.
"From 1987 to 1994, those years were just ridiculously hard. I couldn't get out of my own way."
He wound up living in a $50 a week room in a boarding house on McQueen Street. He had a room, bathroom and kitchen privileges.
One night, he was reading the Bible and read a passage that said forget the past and move forward. That passage, Norwood said, changed his life.
The next day he started a new business – Mobile Home Brokers – and it did well for two or three years. Then, Brown called him and asked Norwood to join him at Shelley Management Systems as a salesperson. Eventually, he became a partner in the business.
In 2003, SMS was sold to ADP. Norwood and Brown stayed with the company for about 12 years.
Also in 2003, Norwood and his wife, Anne, became owners of Victors, which struggled until the restaurant moved to downtown Florence.
"Since 2013, Victors has continued to grow every year and be a profitable business," he said.
Norwood and Brown would partner on other businesses as well, including EmployReward Systems and Synergi.
Norwood retired from Synergi in February.
Norwood has always been involved in the community. He was chairman of the Greater Florence Chamber of Commerce, president and board member of the Boy Scouts of America Pee Dee Area Council, chairman of Florence County Progress, chairman of the Florence Downtown Development Corp., chairman of the Francis Marion University Education Foundation and board member of the Florence County Economic Development Partnership.
He also has donated to the FMU Education Foundation to create scholarships for students.
Norwood's advice to others is to get involved in the community.
"There are plenty of opportunities for anyone who wants to see the city grow through the Chamber of Commerce, Florence County Progress or any charitable organization," Norwood said. "There are dozens of wonderful organizations that do so much for the community. I think the spirit of volunteerism is what keeps our community growing."