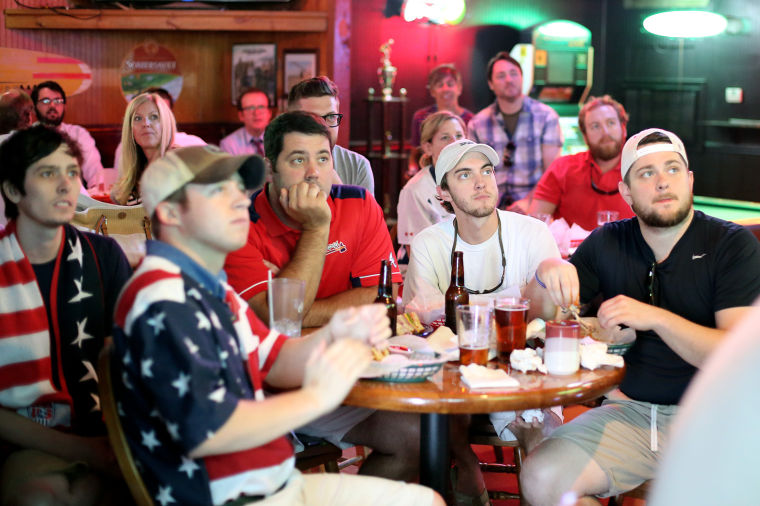 FLORENCE, S.C. — Folks around the Pee Dee put aside work and their duties for a couple hours Thursday to take in the anticipated United States and Germany World Cup match.
Fans flocked to places like Apple Annie's and Buffalo Wild Wings to watch Germany's 1-0 win over the U.S. Despite the loss, U.S. advanced to the knockout round as Portugal defeated Ghana 2-1.
It's the first time in U.S. soccer history it has advanced to the knockout stage of back-to-back World Cups. U.S. will play Group H champion Belgium at 1 p.m. on Tuesday.
"So many were against them at the start of the World Cup and didn't thing they were going to do well," said Taylor Thompson, former West Florence soccer and sophomore on the High Point soccer team. "But after that first game against Ghana when Clint Dempsey scored that quick goal, it sort of energized them.
"They didn't have a good performance against Germany, but they showed they can play with them."
Despite Thursday's result, World Cup mania has captured the attention of fans in the Pee Dee and across the United States. Ratings for the World Cup in America have skyrocketed with the success of the United States. According to Nielsen ratings, more than 25 million viewers turned in Sunday to watch the U.S. match against Portugal, making it the most watched soccer match of all-time.
Ratings for Thursday's match against Germany weren't available yet, but an ESPN spokesperson said more than 1.7 million people tuned in to watch the match on its website and Watch ESPN app.
People have taken to social media sites such as Facebook and Twitter to display their patriotic pride and also engaged in discussion on the World Cup. Fans are showing up for viewing parties wearing their red, white and blue colors.
Chad Tange showed up at Apple Annies wore blue shorts, a red shirt and a blue hat emblazoned with an eagle and American flag.
"It's the same outfit I've worn for all the U.S. games — hasn't been washed," he said. "It's nice rooting for the U.S. in the one thing they aren't the best at."
Even fans like England native Carl Bate, who moved to Florence in 2011, have thrown their support for the United States.
"I've been here for three and a half years now. I've got to convert at some point," he said. "The growth in the youth games, the attendance, the viewing parties, it's just great for U.S. soccer — just soccer in general. A country like America needs to be a big integral part of the sport for it to grow around the world. I think it's very important."
Francis Marion men's soccer coach John Campbell said the support for the U.S. is the best he could remember and that all levels of soccer benefit from the support, something he hopes will continue after the World Cup ends.
Campbell also likes the U.S. chances in the next round.
"I think they should win their next match. They are the better of the two teams," Campbell said. "They just have to keep playing aggressive and attacking and do a better job of finishing."
— Morning News reporter Veasey Conway contributed to this report.