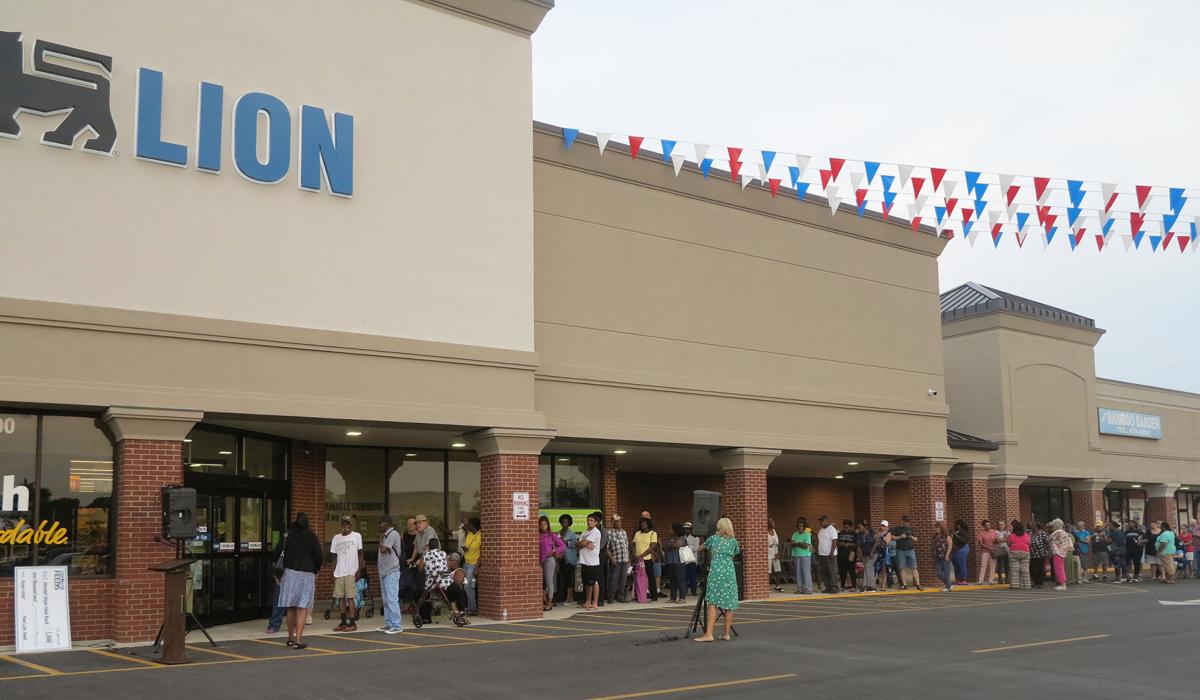 FLORENCE, S.C. – Customers waited in line for hours Wednesday morning to be among the first in the doors of the new Food Lion on Pamplico Highway (former BiLo next to Lowe's). A ribbon cutting was held in the store parking lot at 7:45 a.m. prior to the 8 a.m. opening.
Speedy Cannon, first customer in the line, was presented flowers during the ribbon cutting. He said he had been waiting in line since 2:33 a.m.
"I didn't want to miss nothing," Cannon said.
Also in line at that hour were Yevonne Coker and Linda Hill, who also received flowers. Both women said they were excited about the new grocery store.
The first 100 customers in line received a $10 gift card, a Food Lion-branded apron and a Food Lion reusable grocery bag.
One customer lucky customer, Ann Hyman, received a $250 gift card.
A second giveaway was held in the afternoon with the first 100 customers receiving a $10 gift card.
Food Lion presented Harvest Hope Food Bank with a ceremonial check for $1,000.
Accepting the donation for food relief was Harvest Hope CEO Wendy Broderick. She said Food Lion has been a long-standing partner and vital to Harvest Hope's mission.
The new Food Lion replaces the Food Lion store at 2600 S. Irby St. that closed earlier in the week.
A couple of employees at the new store were in familiar territory on Wednesday, having also worked at the BiLo before it closed.
J.T. McKenney, produce manager, worked for BiLo for 24 years.
"It is like coming back home," he said. "I get to see a lot of customers that I already know."
He has been working at the West Palmetto store for about a year.
McKenney said he is excited about the new garden cooler that keeps produce fresh longer.
"We offer a good product at a good price," he said.
But he said the key is good service.
"It is all about the service," he said.
McKenney was one of the employees privileged to cut the ribbon Wednesday.
Store manager Steve Campbell has been with Food Lion since 1989. He has been a store manager for about 20 years. His last home store was in Dillon.
Campbell said the store has new, faster registers to get customers through the lines more quickly. It has an employee designated to direct traffic flow and get customers thought the checkout line more efficiently. The store also has baggers who are also trained to run registers if the lines get backed up.
Customers shopping in the store will be able to choose from an expanded variety of products, including in-store fresh-cut fruit, hand-battered fried chicken, and sushi made by a sushi chef on premises, Campbell said.
There is a wing bar and soup bar, he said.
Campbell said the store has an expanded beer and wine section that offers more local beers.
The Food Lion store has added more organic items and gluten-free items.
"We carry the complete assortment of what Food Lion carries," Campbell said. "We have a local farmer that supplies us with in-season produce."
The store also features "Grab-n-Go" meals and the company's new Food Lion To-Go service. Campbell said it will soon have delivery service as well.
Sandra Best was one of the shoppers on Wednesday checking out the new store.
"I love it," she said. "I normally shopped at the one they closed. This is the one I'll come to now."
Best said she likes Food Lion because the stores are clean and the staff is always friendly and helpful.
"They have gluten-free products, and I have a granddaughter who has to eat gluten-free," she said. "I buy for her."
Jaikia Brown said she just loves the new store.
"I can't describe it," she said. "It is a lot bigger. I will definitely be here all the time."
Tyrone Timmons was in the store Wednesday with his daughter, Kennedi.
"It was awesome," he said. "We will be back."
Ann Hyman and her sister, Willie Woodberry, came to the store opening early with a neighbor, Eunice Giles.
Woodberry said, "It is great; it is wonderful to have a business back in here."
Hyman, who won the $250 gift card, said she will be back to use the card and get her sister some of the organic foods they were looking at and the seafood for herself.
"Now I can get some Glucerna for my husband, who is a diabetic," she added.
She was so excited to win the gift card that she said, "I got to go rest now."
Food Lion has been serving the Florence community for 40 years.
The new Florence store will be open daily from 7 a.m. until 11 p.m.
Customers can visit www.foodlion.com, enter one of the participating ZIP codes, and select this store or the closest participating store. With just the click of a button from a computer or mobile device, Food Lion To-Go allows customers to order groceries, fill a virtual cart with the grocery items, and pick them up at a scheduled pickup time, without ever having to enter a store.