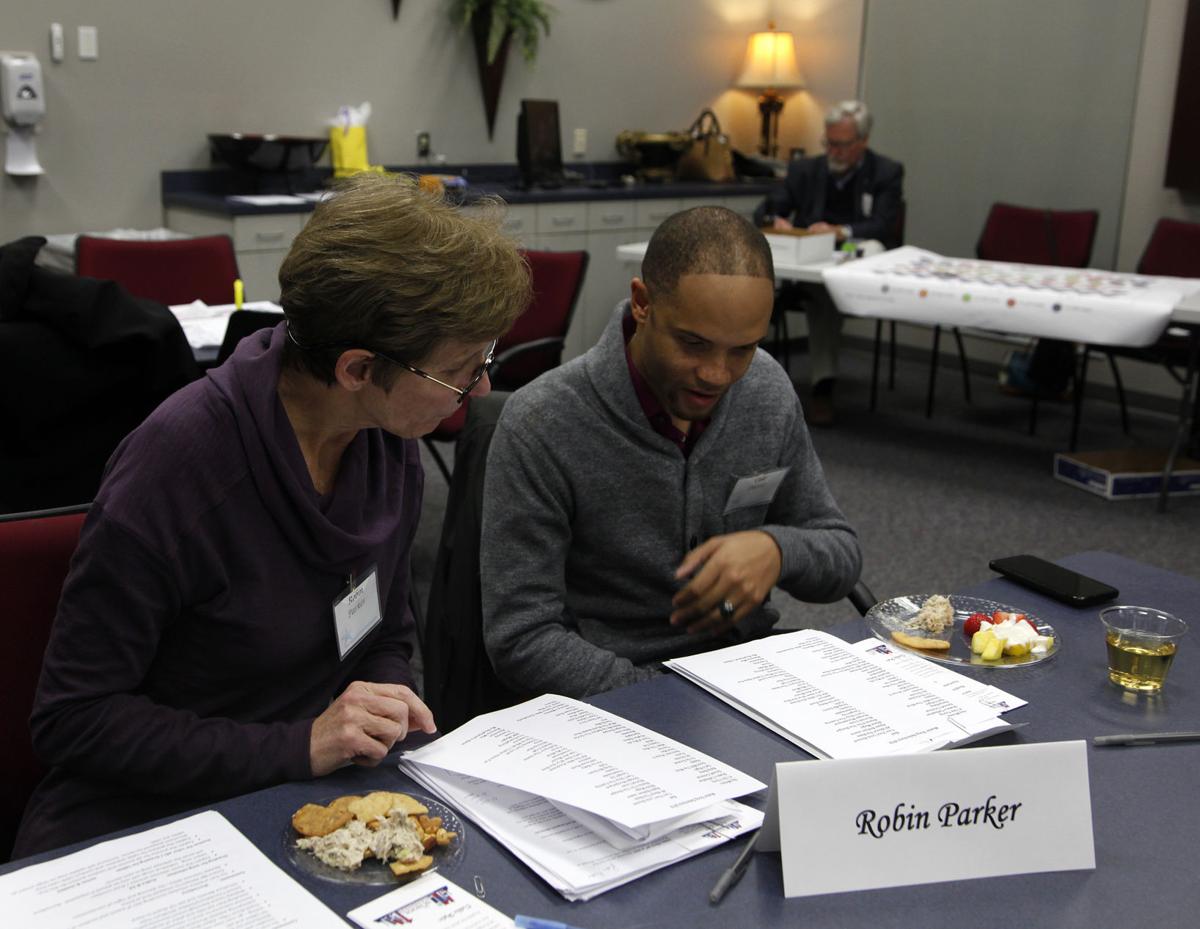 FLORENCE, S.C. – The pairings are set for the 2019 Dancing for Our Future Stars contest.
The 12 dancers competing were paired with professional dancers at a party held Thursday evening at the Eddie Floyd Conference Center on the campus of Carolinas Hospital System. The celebrity dancers are E.L. "Ed" Clements III, the solicitor for the 12th Judicial Circuit, Matt Dowdell of West Florence High School, Tyron Jones of Florence-Darlington Technical College, Robert LeMaster of Edward Jones, Nathaniel Lockhart of Accustaff, Jean-Baptiste Mathieu of GE Healthcare, Kevin Miller of McLeod Health and Fitness Center, Dr. Veeral Oza of McLeod Digestive Health Center, Robin Parker of Fitness Forum, Dr. Tyler Perry of Palmetto Smiles, Johnny Rishmawi of Budget Blinds and Luke Wilcox of Wilcox Office Mart.
Oza said he was excited to be able to give something to the students in Florence One Schools. He added that he used to dance in competitions with his sister when he was younger and that he looked forward to competing this year.
Rishmawi said he attended the 2018 contest and said "why not?" when asked to compete this year. He said he was glad to raise money for the students of Florence One Schools.
Clements said he had previously promised Mindy Taylor to compete and he was fulfilling his promise to her. He said he was too busy to compete when asked by Taylor previously but told her at that time that he would compete if asked in the future.
Parker said she had attended a couple of the contests before and resolved if she was ever asked to compete. She added that she loves to dance.
Amanda Smith is the professional dancer paired with Jones. She has been working as a professional in the contest since 2013. She previously won a People's Choice award when she competed with George Jebaily.
She said she keeps coming back because she loves doing it.
Ethan Welsh is the professional dancer paired with Miller. 2019 is his first year helping a dancer. His mother helped out in previous years.
He said he signed up as a way of donating his time to the community.
The 2019 contest will be held on March 28 at the Southeastern Institute of Manufacturing and Technology on the campus of Florence-Darlington Technical College. The contest will begin with a reception at 6 p.m. and the competition is scheduled to begin an hour later.
After February 1st, fans can vote online for their favorite couple(s) at DancingForOurFutureStarsOfFlorence.com for only $10 per vote. The "People's Choice" mirror ball trophies will be awarded to the three couples raising the most votes. A panel of judges will name one couple "Technical Skills Winner" based on the contestants' overall skills. One couple will also be chosen as "Most Entertaining" by the judges. Dancers receiving the largest number of online votes will be awarded the "Social Stars" trophy.
Competitors also raise money by selling table tickets and program ads for the contest.
The contest is one of two major fundraisers for the School Foundation. The other is a gala held in the fall honoring a graduate of Florence One Schools. The contest is the larger fundraiser of the two, having raised around $1 million in funds in its first eight years of existence.
Founded in 2000, The School Foundation promotes educational excellence in Florence 1 Schools through grants for innovative learning and through high impact initiatives designed to prepare all students for success. To date, the foundation has provided over $1,525,030 in grants to Florence 1 educators. To learn more about The School Foundation, visit their website at www.theschoolfoundation.org.
The business news you need
With a weekly newsletter looking back at local history.