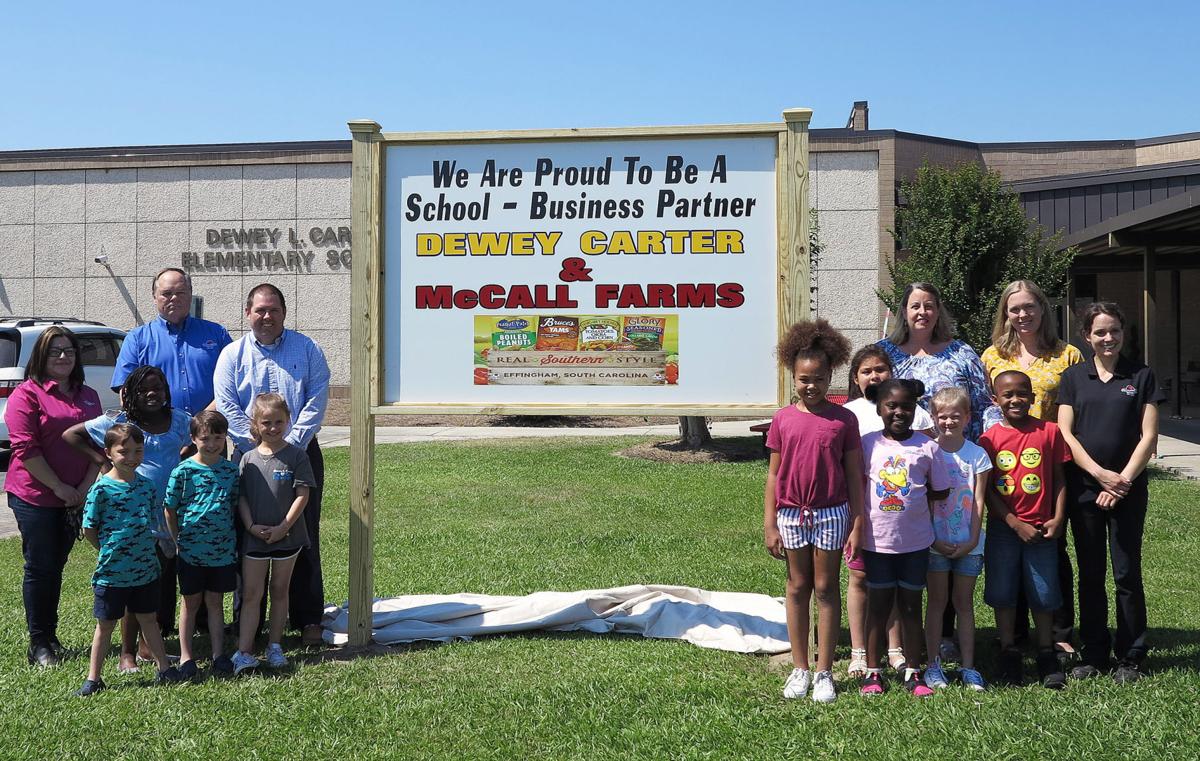 FLORENCE, S.C. – Dewey L. Carter Elementary School and McCall Farms have forged a community partnership and in so doing unveiled a sign on the school campus Friday morning to make the partnership official.
"Dewey L. Carter Elementary School is ecstatic about joining together with McCall Farms for a community partnership," said Wendy Frazier, the school's principal. "We have many students with family members employed by McCall Farms, and it will be a great way for them to pair with us for educational events and learning opportunities in the future."
Claudia Soto is one of the McCall employees with children at Dewey Carter. She attended the sign unveiling on Friday.
"It means a lot to us," she said. "All three of my children are here."
Soto said she is looking forward to partnering with the school and reading books at the school to the children.
"We look forward to McCall Farms walking alongside us in helping to positively educate and teach our students about their business and to also provide consistent volunteers to read with students or help mentor student during the school year," Frazier said.
She said they have already been so accommodating and wonderful to work with.
Darryl Davids, the vice president of human resources at McCall Farms, said they want to be the "first phone call" when the school needs something. He said McCall Farms has been a part of the community for nearly 200 years. He said they have more than 1,000 employees, many with children at the school. They are both part of the Effingham community of Florence County.
"We are ready to help when the children go back to school (in the fall)," he said.
McCall Farms is a South Carolina-based manufacturer of products such as Margaret Holmes and Glory Food.
"This gives the faculty and staff at Dewey Carter a neighbor to call when needs arise," stated a news release from McCall Farms. "We have already been able to provide managers to participate in the Read to Succeed Literacy Program, give support of $2,000 for the Gardening for Educators, and last week provided a meal for the teachers and staff during Teacher Appreciation week," Davids said Friday.
McCall Farms is a family-owned business of the Swink family.
"As a family-owned company, we feel a deep connection to the area and the families that live here," Gray Hunter, the lean leader at McCall Farms and one of the generational leaders of the company, said in the release.
Woody Swink, co-president, also said, "This is our home and where many of our employees live and raise their families. They have children that attend Dewey Carter, so this is where we need to invest our time and efforts. It is all about family."
The School-Business Partnership Program gives businesses a way to lend support to the schools and communities where they do business.
"By partnering with local schools, the business can assist with fundraising efforts, back-to-school activities and literacy programs that provide positive ways to give back as well as invest for the future," the release stated.
In return, schools get the extra support they need.
The business news you need
With a weekly newsletter looking back at local history.