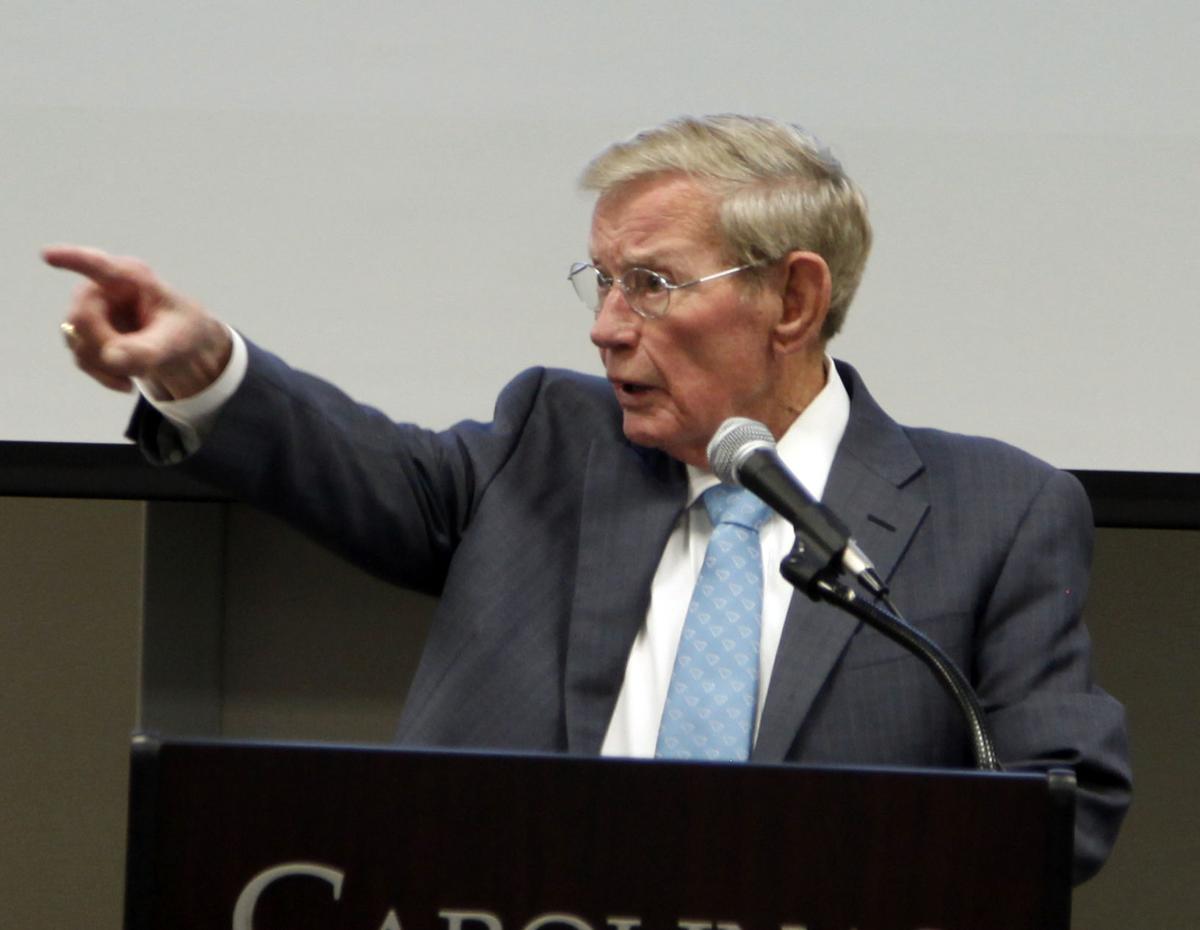 FLORENCE, S.C. — If S.C. Sen. Hugh K. Leatherman and state Reps. Phillip Lowe and Jay Jordan are any indication, education reform is going to dominate the 2019 session of the South Carolina General Assembly.
The three Republican legislators provided an update, focusing on education, to the Florence County Republican Party on Monday evening at the Floyd Conference Center on the Carolinas Hospital System campus.
Leatherman, who arrived to the meeting late, said he was coming from a meeting on education with Gov. Henry McMaster and S.C. House Speaker Jay Lucas.
Leatherman also said that he had met with Florence One Schools Superintendent Rich O'Malley and that he thought O'Malley could improve the schools in the district.
Leatherman also mentioned positives he saw at Francis Marion University, including the Health Sciences Center in downtown Florence, and at Florence-Darlington Technical College.
Lowe began his presentation by holding up a graph illustrating the level of funding for education in comparison with other areas of the state. He said the state ranked 23rd in the nation in funding for its educational system but was getting 50th-place results.
"Are we funding schools enough?" Lowe asked. "It kind of sounds like we are, especially for the grades we're getting."
Lowe called for fundamental changes in the educational system. He said he saw some changes on the horizon after learning of a meeting between Leatherman and two top state officials.
Jordan said education is one of the big-ticket items facing the General Assembly.
"We're last in education. It's time to start over," Jordan said. "We need to go back and start over and figure it out."
Later, Jordan said he wanted to talk to teachers and business leaders to work on curriculum development.
Leatherman serves as the senator from district 31, which includes most of Florence County and a small portion of eastern Darlington County. He has served since 1981. Leatherman serves as chairman of the Senate Finance Committee and previously served as president pro tempore of the senate.
Lowe, who has served since 2007, represents House District 60, which includes portions of western Florence County and southern Darlington County. He serves as chair of the Law Enforcement Subcommittee of the House Ways and Means Committee.
Jordan represents House District 63, which includes west Florence. He won a 2015 special election for the seat and was re-elected in 2016 and 2018.