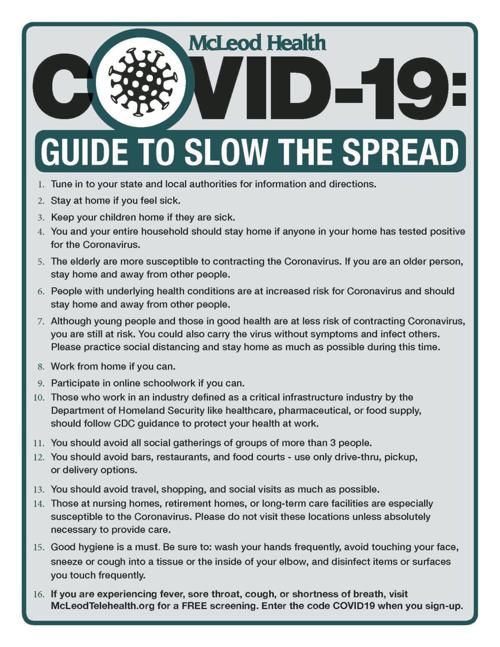 During these unprecedented times, scientists are working diligently to learn as much as possible about the coronavirus, also referred to as COVID-19.
Yet with the global pandemic continuing to grow, we have many looming questions. As we search for answers, it is important to rely only on official sources for information, such as the Centers for Disease Control and Prevention (CDC) or South Carolina DHEC. You can also find valuable resources at McLeodHealth.org.
Below are some of the most frequently asked questions with the most accurate information currently available.
A. Coronaviruses are a large family of viruses, some causing respiratory illness in people and others circulating among animals. Rarely, coronaviruses can evolve and infect people and then spread to other people. COVID-19 is the disease caused by a novel, or new, coronavirus.
Because it is "novel," no one has immunity to it, and therefore, everyone is susceptible to the virus.
Q. What symptoms should I look for?
A. The symptoms of COVID-19 include fever, cough, sore throat and shortness of breath. These symptoms very closely resemble the flu, which is still very active.
Q. What if I start showing symptoms?
A. Approximately 80 percent of people who contract COVID-19 experience mild, cold-like symptoms or may have no symptoms at all.
The first step is to call your doctor or contact McLeod Telehealth.
After discussing your symptoms, the doctor may determine that you do not need to be tested for COVID-19. At this point, the doctor will advise you how to treat your symptoms from home, including what medications to take to reduce your fever and other symptoms. Staying at home helps prevent you from exposing others.
For more serious cases, calling the doctor in advance will allow the emergency care team to prepare for your arrival at the hospital with tools, such as masks, alternative entryways into the hospital and rooms with controlled air flow.
Q. Do I need to get tested for COVID-19?
A. Not everyone who is sick needs to be tested. The CDC recommends that you should call your doctor IF:
» You recently traveled to countries, regions, states or cities where COVID-19 is spreading, OR
» Have been in close contact with someone diagnosed with COVID-19.
If you are only experiencing mild symptoms and have not been in contact with someone who has been diagnosed with COVID-19 or traveled to one of the areas where infection is widespread, you may not need to be tested.
A. Although there is still much to learn about COVID- 19, it appears to spread like other respiratory viruses — by people who are infected coughing or sneezing. The droplets are inhaled by other people or moved to the eyes, nose or mouth by contaminated hands.
Q. How can I protect myself and my loved ones?
A. The best way to prevent illness is to avoid being exposed to this virus. The most important steps to take are much the same as for every cold and flu season:
» Cover your mouth and nose with a tissue when you cough or sneeze (using your elbow is also a good technique). Throw used tissues in the trash, and immediately wash your hands with soap and water.
» Avoid close contact with people who are sick and put distance between yourself (about six feet) and other people if COVID-19 is spreading in your community. This is also known as "social distancing."
» Clean your hands often using soap and water for at least 20 seconds. If soap and water are not readily available, use a hand sanitizer that contains at least 60 percent alcohol.
» Avoid touching your eyes, nose and mouth with unwashed hands.
People at higher risk of severe illness should stay home as much as possible to limit their exposure to other people who may have COVID-19. These include:
» People ages 60 and older.
» People with underlying health conditions, including heart disease, lung disease or diabetes, among others.
» People who have weakened immune systems.
» Women who are pregnant.
Dr. Ramesh Bharadwaj is the McLeod Health medical director of infection control and hospital epidemiology. He cares for patients at McLeod Regional Medical Center.
Be the first to know
Get local news delivered to your inbox!