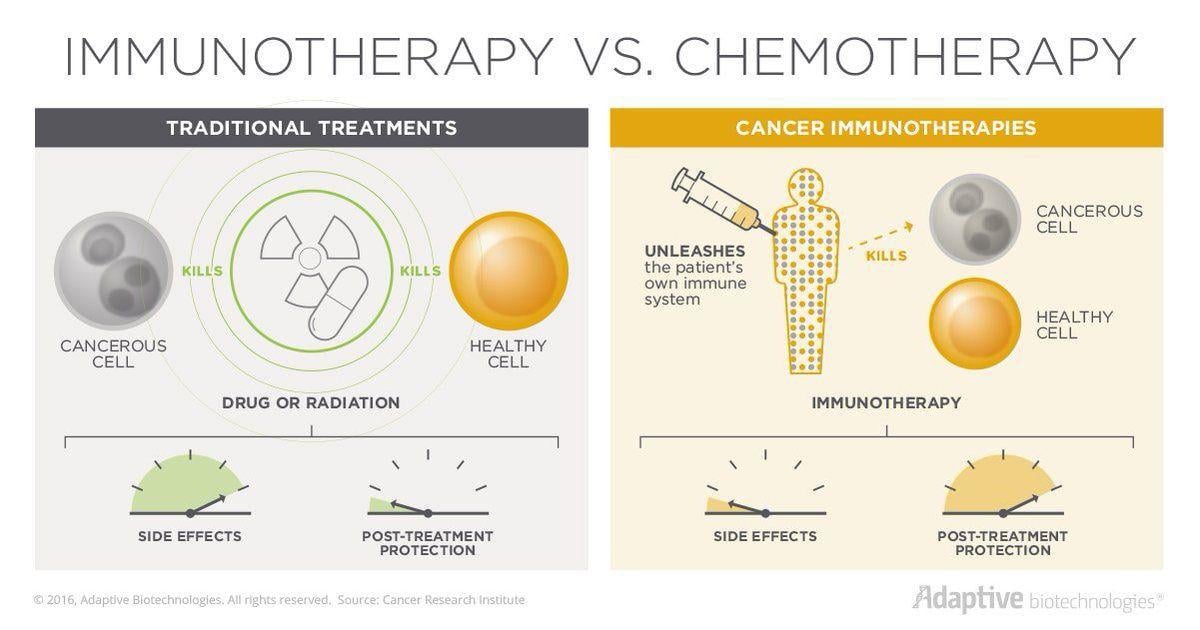 Today, advancements in cancer treatment are taking place at a rapid pace. One form of treatment, called immunotherapy, involves using the patient's immune system to attack the cancer cells.
Immunotherapy is a treatment designed to boost the body's natural defenses to fight cancer. It uses substances or cells made by the body, or treatments created in a lab, to improve or restore immune system function.
In a healthy person, the immune system works to identify and eliminate abnormal or diseased cells. When normal cells become cancerous, the immune system responds because these cells appear different. However, cancer cells have a way of hiding from the immune system. They put a cloak over themselves so the immune system can't see them. Now, with immunotherapy, we have a way of decloaking the cancer cells so the immune system can see these cells, attack and kill them.
There are also several types of immunotherapy. Each one works in a specific way to slow and stop the growth of cancer cells, prevent cancer cells from spreading to other parts of the body and help the immune system work harder to destroy cancer cells. In addition, some forms of immunotherapy boost the body's immune system, while others train the immune system to attack cancer cells.
» Immune checkpoint inhibitors work by taking the brakes off the immune system so it is better able to attack the cancer.
» Monoclonal antibodies attach to specific proteins on cancer cells that flag the cells so the immune system can find and destroy those cells.
» Cancer vaccines are substances that stimulate the immune system to fight cancer by strengthening the immune system against cancer cells.
The success of immunotherapy in lung, melanoma and prostate cancer has increased interest in pursuing this form of treatment in other cancers. For example, women diagnosed with HER2 positive breast cancer are now treated with Herceptin, a form of immunotherapy. Since Herceptin-based treatments began about 21 years ago, the outcomes for these patients have improved greatly. In fact, some women who were on the first experimental treatments with Herceptin are still in remission.
In December 2017, the U.S. Food and Drug Administration (FDA) also approved the use of another targeted therapy, Perjeta, in combination with Herceptin and chemotherapy after surgery to treat women with early-stage HER2 positive breast cancer, which is considered to have a high risk of recurrence.
Both Perjeta and Herceptin work against HER2-positive breast cancers by blocking the cancer cells' ability to receive growth signals. Working together, these drugs are improving survival in women with high-risk, early-stage HER2 positive breast cancer as well as those diagnosed with HER2 positive metastatic breast cancer.
In the treatment of triple-negative metastatic breast cancer in patients whose tumors express the PD-L1 protein, the FDA approved the checkpoint inhibitor immunotherapy drug Tcentriq, in March of 2019. Tcentriq, an anti-PD-L1 antibody used in combination with chemotherapy drug Abrazane is the first FDA-approved regimen for breast cancer to include immunotherapy.
Immunotherapy also offers an improved quality of life for patients who have this treatment option. While chemotherapy targets cancer cells, it also damages healthy cells, resulting in side effects such as hair loss and nausea. Because not as many healthy cells are damaged with immunotherapy patients often experience fewer and less severe side effects.
According to the American Society of Clinical Oncology, in the past year the role of immunotherapy has grown
significantly. Research has uncovered early clues about when this form of treatment might work better, and these insights help guide treatment planning for the future.
Additionally, continued research in the use of immunotherapy includes identifying immune biomarkers to predict treatment response as well as new targeted and combination therapies to improve outcomes.
Dr. Michael Pavy is the senior member of McLeod Oncology and Hematology Associates as well as co-medical director of the McLeod Center for Cancer Treatment & Research. He received his medical degree from State University of New York Upstate Medical Center in Syracuse, New York. He completed his residency in internal medicine at the Medical University of South Carolina in Charleston. Following his residency, he completed a fellowship in medical oncology at Johns Hopkins Hospital in Baltimore. Pavy has been caring for patients at McLeod since 1981.