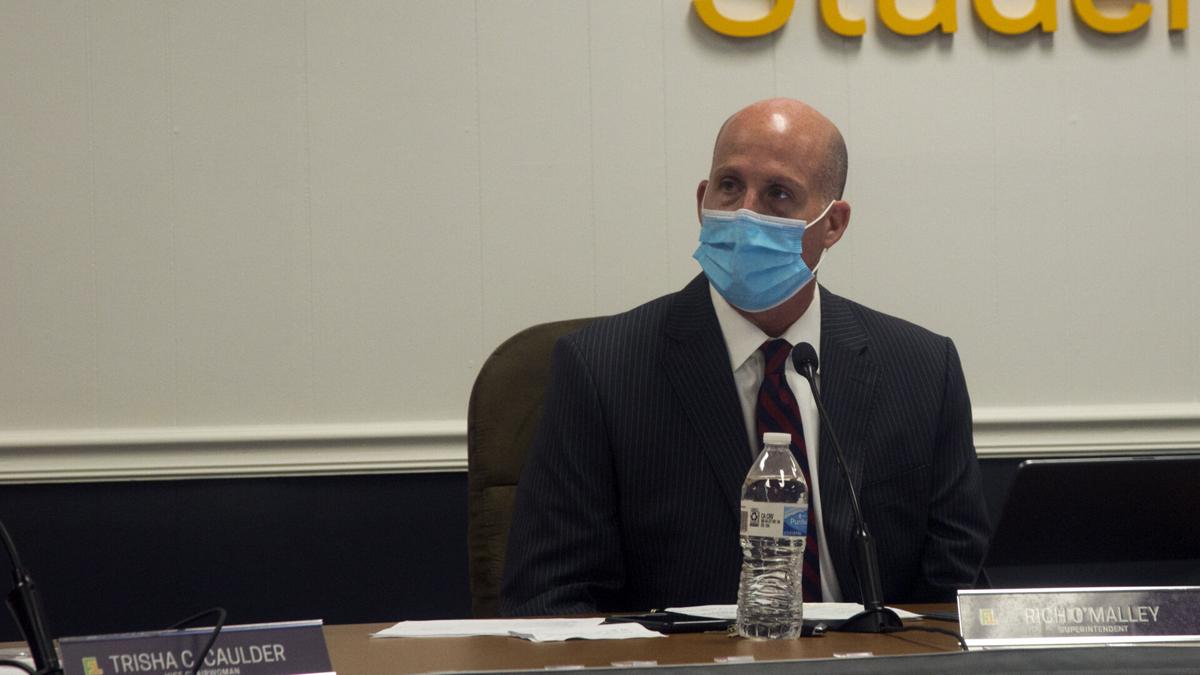 FLORENCE, S.C. — Approximately 70% of the Florence One Schools students who opted for an online-only education model were African American. 
Florence One Schools Superintendent Richard O'Malley provided an update about the opening of schools to the governing board of trustees at a meeting Thursday evening.
He said that an estimated 8,100 students opted for the district's plan of alternating in-person days of instruction and roughly 7,500 students opted for a fully virtual model. 
"Males and females, pretty much, no difference. It broke down along those same lines of 50-50 choosing virtual or face-to-face," O'Malley said. "The real discrepancy came on the racial breakdown. Of the 7,500 that chose virtual, 70% of them were African American, 24% of them were Caucasian." 
He said those numbers were reversed for in-person instruction. 
"If you take a look at the 8,100 that chose face-to-face, it was almost conversely the opposite," O'Malley said. "African American was 24% and Caucasian was 70%." 
O'Malley described the first two days of in-person school as eerily quiet. 
He reminded the board that with alternating instructional days, approximately 4,000 children were in school one day and at home the next day. O'Malley used Delmae as an example. The school had 275 students on A day and 281 students on B day. At Timrod, 72 students attended on B day and 61 on A day.  At West Florence High School, 512 students were in school on A day and 482 on B day. He added that the numbers were pretty close to those at South Florence High School. 
"Overall, for the first three days, I think we did a pretty good job of getting ready, being prepared," O'Malley said. "I think you as board members get the opportunity to see teachers virtually in the classroom. It's extremely impressive. If you take a virtual teacher teaching Kindergarten, it is not an easy task and by far it is one of the most impressive things. And we could say that about a lot of people whether it's face-to-face or virtual." 
He added that the school district did offer a form on its website for parents or guardians wishing to change the model of education — the deadline to do so is Oct. 8 — and a link to the daily number of COVID-19 cases in the school district. 
O'Malley said the district had one student and six teachers test positive before the start of the school year. He added that only one teacher was actually in the school when the results came back. 
He also added that there were teaching videos available for parents to help their children with the four core subjects. 
O'Malley also generally updated the board on the beginning of school.
For the first time, he said, the district had zero certified vacancies at the start of the school year, including the hires of 18 new administrators and 174 new teachers. 
"To be at zero for the first time, that's a pretty big milestone," he said. "I think we've come a long way to build a culture that supports our staff. This doesn't happen by accident." 
In 2017, the district started the year with 67 certified vacancies. In 2018, the number went down to 49. And in 2019, there were 18 vacancies.
Six classified positions are open: four bus drivers, an electrician helper and a grounds helper. 
In 2017, the district had 84 classified vacancies. In 2018, it had 43. And in 2019, it was 37 to start school. 
O'Malley credited the district's human resources department for the lower numbers of vacancies. 
He said the district had moved four schools — Carver, Lucy T. Davis, Delmae, and McLaurin — to a K-5 model. 
O'Malley said eight modular classrooms have been added at McLaurin.
The McCleneghan renovation is also progressing, O'Malley said. 
He said Southside construction was also moving forward nicely. 
O'Malley said the Greenwood gym should be completed in late October.
The district's STEM bus is also set to roll out in about a week and a half. 
Get local news delivered to your inbox!
Subscribe to our Daily Headlines newsletter.