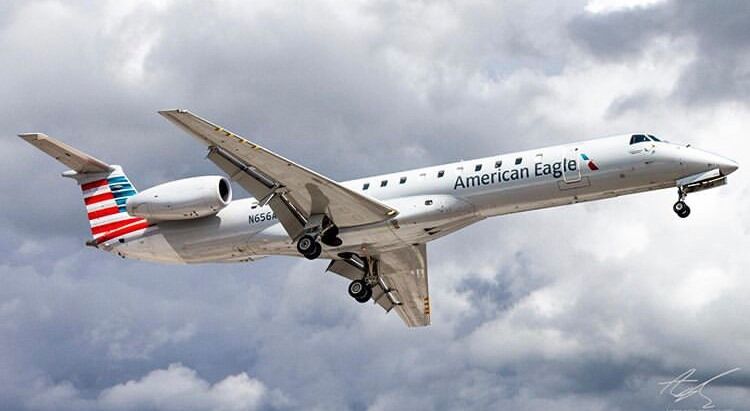 FLORENCE, S.C. − American Airlines announced Wednesday that it is postponing plans to return flight schedules to the Florence Regional Airport for another month.
This comes just two days after the announcement was made to return flights to the airport beginning Nov. 4.
"It looks as if there is a 30-day delay in American Airlines' plans to return commercial flights to the Florence Regional Airport," Mike Miller, the president of the Greater Florence Chamber of Commerce, told the Morning News on Wednesday morning.
"The original plan announced two days ago called for the return of daily flights to Charlotte beginning in November. Late yesterday [Tuesday] the airline notified the airport and the chamber that the time frame to restart those flights will now be the first of December.
"The controversy in Washington over the $25 billion airline payroll support program has influenced American Airline's decision to delay service another 30 days. We are not sure if an earlier agreement on the airline relief program would result in a November air service schedule."
Miller added, "For us, the encouraging message is that American Airlines seems committed to supporting the Greater Florence and Pee Dee Region with commercial air service. Unfortunately, it will now take a few more days for the air service to resume."
Miller said he received word of the delay from Tracy Montross, the regional director of Government Affairs American Airlines.
"American Airlines previously announced that we were suspending service to a number of regional markets from Oct. 7 to Nov. 3, including Florence Regional Airport (FLO)," Montross said. "In the absence of an extension of the Payroll Support Program, we're faced with a host of difficult decisions to right-size our airline, given the significant and sustained drop in demand we've seen during the COVID-19 pandemic.
"Because we don't yet have resolution about whether there will be an extension of the PSP and the associated air service requirements, we've decided to suspend service to these markets for November, as well."
Miller said it is disappointing, but Florence is going to get American Airlines back.
Connie Anderson, the executive director of the Florence Regional Airport, said they were notified on Monday service would return Nov. 4. She said they remain confident that the service will return, just not on the date announced earlier this week.
Miller said President Trump wasn't specific when he first announced he was halting COVID-19 stimulus relief talks until after the November election. On Wednesday morning, Trump clarified that he could still do something on the airline situation and PPE.
Miller was optimistic in saying maybe the airline could come back in mid-month.
"This is a positive event no matter when it (American Airlines) comes back," Miller said.
He said American is coming back. He said it's just that politics got in the way.
Pre-COVID, Anderson and Miller said American Airlines and Florence Regional Airport were happy with service. Miller said the word "profitability" was used in a conversation with American Airlines.
Anderson said the airport will do everything it can to maintain its employees.
"We have stuff for them to do," she said.
She said American Airlines had to furlough its employees at the airport. It has only one employee for the duration, she said.
"We're constantly evaluating our network to match supply and demand, and we have been making regular schedule adjustments throughout the pandemic," Montross said. "We hoped we would have more clarity, and sooner, about whether a PSP extension would come to fruition, so we held off on making decisions about these markets until now. If the PSP is extended, we will resume service to these markets in accordance with the air service requirements associated with the program."
Other cities that American dropped from the October schedule are Sioux City, Iowa; New Haven, Connecticut; Springfield, Illinois; Del Rio, Texas; Dubuque, Iowa; Greenville, North Carolina; Huntington, West Virginia; Joplin, Missouri; Kalamazoo-Battle Creek, Michigan; Lake Charles, Louisiana; New Windsor, New York; Roswell, New Mexico; Stillwater, Oklahoma; and Williamsport, Pennsylvania.
Concerned about COVID-19?
Sign up now to get the most recent coronavirus headlines and other important local and national news sent to your email inbox daily.