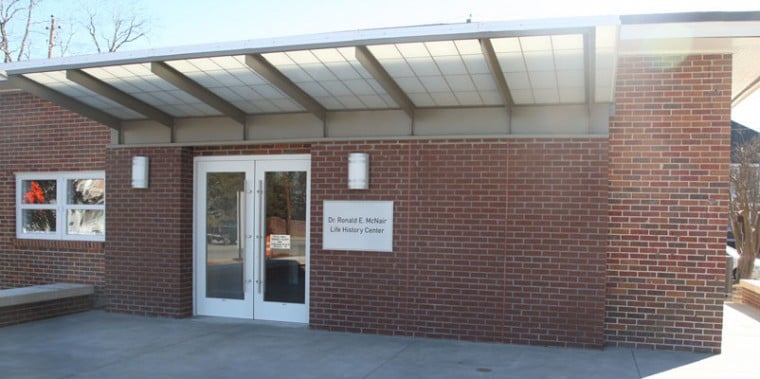 The Dr. Ronald E. McNair Life History Center represents a "complete turnaround" since the day a librarian told McNair he wasn't allowed to check out books, the late astronaut's brother said.
The persistence of the 9-year-old McNair and his mother finally got him the books during the days of segregation in 1959 — and the site of that showdown now commemorates his lifetime of education and exploration, cut short during the Space Shuttle Challenger disaster 25 years ago.
Eric McNair said it's "amazing" to see the former Lake City Public Library building restored to house the Dr. Ronald E. McNair Life History Center, which was introduced to the public on Saturday morning.
Ron McNair Committee member Gloria Tisdale, also Lake City's mayor pro tem, said the center is the culmination of the committee's work in the quarter-century since the Challenger disaster.
"This is our dream to do this, and to see it actually begin to happen, it's beyond words," she said at Saturday's event.
The center was open only briefly on Saturday, when visitors could view a three-walled display called "From the Fields to the Stars." Organizers hope to hold a dedication when the weather is warmer.
The display included biographical information of Ronald McNair's younger days, which included the hard work of cropping tobacco in the fields, to his missions in outer space. It also featured one of McNair's college notebooks and pictures of his church, family and school.
Edward Fulmore and McNair were classmates at the former Carver High School, now a middle school named for McNair.
"It's just amazing to see everything he wanted come to fruition," Fulmore said at Saturday's event.
Fulmore said he just moved back to Lake City from Jamaica, N.Y., after retiring six months ago.
"Gladly, I'm here in time to be part of this weekend," he said.
Fulmore's memories of McNair extend to a time well before high school — back to their Cub Scout days, when McNair's grandmother was their den mother, he said.
He was part of the much louder trombone section while McNair played saxophone in high school band, he said.
"Every time we learned to play something, we'd play so loud we'd drown him out," Fulmore said. "We'd tease him about that."
Nearly two decades later, he was at home to watch the broadcast of the Challenger's ill-fated liftoff, he said.
"The bottom of my heart just dropped out," he said.
Now that he's back in Lake City, he wants to work with the Ron McNair Committee to continue the tradition of celebrating his classmate, he said.
Nathan Gamble of Lake City also was a member of the Carver High School Class of 1967 along with McNair. He said he knew McNair since they were 6 and that they had cropped tobacco together.
"I think Ronald is well-deserving of it," he said at Saturday's event. "He's been a dedicated servant of this country all his life."
"The people who really knew him are showing up" to honor him, he added.
The renovated former library will be equipped for community functions and can easily accommodate a class of 30 students after a visit to the McNair Memorial Park next door, Clyde Bess, publicity chairman for this year's McNair events, said in a previous interview. In fact, an amphitheater will be built near the park-side entrance, which Bess hopes will become the museum's main entryway.
Eric McNair said he hopes the Life History Center will tie into the neighboring memorial park and into other points of interest drawing visitors to Lake City, he said.
"In turn, when people come, they're going to spend their money and enhance Lake City," he said.