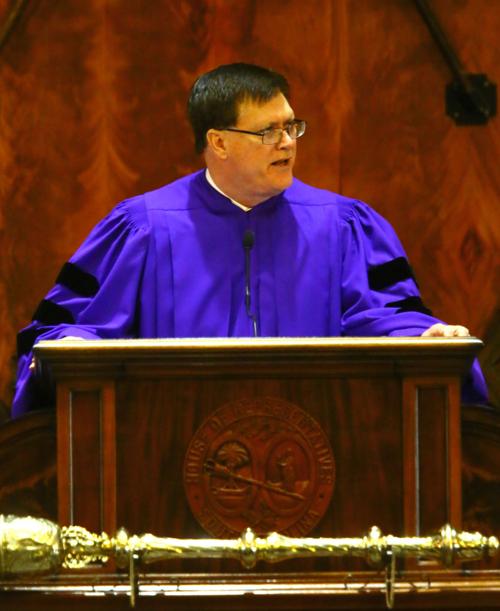 HARTSVILLE, S.C. — In a recent interview with the Morning News, S.C. Speaker of the House Jay Lucas (R-Darlington) spoke on his first year in the position. He gave insight on his most important moment in 2015 and a look into what might come in the next legislative session.
Q: What were some highlights during the 2015 legislative session for you?
A: By and large I think the House had a very good year. Obviously the one major piece of legislation we passed was an infrastructure bill. That was the first time we've really taken a good hard look at how we fund roads, bridges and highways in South Carolina. Some of the other achievements we had in the House were the passage of the omnibus ethics bill, and the 13 smaller ethics components of that bill. I think given where we were at the time and where we are now, ethics reform was an issue we needed to address quickly in the House, and we essentially did that in January. … We also looked at our budgeting practice. I think for the first time in a long time we had a supplemental budget in the House. We actually budgeted a surplus through a separate budgeting process. I think that was more transparent and it got more members involved, which is always a good thing.
Q: What disappointed you last year?
A: We had been working on an infrastructure bill for about nine months, and for South Carolina, it is without a doubt the biggest need we face as a state. It was disappointing that we did not get a bill back from the Senate. But I've spoken with Sen. (Hugh) Leatherman, and I believe he intends to pass an infrastructure bill the last year of the legislative session.
Q: Do you think the Senate bill will be the same as what the House passed in 2015?
A: No. I think it will be different, but in this case different is not necessarily a bad thing. There's not one specific way to fix roads and highways. I think it would be nice to have input from the upper chamber, and certainly we can iron out any differences and accomplish that.
Q: Education reform was a hot topic in 2015 that included a task force and multiple working committees, but we didn't see much resolution. Where does the House stand on that issue right now?
A: Those groups met for a little over 10 months and have produced a number of recommendations that we will address in this legislative session. Some of those recommendations are being drafted into law as we speak; others will be addressed over time.
Q: What are some of those recommendations?
A: What we were looking to do is not address a "minimally adequate education" in South Carolina. I don't like that term. It's not in our constitution. It was created by the Supreme Court. What we want to focus on is a 21st-century education, getting kids not only college ready but also career ready. Those are the broad things we're looking at. Certainly infrastructure is going to play a part in that in regards to the poor school districts. We were looking to do something much broader than what the court said to do and uplift those areas that have been in poverty.
Q: So would you say the state Supreme Court overstepped its bounds in the Abbeville decision?
A: We took the Abbeville decision very seriously. But when the Supreme Court attempted to place arbitrary timelines on when the legislature should act and tried to put together a group to review the legislature, that was in fact a substantial overreach by the South Carolina Supreme Court. I think when they reached that decision, they were not fully informed of everything the House had done. Once they began looking at the strides we had made, they pulled back from that position and agreed to give us the time necessary to address the issues raised in the Abbeville decision.
Q: The state is running on a $1.2 billion budget surplus going into 2016. What are your thoughts on where that money should go after appropriations?
A: First, I'd like to point out that sometimes the House and Senate don't always see eye to eye on everything, but I think we can all agree that South Carolina is in the best financial shape it's been in in a long time. … Obviously the flood puts us in a position of not knowing exactly how much of the additional money we're going to need for recovery. There needs to be money for infrastructure and federal match money. Farmers around the state were devastated, and providing some relief to them is certainly an item on the table for us. Our Ways and Means Committee started looking at some of those issues in November.
Q: With Florence's Sen. Hugh Leatherman as the Senate president pro tempore and lead budget writer and you as speaker of the House, the Pee Dee is in a uniquely powerful position in state government. Is that a problem for other regions in the state?
A: I view the position of speaker as statewide position. I have to be cognizant of the needs in all areas of the state, including the Pee Dee. I'm very proud to be speaker from the Pee Dee, the first since the 1930s, I believe, but by the same token I don't think you use that power to benefit your region. My job is to look out for the entirety of South Carolina, and that's what I intend to do.
Q: Are you worried that your "nice guy" reputation has stood in the way of progress?
A: I don't believe we've had a more productive session in my 17 years in state government than this past year. Look at the fact that we were able to pass a comprehensive ethics reform bill, a comprehensive infrastructure funding bill, a comprehensive domestic violence bill, deal with two major budgets and resolve the Confederate flag issue all in one session. That's the busiest we've ever been in Columbia. My management style is to get more people involved in the process, and that'll be the way I continue to run the House. … What we try to do is give every member a voice so at the end of the day we can pass legislation that benefits South Carolina. I have a different style than past speakers, and I think my style is better for the South Carolina House.
Q: How long do you plan to stay in the speaker's seat?
A: I intend to be speaker of the House for as long as I'm effective and as long as we continue to do big things, like we did last year. I've also been very clear that a speaker can overstay their time, so if there's ever a point where the House stagnates under me, then certainly it'll be time for someone else to do the job. I don't see that happening anytime soon. I'm proud to lead the House, and I intend to do so for a good number of years.
Q: What are some other issue you'd like to see addressed in 2016?
A: I think pension reform needs to be an issue we start dealing with this year. There are issues remaining from the flood, like how we inspect dams in South Carolina. A comprehensive review of that is important this year. This will be another big year in the House. That said, we can only send over so many bills to the Senate. We've got ethics reform and infrastructure reform there now. We're going to send education reform this session. At the end of the day, the Senate, as a body, has to move legislation back to us at a more rapid pace. We can deal with as many tough issues as we desire. It gets to a point, though, when we know the Senate isn't going to get it back to us, maybe our time is better spent looking at other things.