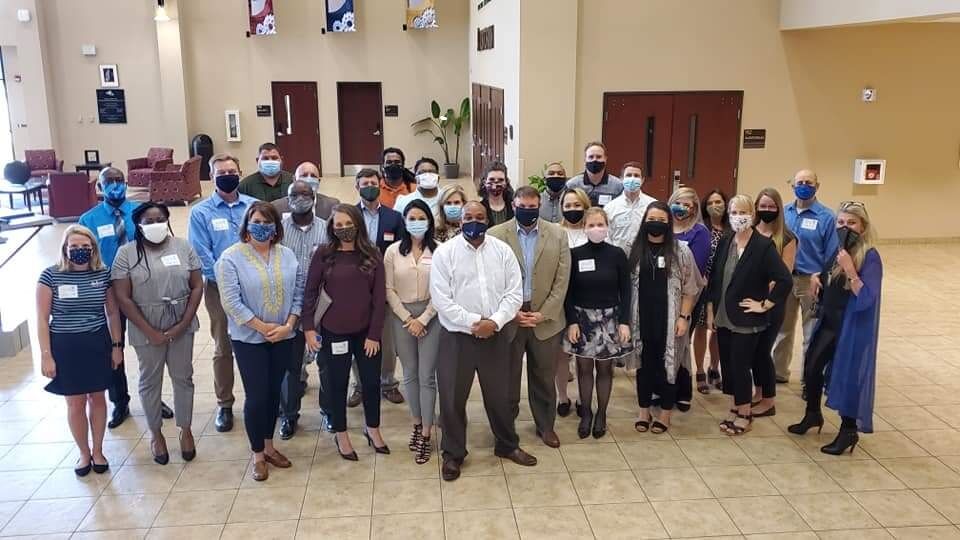 FLORENCE, S.C. – The Greater Florence Chamber of Commerce's Leadership Florence class is forging ahead despite the COVID-19 pandemic with its service project this year.
Members have benefited in many ways from participating in Leadership Florence. Some have had to restrict their attendance to Zoom while others have had limited interaction.
The 2020-2021 class is working on a "Helping Florence Bounce Back" donation drive.
The donation drive continues until May 21 and is the class project for this year's Leadership Florence group. The class has collection bins at more than 70 locations throughout Florence to collect everything from personal hygiene items to school supplies. The supply drive will culminate in a Leadership Day of Service from 9 a.m. to noon on Saturday, May 22, at First Presbyterian Church, located at 700 S. Park Ave.
Hygiene items and monetary donations will benefit HopeHealth (a health center that provides integrated health services for more than 50,000 patients in Florence and beyond), Manna House (a food bank of more than 30 years of serving the hungry and homeless in the area) and United Way of Florence County (supports 22 local nonprofits).
Some of the items desired: toothpaste, tooth brushes, dental floss, shampoo and conditioner, soap/body wash, sunscreen, hand/body lotion, hand sanitizer, hand wipes, combs/hair brushes, feminine products, laundry detergent and other items.
Some of the drop off locations are: CVS (several locations), Food Lion (several locations), Blue Cross Blue Shield, city of Florence, city of Florence City Center lobby, FedEx, Florence-Darlington Technical College (several locations), Francis Marion University, Greater Florence Chamber of Commerce, Harris Teeter, Morning News, NewSpring Church, Piggly Wiggly (several locations), Walgreens (several locations), Walmart and numerous other businesses.
The class will also be collecting reusable totes, grocery bags, canned goods snacks/juices, diapers/wipes, school supplies, books, blankets and stuffed animals.
"The class developed this innovative project to literally help Florence bounce back as we continue recovery from Covid-19," said Les Echols of the Greater Florence Chamber of Commerce. "Items and donations will help the underserved and homeless populations served by the three agencies who are beneficiaries of the project."
More than 1,000 individuals have participated in this program. The 2020-2021 class consists of 35 participants, one of the largest to date, Echols said.
Leadership Florence provides companies a place to send promising employees to increase their knowledge of the Florence area, enhance their involvement in community activities, while further developing their leadership skills, Echols said. Leadership Florence is a comprehensive, nine-month experience that identifies, cultivates and motivates new and existing leadership in the Greater Florence area, he said.
Lann Waldrop, a member of the 2020-2021 class, said, "The most beneficial part for me is the personal connections. We have a class full of very intelligent, hardworking people from many different businesses in the Florence area."
Waldrop is an advertising sales rep from the Morning News and lives in Hartsville.
"I don't know of a better way to meet so many great people," he said.
"It would be difficult to pinpoint one thing (that I have learned). We have met with many business and industrial leaders, politicians, educators, law enforcement, nonprofits and many more. Les Echols did a great job booking speakers to keep our classes interesting even when we met through Zoom."
Even though she is a native of Florence, Samantha George-Mack said she has learned a lot about the day-to-day operations of many businesses and industries in her hometown.
"We don't get to see what they do every day," she said.
She said they were able to witness what goes on daily in educational departments, with police officers, in politics and with others.
George-Mack said she has lived here her entire life and yet she learned things from the leadership class.
"I would definitely recommend this class to people who are new to the area," she said.
George-Mack works with the Pee Dee Regional Transportation Authority (PDRTA).
Scott Dell has attended other leadership classes, including one in his hometown of Madison, Wisconsin. He said Leadership Florence was impressive. He said it has been an excellent program.
Dell has been in Florence for almost two years. He is a professor at the Francis Marion University School of Business, where he teaches accounting and business.
He said COVID-19 has made this leadership class interesting. He is one of the members who attended classes strictly by Zoom.
Dell said there is a sense of community that is personified in the Leadership Florence program.
Dell said it has given him a good introduction to the community.
"The commitment by the people to the community is strong," he said
Dell is the treasurer of this year's Leadership Florence class. He said their service project is two-fold.
Dell said the goal is not just to raise money, which the class will do through a raffle, but to gather materials to help people in need. And in collecting the goods, the group will work as a team both to obtain and distribute donations.
He said their last class is coming up, and it is focused on business and industry.
"I looked forward to each class," Dell said.
But he said this class will be of special interest to him.
Dell said he would have liked more direct interaction, but circumstances prevented it.
"It was a little tougher," he said. "But we worked around it."
One thing he missed was the team-building session at the beginning of the year.
The class is also hosting a social media raffle of five desirable items donated and collected by the class members. For a chance to win, one simply has to visit one of the Greater Florence Chamber's social media pages (Facebook, Twitter, or Instagram) and follow the instructions provided. The window to win is from May 16 to May 21.
For more information, contact Echols, the director of community and minority enterprise at the Greater Florence Chamber of Commerce at 843-665-0515.