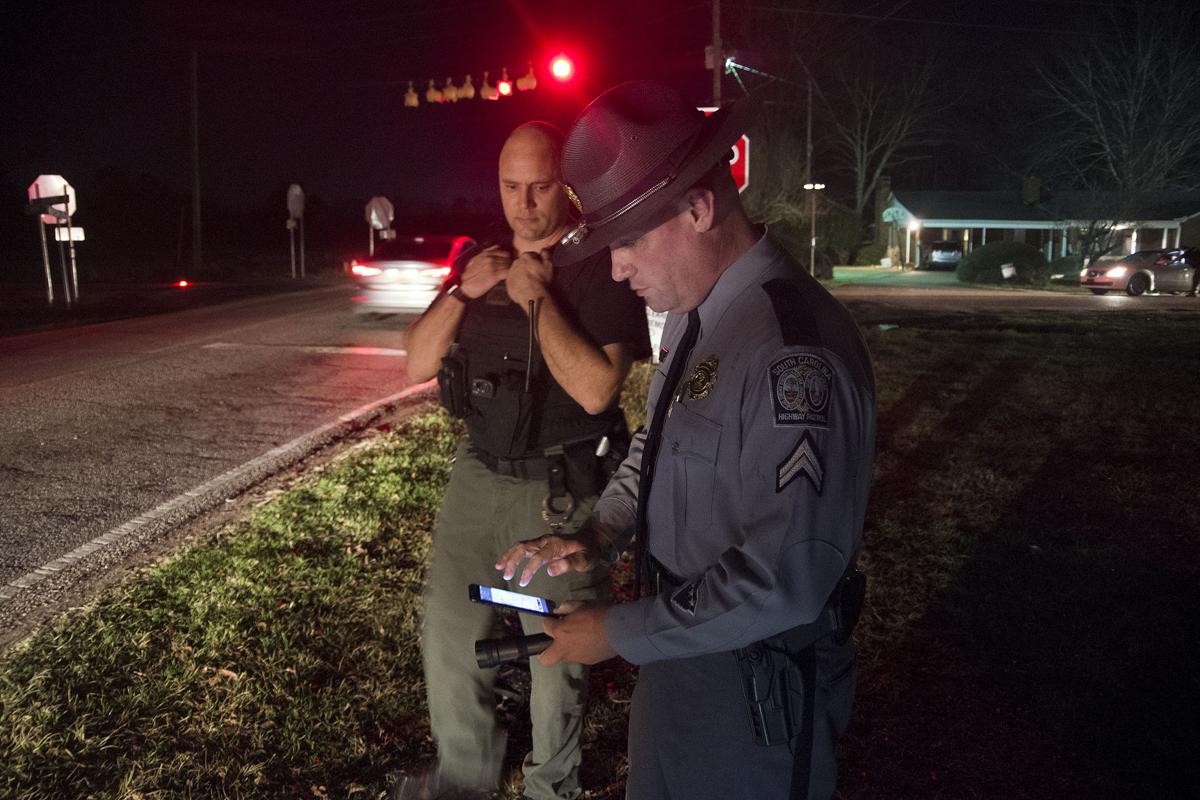 FLORENCE, S.C. – The Florence County Sheriff's Office's Traffic Enforcement unit teamed up with the South Carolina Highway Patrol on Monday to celebrate New Year's Eve with traffic enforcement activities designed to make sure that people were safe on Florence County roads, and that the drivers who weren't safe on the roads weren't on the roads for very long.
The evening started out with saturation campaigns in areas that have a history of traffic problems, said Lt. Anthony Fox of the Florence County Sheriff's Office.
Earlier in the day, the traffic enforcement effort started with a saturation campaign focused on speed, DUI and seat-belt violations, Fox said.
"We stopped numerous vehicles for speeding violations," he said.
As the saturation campaign wound down, deputies and troopers started at 9:30 p.m. to gather in the parking lot of a convenience store at the U.S. 76/Interstate 95 interchange to prepare for a traffic checkpoint at the intersection of Twin Church and Alligator roads in western Florence County. The area has a history of DUI crashes and arrests, Fox said.
While officers waited for the operation to begin, one deputy took time to update his computer software. One of the troopers excused himself. He was needed at Interstate 95 mile marker 160. Four deputies took off in response to a nearby burglar alarm while one went in search of contact-lens rewetting drops – there were none to be had at the convenience store.
With 15 minutes to go, there was plenty of time left.
At almost 10 p.m. exactly, deputies and troopers converged on the intersection and parked. They produced large yellow sandwich board signs that alerted motorists to what was ahead and placed flashing red lights atop the signs.
An almost imperceptible fog hung lightly in the air as deputies and troopers worked the intersection, and they asked motorists to see driver's licenses, vehicle registrations and proof of insurance. While some officers handled that, others walked around the car and ran license plates.
"Did they just clear a wreck?" somebody asked as about 20 cars, all westbound on Alligator Road, hit the intersection simultaneously.
Cars were checked and waved through the intersection. The operation continued.
Approximately five minutes into the stop, one person was in custody.
A few minutes later, another motorist was waved over to a grassy area at the intersection after admitting to having a suspended license. A computer check showed the license was not, in fact, suspended and the driver was allowed to drive on.
At approximately 10:20 p.m., a light rain started to fall – something that would be a problem if it continued. A check of Doppler radar showed there was rain in the area, but Florence was on the edge of it and the rain was light.
The checkpoint continued.
Another car was directed over to the grassy area. The driver didn't have a driver's license. Not that the driver was prohibited from driving, just that the license couldn't be found. A search of the car for the license ensued.
The rain became heavier and the decision was made to pack it in at that intersection and move on to highway enforcement until conditions improved and a second checkpoint could be set up.
Yellow signs were collected as deputies and troopers alike rolled off to their assigned patrol areas.
T he motorist who couldn't find a driver's license loaded items off the grass and back into the car. It was time to move on.
"One in custody from this checkpoint and our DUI enforcement deputy made a DUI-related arrest on his way over here, and that person is in jail on a DUI-related offense," Fox said.
A second checkpoint was conducted shortly after midnight and a third that was planned was rained out.
In all, the unit made three DUI arrests overnight and a drug arrest and issued tickets for moving violations, Fox said.
The South Carolina Highway Patrol reported no traffic fatalities for Florence County overnight.
"It was a good night," Fox said.
Digital Editor Matt Robertson is a veteran journalist who has fulfilled just about every role that a newspaper has and now serves as a key member of the Morning News' newsroom by maintaining SCNow.com and covering the occasional story and photo assignment.